While I was staying with Riese in New York over the summer, I made plans with [Friend] to visit Babeland with the purpose of updating her vibrator / dildo collection. She doesn't really have a 'collection' necessarily, you understand, and neither of us ended up buying anything. But can you think of a better way to get to know someone in the middle of a heatwave than testing the display vibrators in a brightly colored, air conditioned sex toy shop?
Exactly.
Some sex toys look like rubber ducks and daisies and I'm not interested in those. Here's a list of vibrators that we either love or would love to love or would not love to love. It's been a long week, guys. Work with me here. Let's dig into this.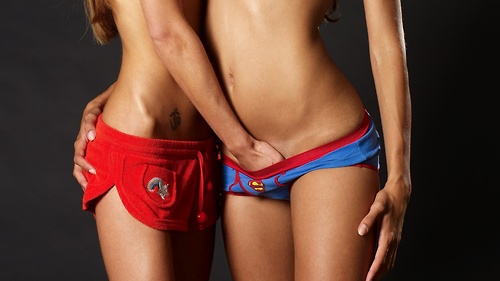 FROM THE TEAM
+
RIESE:
Editor-in-Chief, CEO of Ideas, Important Bisexual Lesbian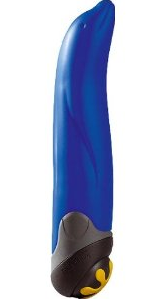 So this one time I was in Wisconsin with a giant truck at my friend 'Emma"s grandmother's house (isn't this how all good sex stories begin?) and we were packing (!) furniture from G-ma's garage to take with us to New York City when Emma's Mom asked, "Do you hear that sound? That humming sound?" and we paused and listened and YES INDEED a humming noise was coming from the truck and I said, "Oh, that's probably Emma's vibrator," as a joke, but then Emma yelped and ran into the truck because, you know, of course, obviously, it ACTUALLY WAS HER VIBRATOR. So I stood lookout while Emma tore through some boxes, extracted The Vibrator's batteries and re-packed said box with Grandma being none-the-wiser. At this point I acquired a serious and transformative respect for this personified toy who dared to declare its desire so loudly and so inappropriately and you know, who doesn't like a thing that just gets turned on whenever it so desires?
Prior to acquiring aforementioned rascaly vibrator, I'd always had these relatively cheap-looking things with lots of fancy complicated multi-speed/multi-pressure multi-dimensional extensions happening and never would've bought something simple like the Fun Factory Dolly Dolphin vibrator myself but Emma had picked it up while studying in Europe and said it was German and special and expensive and if you thought this story wasn't already irrelevant and uninformative enough and clearly an extended attempt to talk about a sex toy without actually talking about sex then you will be further intrigued yet ultimately unfulfilled by the revelation that at some point much later when Emma was away for two months and I was in our NYC apartment and mentioned that she'd left her vibrator behind in the nightstand (we shared a bed, as friends, which is less weird than it sounds) on top of [important poetry book] she said "I am gifting it to you," and I said, "Isn't that gross or something?" and she was like, "Really Ris, really?" because you know, that's what sex toy cleaner is for, Emma got tested for STDs like it was her job and besides, accepting said rarely-used gift was much cheaper than actually getting one for myself and thus, it became mine, and it was pretty awesome and I realized, unfortunately, that expensive things are, at least where sex toys are concerned, better than inexpensive things, and that these Special European Things last much longer than Unspecial Crap Things and that perhaps your bff can teach you more about vibrators than Sex and the City ever will. Get it.
+

RACHEL:
Senior Editor, Lover of Poetry
The Mia vibrator from Lelo has basically everything I could ever ask for. It's big enough to be powerful without feeling like a chainsaw. It's quiet, easy to adjust the intensity, and the design is intuitive. Also, while I do not actually carry it in my purse and do not imagine that anyone else does either, it is satisfying to imagine that it could pass for lipstick and/or a flash drive, because it has a USB hookup and is easily chargeable from your laptop, which is super convenient and I love.
LANEIA:
Executive Editor, Kitten Enthusiast
I've recommended the Laya Spot before, and I still feel like it's the best moderately-priced external vibrator 'on the market.' It's waterproof! It's made of something that's soft! It's little! There are several speeds to choose from and even a few settings with varying speed patterns.
KRISTA
The Nea by Lelo is
expensive, and I got it as a present. Nothing says "I love you" like a sex toy you've been wanting for MONTHS and are too cheap to buy yourself.
It has a weird finish that feels strangely fuzzy to the touch. I can't stop touching it. Or myself. The Nea looks like a computer mouse, so it can go in your carry-on and airport security doesn't even blink. (In fact, it looks so much like a computer mouse that your mother can look at it, carelessly lying on your coffeetable!!!! and say, "Oh, what a cute computer mouse! You always have new tech stuff, Krissie – are you saving ANY money?") Also, it has pretty flowers on it. 'Cause I'm such a fucking lady. DID I MENTION NO BATTERIES. AND IT STAYS CHARGED FOR THREE DAYS AT A TIME. Holy fuck do I love this vibrator.
+
HEY THESE LOOK NEAT
+
TWO BIRDS / ONE STONE:
The We-Vibe II is supposed to stimulate your g-spot and your clit at the same motherfucking place at the same motherfucking time. I, Laneia, feel like that would be sensory overload, but don't let that stop you. There were a couple vibrators that we couldn't figure out how to turn off once we'd turned them on and I think this may have been one of them. On the upside, the We-Vibe is very discreet, as vibrators go.+
+
BACK TO BASICS:
The Kisser Vibrator is a good starter model. It can be used for external stimulation or for penetration (it's small enough for that to be comfortable for most people). It's waterproof, soft to the touch, and well-designed. You adjust the intensity by twisting the bottom of the toy, which is nice most of the time, but it's easy to accidentally twist that, which can get annoying. All around though, this would be a good addition to a collection or a good first step into the world of vibrators.
LOLGASM:
The Sqweel is ten tiny tongues in a small ferris wheel situation, which you hold on your clit to simulate oral pleasure. It would probably take me about a minute to get over how similar the Sqweel looks to a Happy Meal toy, but I think that minute would be a funny one. I'm adding this to my wish list, actually. I WANT THIS.
TRIED / TRUE:
The Hitachi Magic Wand seems to be a crowd favorite. There are approximately 823 attachments to go along with your Magic Wand, which I think would be fun / really make the experience more personal and unique. It's on the large side, so this would not be recommended for travel.
ALMOST ALL I WANT FOR CHRISTMAS:
The Gigi is a good size and has simple controls and a sleek, unintimidating design. I also appreciate the color scheme. THIS IS REALLY CUTE AND I WANT IT ALSO.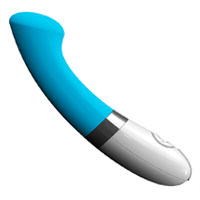 Now it's your turn!
Have a vibrator recommendation?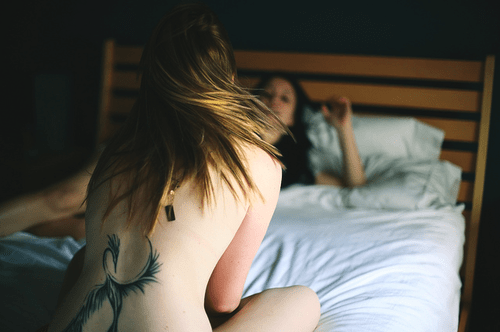 Are you as over the Je Joue SaSi as I am? I just think that little bastard is too complicated.
Do you shop for vibrators online or in the store?
My first vibrator was pink and came from a sex toy shop on the side of the interstate in Alabama, which was nowhere near as pleasant as Babeland in Brooklyn, for the record. Riese's first vibrator was neon green and slightly glittery and her gay best friend helped her pick it out because he didn't want it to be bigger than the average penis and therefore prepare her for high expectations of men in the future. Isn't it funny how things work out.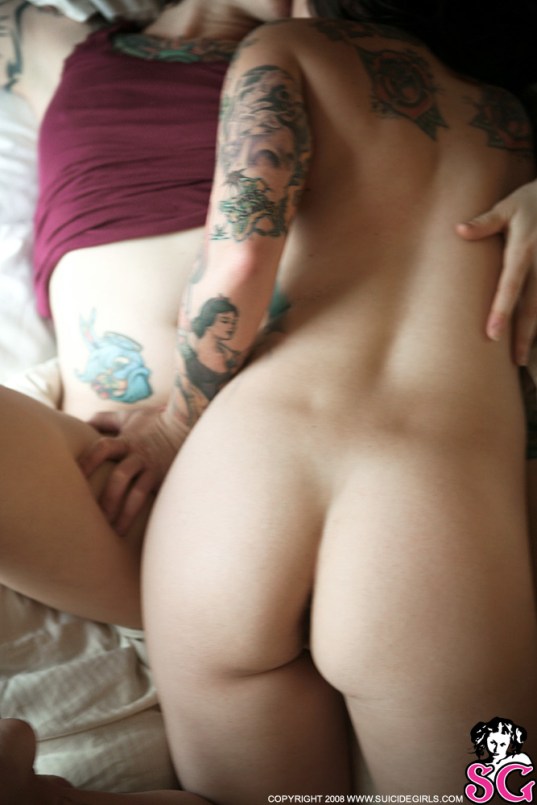 Here go look at Abby Winters or No Fauxxx or I Feel Myself.
Did you want a sexy tumblr thing to look at? Probably you do. How about Shani. The thing about Shani is that she likes girls!
Naked people being naked doing sex things. Wheeee!