Once upon a time, I took a box of sex toys on a trip to Las Vegas. The trip there was fine, but when I got home, under my perfectly folded clothes, was this: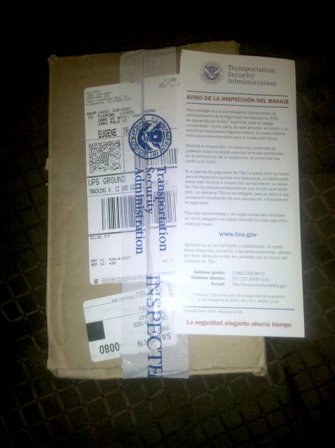 TSA had gone through my sex toy box, taped it up and left a nice little note explaining how my contents had been deemed harmless.
Ironically, most of the contents in that box were created to inflict harm. Or at least pain. I like to imagine some big dyke explaining to her colleagues how that pink thing with the beads and the clamps works, and all of them turning their heads sideways like lost, secretly aroused puppies. (I also like to imagine being pulled aside by that same dyke for a full body cavity search, but that's a whole different post.)
About two weeks later, I took that same box, still wrapped by TSA, to Chicago where it, unfortunately, remained unopened. What happened on my way home? TSA opened my sex toy box again, re-taped over the old tape and left another nice little note explaining how my contents had again been deemed harmless.
It was as if TSA was taunting me for not getting laid in Chicago. Bastards.
Their taunting got me thinking, why should TSA get to put their dirty little hands all over my dirty little secrets? Maybe, I can trick them into thinking it's not a sex toy and avoid this whole debacle.
Here are the solutions I devised, which can be used for any situation where the display of sex toys can be potentially embarrassing.

Remember those infomercials where you could hide your secret documents in what looked like a deodorant can? Well both Babeland and GoodVibrations offer whole lines of products based on this same concept.
My favorites are made by Incognito. I love the idea of someone complimenting me on my new necklace, oblivious to the fact that it's a pair of nipple clamps or a sensation play blade.
Or praising my boi's necktie, only to find out it's a leash.
Why, yes, my new belt is fabulous! You should feel it whipping across your back.
Incognito isn't the only company offering discreet selections. Even Sanrio has joined in, although, according to the rep at Babeland, they still swear this is just a massager.
But if you're going to go the toy-looking sex toy route, pick this guy. He's by far the coolest sex toy I've ever seen, even if it does seem to be geared more toward men. Can you imagine getting off with this?! Awesome.
For miniature adorableness, try one of these Bullet Buddies, available in bunny, dolphin, cat, caterpillar and monkey.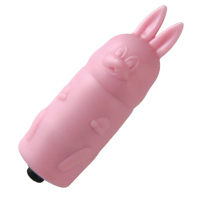 For discreet shower fun, there's always the classic Rub My Duckie, available in junior or regular size, or a vibrating vegan sponge, which is the most discreet of the sex toys I've seen.
If you've already got your own trusty favorites, but need a place to hide them, try a Toibocks, which looks like your average fancy jewelry box and can sit beautifully, and discreetly, on your dresser.
If your dresser top is already full of framed images of your pet poodle, try a Stashe Pillow or the more exotic Zomi cases, which can hang out on your couch or bed, secretly holding your favorite toys inside, waiting for you to get the urge. Both pillow types hold a surprising amount of toys.
If you're looking for something smaller and more secure, try the Treasure your Pleasure locking case, but be sure not to send it through TSA locked, or they'll break it open, tape it back up and leave you a nice little note.