feature image via queeringfeministreality.tumblr.com
---
Welcome to NSFW Sunday!
+ In Psychology Today, speculation about whether lesbians are less or more into casual sex compared to straight women:
"The percentage of women whose most recent sexual experience was with a casual acquaintance or a close but nonexclusive partner was almost identical for hetero and non-hetero women: 14% vs. 15%. (Granted, non-hetero in this study combined bisexual, lesbian, and questioning women, but it's the only data of this kind we have.)

All in all, although sexual orientation matters for some aspects of female sexual psychology, casual sex is not one of them. Lesbians desire, approve of, and engage in hookups just as much (or as little) as heterosexual women do. Not more, not less."
+ The history of the dental dam involves a lot of unpopularity and principle over practice:
"According to some, dental dams do serve a clear purpose, albeit one more symbolic than practical: they give queer women something of their own in a world that tends to dismiss their sexual health. All too often, says ACON coordinator Constable, services aren't adequately informed to deal with lesbian sexual health, "or lesbians in general." They might not use it, but the dental dam remains a product they can point to and feel acknowledged. As Constable puts it, "it's about wanting to be reassured that we are worth something.""
+ There is legitimately going to be a book about pooping and relationships and dating and such:
"Call me naïve, but I guess I just really thought everyone involved in a date at the very beginning would poo first or wait it out. Or do the other thing: Say you have to go to the bathroom and then go find one. I realize you can't always do that AT FIRST. I'm not saying it would never be embarrassing. Just that it's probably so rare that you're unlikely to deal with this a lot. Later on when you're hanging out and you're deeper into levels of intimacy, it'd be fine, right, or you could navigate that? It's just four weeks of dodging the deed 'til you're in the clear.

Wrong. The authors claim very facetiously that after five years of research, they determined that 97.8 percent of ALL breakups are because of mistimed poop. (Is this a straw poop man?)"
+ Five percent of people surveyed go on Facebook during sex. Relatedly, five percent of people surveyed are doing it wrong.
+ How to kiss, in 1939.
+ How to submit (in a BDSM context): a beginner's guide.
+ Some additional ways to leave your lover.
+ Erica Greco shared her coming out story at Oh Joy Sex Toy.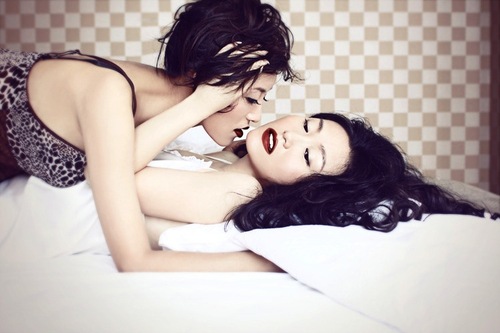 + More and more people are sharing their porn lives on the internets.
+ People between ages 15 and 44 are having less sex than people in that age range in previous decades, and some argue technology is to blame.
+ Make-up and break-up sex can be fun because of arousal transfer and the element of risk:
"The high arousal state associated with the fight is transferred to a high arousal state during the make-up sex. The fantastic sex that ensues is to some extent due to the change in mood and the (at least temporary) relief at reconciliation with the partner, but it is also the result of arousal transfer from the fight to the sex. Make-up sex takes place after an unpleasant, heated fight with the partner that has created a gulf between the two and threatened the very existence of the relationship; make-up sex then re-establishes their bond in a very tangible manner."
+ Words that translate to "pre-fun," "grief bacon" and what you call someone who has had sex with someone you've already had sex with don't exist in English but should.
+ While words that mean or refer to "having attractive buttocks," dildos or doggy-style sex do exist in English and should be used more.
+ And Urban Dictionary offers such heart-warming terminology as "booty grazing," "ninja sex" and "masternap."
+ How do you have good sex? You actually talk about it:
"Dating apps like OkCupid show you your sexual match percentage with a potential date and you can search for people based on personality traits like "kinkiness", "aggressiveness" and "sex experience" to see if they're your style. But if you meet your partner IRL, the conversation needs to be more organic. A study by Assistant Professor Elizabeth Babin at Cleveland State University in Ohio found that "apprehension in talking about sex can spoil one's sexual enjoyment, with that anxiety linked both to less communication in bed and less satisfaction overall. Unsurprisingly, less sexual communication apprehension and higher sexual self-esteem were both associated with more communication" about sex."
---
All of the photographs on NSFW Sundays are taken from various tumblrs and do not belong to us. All are linked and credited to the best of our abilities in hopes of attracting more traffic to the tumblrs and photographers who have blessed us with this imagery. The inclusion of a photograph here should not be interpreted as an assertion of the model's gender identity or sexual orientation. If there is a photo included here that belongs to you and you want it removed, please email bren [at] autostraddle dot com and it will be removed promptly, no questions asked.