Header by Rory Midhani
---
As a quality engineer working in consumer goods manufacturing, I spend a lot of time communicating with coworkers and contractors half a world away. I interface with people from a broad range of backgrounds, all of whom brought different motivations, language capabilities, and levels of technical understanding to the conversation. Job title is usually (though not always!) a pretty good gauge for expected technical skill and motivation going in. When it comes to language skills, however, you just kind of have to jump in and see how it goes. It often doesn't unfold quite the way you want or expect it to*, but there is one helpful rule of thumb I've picked up: humor = fluency. If your conversation partner is able to successfully understand a joke you've told, they have advanced language skills. If your conversation partner is able to successfully tell you a joke, they're fluent.
I loved the most misandrist movie of the year for so many reasons, but chief among them is this: with the release of Ghostbusters, I feel like Hollywood is finally reaching the point of fluency when it comes to representations of women in STEM.
I've spent a lot of time scouring pop culture in search of characters like me, and I can tell you definitively: there aren't that many. We don't get to see mixed race Filipina faces in Hollywood movies all that often. We don't get to hear women casually calling themselves bisexual. We do get to see women working in STEM, sometimes, but I often find the writing to be frustratingly reductive.
Some things I've seen and do not wish to see again:
Lady Scientist Needs Rescuing – For example: Dr. Ryan Stone (Sandra Bullock) in Gravity, rescued the only man by within literal striking distance (Matt Kowalski/George Clooney) after her emotions override her apparently nonexistent astronaut training. If that's not bad enough, the male character even reappears to save her as a hallucination after he dies because the writers couldn't imagine a way for the woman to save herself. Like, Matt Damon gets The Martian and we get this shit? Come on.
Lady Scientist Randomly Takes Her Clothes Off – See Carol Marcus (Alice Eve) in Star Trek Into Darkness. In an early scene of the movie, she decides to change clothes in front of the male lead (James Kirk/Chris Pine). With the shuttlecraft back door hanging wide open. When there's absolutely no reason to change outfits. (This is, by the way, the same character we're told is a weapons expert, yet defuses bombs by frantically yanking the innards out and hoping for best. Brilliant choices all around.)
Lady Scientist Is A Romantic Prize For The Male Lead – Remember how Charlie Blackwood (Kelly McGillis), the hot flight instructor in Top Gun, was an astrophysicist? No? Me neither. Probably because Charlie's defining characteristics were only deemed important when they happened to further the love story with the male lead (Maverick/Tom Cruise).
Lady Scientist Teaches Male Lead An Important Moral Lesson – See Gwen Stacy (Emma Stone) in The Amazing Spider-Man. Dr. Emma Russell (Elizabeth Shue) in The Saint. Dr. Grace Augustine (Sigourney Weaver) in Avatar. The list goes on.
Don't get me wrong — I'm happy these stories exist. But these characters aren't exactly the work of a culture fluent in depicting women in STEM. Ghostbusters manages to avoid every one of these tired tropes, and made me laugh for nearly two hours straight. Humor! Fluency! We're getting there, you guys. We are.
As a viewer, even the smallest moments of Ghostbusters brought me joy. Erin at her desk, confusedly asking if her beige, three button, windowpane plaid suit is "too sexy for academia." (It's not, but I relate to her struggle.) Holtmann in her lab, offhandedly scoffing that "safety lights are for dudes." (They're not, but I'm delighted by the idea of mildly implied gender disparagement being lobbed at men for once.) Patty wincing after being dropped by the crowd, saying "OK, I don't know if it was a race thing or a lady thing, but I'm mad as hell." (It's both, probably, and I'm delighted by all the meta-ness going on.)
I especially loved Holtzmann's character. I've never seen a woman in Hollywood play the eccentric scientist/tinkerer type before, and I'm thrilled by the idea that girls growing up today get to see a woman in that role. After X-Files, the "Scully Effect" resulted in an uptick in young women entering careers in STEM, and we still see the effects today.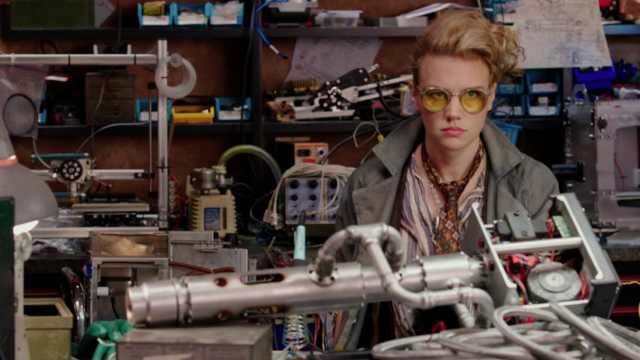 In the past couple years, we've gotten women-centered reboots of Boy Meets World, Full House, and Star Wars. Despite the tantrums of man-babies and haters, Ghostbusters is now part of that list, and I couldn't be more excited. I hope we keep this momentum going and reboot all the moderately enjoyable comedies of my youth. I want Back to the Future with all women. Honey I Shrunk The Kids. Men in Black. Flubber. Yes: Flubber. Kate McKinnon should have some free time in her schedule by 2018, and my body is ready.
---
*Note: my coworkers often speak Cantonese, Mandarin, a local dialect and English, so if anyone's deficient in this situation, it's me.
---
Notes From A Queer Engineer is a recurring column with an expected periodicity of 14 days. The subject matter may not be explicitly queer, but the industrial engineer writing it sure is. This is a peek at the notes she's been doodling in the margins.