feature image via Superhero Hype.
I've shown you homogays how to dress like Marceline The Vampire Queen. I've shown y'all how to dress like Mr. Rogers. But it is with great pride and joy and I now show you how to dress like Dr. Jillian Holtzmann. I am currently in a place where I'm ready to toss my entire wardrobe and just be Holtzmann. This isn't cosplay. This is just plain wardrobe. Here are the Holtzmann style rules as I see them.
---
Give Absolutely No Fucks
Let's look at Holtzmann's first outfit for this rule. See how she mixes brown and black leather? See how her overalls are covered in paint and aren't focused on being sexy overalls, a thing overalls were never meant to be? See that completely chill smile even while Abby is in panic mode? The number one rule of dressing like Dr. Jillian Holtzmann is a complete and total unabashedness in your choices.
The Outfit:
Levi's Lightweight Chambray Rain Denim Overalls, $50. I tried to get even bigger and baggier than this, but for some reason all the overalls I could find in this light a wash were skinny??? Why, why are there skinny overalls? That is not what they're for, fashion people. That. Is. Not. What. They. Are. For. Also cuff 'em. Cuff all the pants, that is what Jillian Holtzmann would do.
ASOS Cropped Leather Biker Jacket, $243. I actually don't know if the jacket is cropped or not, I can't tell from the photo and I didn't make a note of it when I took notes while watching, so here's one that's not cropped for $162 and here's a plus size one for $243. OPTIONS.
Forever 21 Ribbed Knit Crop Top, $7. The earth tones are key, here. The shirt doesn't necessarily have to be hunter green, but greens, browns, warm greys and reds are very Holtzman-esque. It does have to be a crop top, though. Because give no fucks.
Steve Madden Charrie Combat Booties, $99. The important part about this is the unlacedness of them. That and that your socks cannot match, in pattern, color or length. Grab one pair of high grey and black striped socks and one pair of low, grey polkadot socks. Et voilà.
---
Wide Legs, High Waists, Waist Coats
High waists and wide legs are the name of the game here, almost like Holtzmann is gunning for a healthy mix of Victorian Mad Scientist and thrift store 1970's vintage.
The Outfit:
Free People Pinstripe Flare Overalls, $32. If the overalls aren't your thing, here are some high-waisted pants. The important thing is the high waist. Basically every waistline Holtzmann wears is high OR covered by something so you can't tell where exactly the waistline is.
Malene Birger Striped Blouse, $82. What's important about the blouse is that it's flowy in the top. Even the tee-shirts Holtzmann wears are, by and large, loose fitting (though the crop tops aren't). A flowy top compliments a high waist and gives that Dr. Frankenstein silhouette.
Paisley Silk Scarf, $27.
Bed Stu Lita Oxford, $163.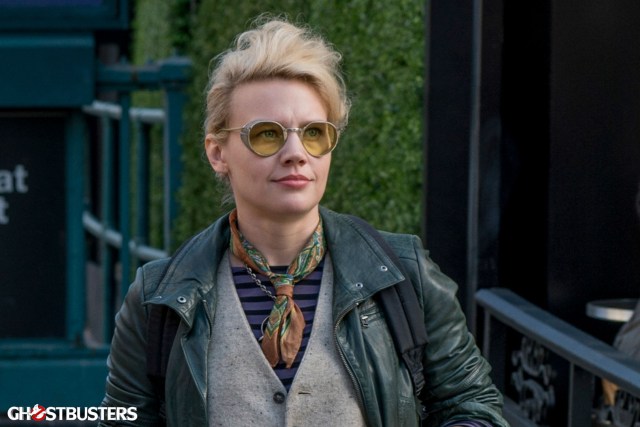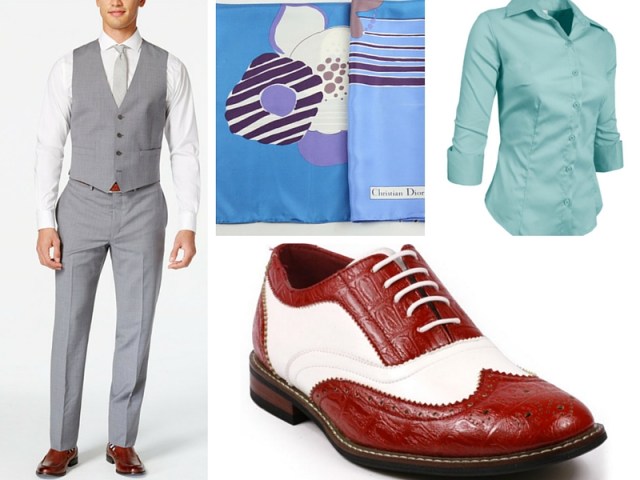 The Outfit:
Calvin Klein Grey Plaid Slim Fit Suit, $300. This is a nice versatile purchase because the waist coat can be worn in other outfits, see below.
Red and white Oxfords, $37.
Teal button down, $30.
Vintage silk scarf, $45.
In both of these outfits, we see silk scarves tied as ties. Here's how to do that:
---
Graphic Tees
At any point, one can pair the waist coats and the wide-legged pants with any of these science-inspired tees, tanks and repeating pattern button downs. Greys, beiges and vintage prints are a plus. Holtzmann also pairs tees, tanks and crops with suit waistcoats, which frankly I think more people in the world should be doing.
The Pieces:
Classic wool waistcoat, $63.
One Of The Boys Tee, $31. This is the closest I could get to the exact one she wears.
X-Files Tee, $20.95. Side note, a friend and I were just discussing, and how great would it be to have Kate McKinnon play James Bond and Gillian Anderson be her Bond girl?
Springfield Isotopes Tee, $20.
Kepler 1638B Tee, $20.
---
A Brief Interlude About The Time I Saw Kate McKinnon
Apropos of nothing, here is a story. One time I was at a Halloween event at in a cathedral. There was a parade of dancers dressed as ghouls marching down the aisle and they were reaching out and grabbing for the audience as we departed for the evening, which is exactly my jam. One person got startled and screamed, and my fiancée leaned over and whispered, "the person who just screamed is Kate McKinnon." And with absolutely no chill, I shouted, "KATE MCKINNON IS WHO WHERE?" at the top of my lungs. Abby was mortified and I don't think we've gone anywhere in public since. I am usually a normal person in front of people whose work I admire. The only other time I lost it like that is when Ta-Nehisi Coates walked into my favorite coffee shop. I promise I am the good kind of weird and if you're reading this, Kate McKinnon, I am sorry I screamed your name at the top of my lungs in a cathedral while Halloween was frightening you.
This will probably get cut. End of anecdote.
---
Science-y Utility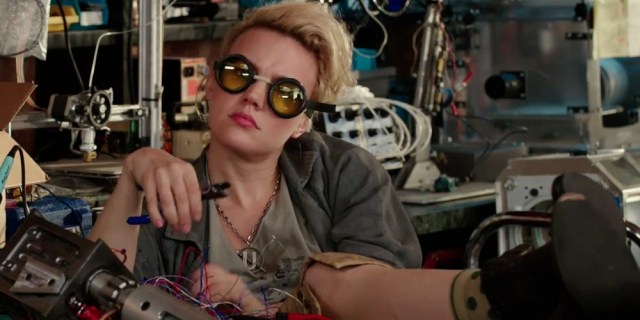 Dr. Holtzmann's defining characteristic is being a quirky mad genius, a scientist and engineer. While also being fashionable, her clothes have a purpose to them. Pockets, shades that protect her eyes from all them particles she's physiking, comfort and the ability to chase things.
The Outfit:
Jack Spade Trench Coat, $299. It's not exactly as I would want it—I'd want it a shade lighter, in my ideal world. But the idea behind this is that you can pop the collar all cattywhompus-like and march about your lab.
Stay Curious Tee, $20.
Sportmax cropped pants, $292.
Another pair of Bed Stu Oxfords, $149. Because a) I'm obsessed with their shoes, b) I feel like they're quirky enough for Holtzmann and c) because I couldn't decide which colorway to recommend to y'all, so I'll just include two colorways.
ASOS 70s Round Sunglasses, $20. This is probably the most Holtzmann item there is. The thing that's instantly recognizable as Holtzmann. You can and should wear them with every outfit on this list and also every outfit you already own. Speaking of accessories—
---
Accessorize Your Holtzmann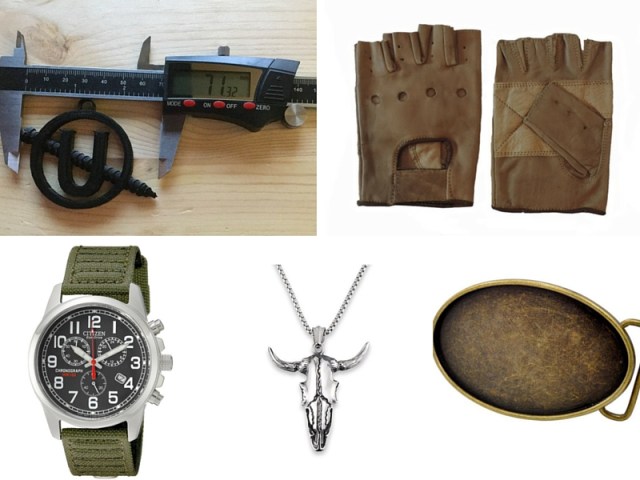 Here are some accessories inspired by things Holtzmann wears frequently. Pair them with anything.
Bull Necklace, $10.53. 3D Printed Screw U Necklace, prices vary or print yourself. Citizen Men's AT0200-05E Eco-Drive Watch, $176.25. Large oval belt buckle, $7. Open Knuckle Brown Fingerless Gloves, $15.
---
I think the most important part about Dr. Jillian Holtzmann is the attitude, though, and not the glasses, the amazing modern mad scientist jacket that I'm missing or the perfect-width pant leg. So put a straw in all your drinks, practice your wink and take this, you'll need it. Go forth and Holtzmann.