Y'all, I know you sometimes look at cartoon characters and you're like, I'll have what she's having. Or rather, I'll wear what she's wearing. And then you're like, ugh, but wait! This is a cartoon character. The only way I can wear what she's wearing is if I'm cosplaying, right? Wrong! There are definitely ways to incorporate animated fashion into your animated life without looking like a cartoon character. And the perfect way to prove that theory correct is with the ever stylish (and kinda queer) Marceline The Vampire Queen from the popular Adventure Time.
It is my opinion that Marceline rocks some pretty solid queer fashion — Olivia Olsen's confirmation of Bubbline as cannon has launched our favorite queen of the Nightosphere into the lesbian icon stratosphere. And she's definitely been a favorite around here, even before all our dreams were realized. Aside from our deep Marceline feelings, however, is the plain and simple fact that Marceline has presented all over the fashion spectrum — from androgynous to straight-up femme — all while looking effortlessly like a rock star. She's got an easy color palette: red, blue, grey, black. And she never wears jewelry that I can see, making her a perfect inspiration for those of us who don't like to or are allergic to all the metal. She doesn't do any fussy beading or embellishments.
This undead lady is a live one! And she has some pretty perfect fashion advice for us this Fall.
---
Original Marceline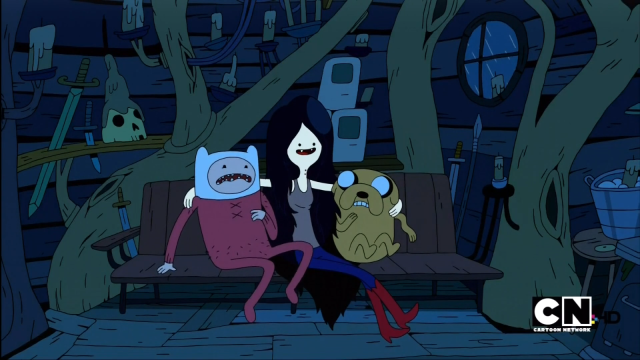 When Marceline appears in season one, episode 12 (Evicted!), she's wearing what's pretty much the easiest look in cartoons — skinny jeans, grey tank top and red boots. This look is so easy it can even be practiced on hangover days and during exams.
PS, if you're gonna splurge on one thing, it should be boots. You can get them re-heeled over and over and over again, they're like the undead and you will have them forever. Marceline is 1000 years old. Probably her boots are too.The nice part about this is, as it gets cooler, layering over the tank is super easy and can be your slight departure from classic Marceline. I suggested a pullover sweater here because something about pullovers says "IDGAF I'm a vampire queen."
Or, if you want to ditch the grey tank all together and instead adopt the famed tee-shirt from What Was Missing and Sky Witch, I've gone ahead and found that for you.
You're welcome.
---
Marceline To The Rescue
Don't worry California, Hawaii and all the other places without a proper Fall. While I am very sorry for you and your lack of this most exalted of seasons, I'm certainly not about to leave you out of this vampire goodness. I understand it does get a little cooler in your perpetual summer, so check out Marceline rocking overalls and a red crop top in season five, episode 48 (Betty). Spoiler: she's got to give up Hambo to help Simon/The Ice King recover his long lost Betty. I think her outfit here is actually a way to visually recall her outfit as a little girl:
I'm not sure what kind of shoes she's wearing, but I'm taking those as Toms. They look like Toms, right? Anywho —
Make sure to roll the bottoms of the overalls! As for the crop top, I gave you sleeves, it's Fall, but I gave you options! Short sleeves, long sleeves and one that kinda looks like that standard Marceline red and white striped sweater. What striped sweater, you say? This one: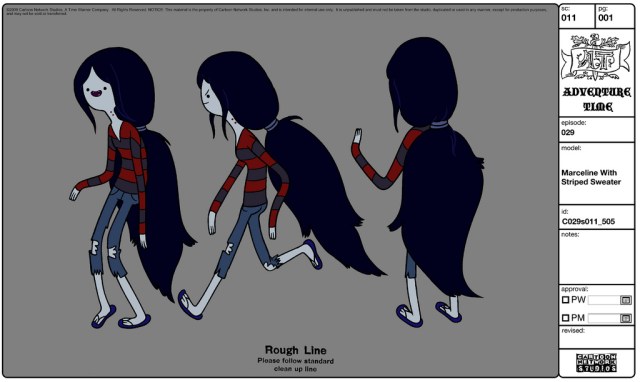 You can also grab the perfect voluminous pony tail by following this tutorial:
And if this Fall makes you feel like you want a Hambo that you don't have to give up, that can be arranged.
---
Princess Marceline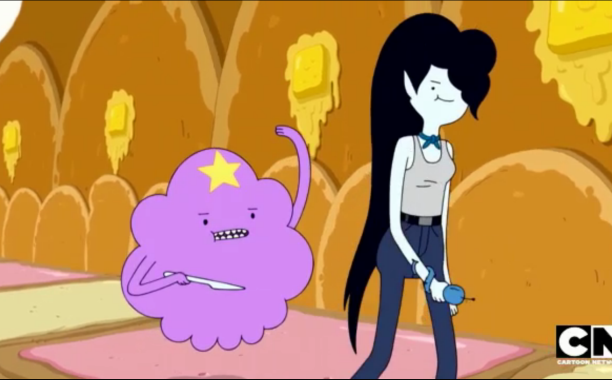 When Marceline celebrates Princess Day in season six, episode 14, she takes her fashion inspiration (and the writers take their episode inspiration) from Thelma and Louise. Which makes that an obvious choice of outfit to covet. Check it:
Okay, I couldn't screen cap Marceline with the blue blazer on (I am not quick enough) but you just have to trust me, this outfit came with a blazer and it was magic. Same with the boots — light grey/white boots. Also, do y'all know how hard it is to find a "dressy" white tank top that would look good tucked in? Okay, yeah, probably you do. I left out the bandanna on Marceline's neck as well, thinking that this would be a perfect opportunity to use those A-Camp bandanas we've all been collecting.
Can I also point out that if you want Marceline's awesome black hair, Fikri has written a hair dying tutorial that works for all the colors all the time. While specifically it's for "all the colors," I think a lot of the tips and tricks discussed could be applicable to just such a Nightosphere hairdo.
---
Marshall Lee
As a masculine-of-center queer myself, I was psyched to take on Marceline because she presents a unique opportunity in having a masculine counterpart called Marshall Lee. Yay for me and all the other people who are never going to put a red crop top on their body ever ever not in a million years ever! Huzzah for red plaid, men's skinny jeans and brown chucks. Because it's so easy, I'm going to give you a few options —
Regarding my pick on jeans — I am the kind of person who spends good money on jeans because I have legs that are a weird length according to the fashion industry, apparently. And because I wear jeans more than anything else in my closet. I wear the same two pairs of jeans over and over. To me, that's worth a heavier price tag. I'm also the kind of person who is hyper aware of the high cost of cheap fashion, so sometimes I'll save up for more time when it comes to purchasing a piece I love and I'll just buy fewer pieces of clothing across the board. I actually really like the Adventure Time ethos for that reason: it used to be that television shows reflected how real people lived. If you look at The Dick Van Dyke Show, for instance, Dick Van Dyke has one suit. One suit he wears every day to work. Mary Tyler Moore has only a couple dresses, a couple outfits. Not a crazy wardrobe that the average human just can't afford to have if they're buying really quality stuff. On Adventure Time, there's some variance in outfits, but not really. Finn wears the same thing every day. Even the Princesses wear the same or similar things day after day, and presumably they have a lot more resources than the average citizen of Ooo. And Marceline/Marshall Lee, in particular have well-coordinated wardrobes that can realistically be mixed and matched to create many outfits with just a few pieces. The clothing in Adventure Time, while fantastical and animated, portrays a realistic view of returning to a few well-made pieces instead of trying to keep up with some new-outfit-every-episode craziness.
But I digress.
Roll the jean legs up and the shirt sleeves up. That's literally the only thing you have to do to achieve "IDGAF I'm a Vampire King."
If you want Marshall Lee's awesome bedhead, might I recommend Lush Dirty Hair Cream? As demoed to me by the lovely Lush cosmetics hippie queer working in a New Jersey mall, it holds hair in the perfect Marshall Lee coiffure.
---
How are you incorporating Nightosphere-sensibility into your wardrobe this Fall? Who else from Adventure Time are you mimicking in your closet?