Guess what y'all? We've got some independent business on independent business love going down over here. Autostraddle LOVES Tradlands, a small clothing company in San Francisco who make quality high-end button-downs for women – except they are exactly like the shirts in the men's section. And guess what? They love us back. IT'S JUST A LOVE FEST GOING ON OVER HERE!
If you know me, you know my very favorite article of clothing is a nice button-down. I even fly to A-Camp in a button-down and a blazer, because we should dress up to fly more often, methinks. Regardless of what you're doing, though – flying on a plane, going out to dinner, taking a walk through the park or just generally being your awesome self – Tradlands loves Autostraddle readers so much that they want to hook two of you up with some sweet button-downs to do it up in style.
Yes. That's right. Tradlands wants to put their threads on your body for zero money.
Here's what you do to enter the contest:
Sign up to join the Tradlands email list. You should also like them on Facebook while you're there and maybe take a minute to tell them Autostraddle sent ya. Then, come back here and tell us which Tradlands shirt is your favorite!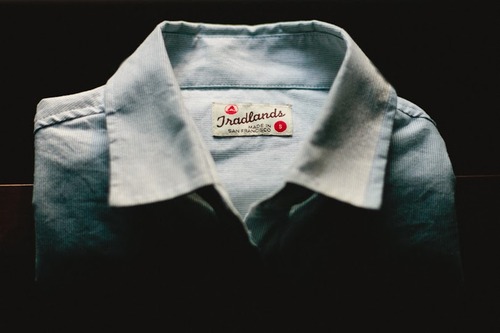 I can already hear the questions that you are asking your computer screen, so I will answer those questions for you:
Why do we have to join a mailing list to win? Why can't we just comment here?
Because the point of this independent business on independent business love is that we at Autostraddle want to support other amazing independent businesses. Especially those who see the queer community as a valuable part of their customer base. We like that. We like that a lot. And the best way to support this particular amazing business that values us is to hit up their Facebook and their Mail Chimp.
How will winners be selected?
You'll be selected at random from their mailing list.
Wow, Ali – this is the second giveaway post you've done in the past two weeks. Why are you doing so many?
Well, we like to give you free things. And we're thinking you probably like to get free things. And I personally volunteer to do the giveaway posts for products and businesses I believe in. This is one of those products/businesses. So I'd encourage you to buy a shirt from these guys if you don't win one. Heck, buy one even if you do win one. There are more days between the day you wear this rad shirt and laundry day than any of us would care to admit. Also, Tradlands is giving Autostraddle readers %15 off your order with the coupon code below!
OMG, these shirts are so expensive. Autostraddle, why are you telling us to buy expensive things? CONSUMERISM!
I'm glad you asked.
You may have gathered from previous posts of mine that I advocate heavily for informed consumerism. As in, making an informed decision about where you spend your money because your money matters. And it matters even more if, like me, you don't have a lot of it to go around. We already know about the high cost of cheap clothing, both morally and monetarily. So if you have the means, buying a few classic pieces at a higher price point instead of many pieces at a lower price point can help combat waste, unfair working conditions and large corporate bonuses for people who donate money to anti-queer causes/politicians. And these Tradlands shirts? They are classic, staple pieces. Stuff to build an outfit around and on top of, and shirts that don't go out of style. Believe me – you'll get your money's worth in terms of usage. I'd actually be embarrassed if I told you exactly how much mileage my favorite blue button down gets (you'd all be like, but Ali, do you have any other clothing?). Buying from independent businesses means your dollar is going to an entrepreneur with a great idea. And buying from an independent business that supports and values our weirdo queermo community? Priceless.
Those are all super good points and Tradlands is awesome and WE WANT SHIRTS. What's the deadline to enter?
Okay, so this post is going up today, and we're going to give you a full two days. Meaning you have the rest of today, all day Thursday and then all day Friday! When the clock strikes midnight on Friday (as in, when Friday turns into Saturday), this post will turn into a pumpkin and the folks at Tradlands will pick their winners.
Did you just make a Cinderella joke?
Yes I did. Because these shirts will fit you like a glass slipper. NOW GO LIKE THE SHIT OUT OF THE TRADLANDS FACEBOOK PAGE AND SIGN UP FOR THE NEWSLETTER.