Feature image via Daina Dajevskis
---
When I lived in Texas, despite my general love of fresh produce and supporting local agriculture, nothing could have gotten me out of the air conditioning and into the farmer's market if it wasn't for the agua fresca stand. That magical place where the best of the season's produce was turned into the most refreshing and delicious drinks ever to be sold in styrofoam containers the size of a small baby. Sipping the ice cold goodness of some agua de sandia, you can even start to forget that it's 100 degrees in the shade and 90% humidity.
In addition to being cold and refreshing, agua fresca bursts with vibrant flavor and often come in semi-neon shades making them not only perfect for everyday sipping, but a brilliant choice for a non-alcoholic option at your next summer party.
Now that I live a good 12-hour drive from the nearest vendor, I had to learn to make my own. It's a pretty simple procedure once you get the hang of it, and with the basics under your belt you can experiment and make some with almost any fruit you get a hold of.
---
Fruit Agua Fresca Basics
1. Measure your ingredients. Most agua frescas are made with some fruit, about ¼-½ cup of sugar (more for not very sweet things, and less for sweet fruits), a splash of lime, and water. For most fruits (like mango, pineapples, peaches, or strawberries) you want twice as much water as fruit, but for a really watery fruit (like watermelon) you add less water, and for low-moisture fruits like cucumber (both technically a fruit and a traditional variety of agua fresca) you use three times as much water as fruit.
2. Blend fruit, sugar, and about 1 cup of the water together until smooth.
3. Pour through a strainer into a pitcher.
4. Using the back of a spoon, squeeze all the water from the fruit pulp. Then stir the remainder of the water in.
---
Agua Fresca Recipes
Agua de Sandia/Watermelon
8 cups peeled and cubed watermelon, packed loosely (about half an average-sized watermelon)
1/4 cup sugar (or more if watermelon is not very sweet)
Juice of 1 average lime (or 2 key limes)
4 cups water
About 10-12 leaves of fresh mint, chopped (optional, and not terribly traditional but refreshing)
1. Put watermelon, sugar, lime juice, and 1 cup of the water in a blender, and puree until liquified.
2. Strain through a sieve into a 2 quart pitcher, then stir in the rest of the water and mint.
3. Serve chilled, over ice.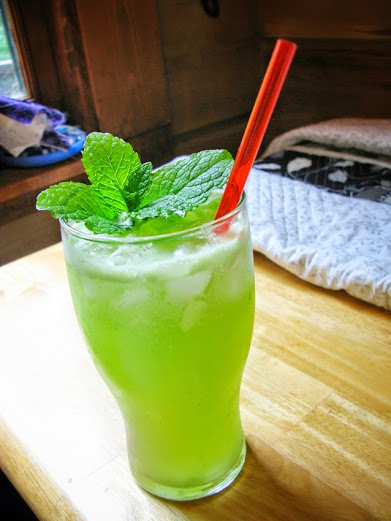 Agua de Pepino/Cucumber Lime
1 English cucumber, or 2 medium-sized cucumbers (peeled)
1/4 – 1/2 cup lime juice
6-7 cups water
1/2 cups sugar
1. If you are using an English or hothouse cucumber (the kind that are wrapped in cellophane) you can leave it unpeeled and this will make the agua a brilliant, almost neon green. Other cucumbers are covered in this sort of wax that you don't want leaching into your drink, so peel those. Either way, they need to be roughly chopped.
2. Combine the cucumber, lime juice, sugar, and 1-2 cups of water (enough to make the blender run smoothly for you), and blend until liquefied.
3. Strain through a sieve, using the back of a spoon to squeeze all the water out of the cucumber pulp. Then stir in the remainder of the water and serve over ice.
There are a couple of traditional agua frescas that don't follow the same pattern as the basic fruit agua. One is the yummy and comforting horchata, which Rachel already wrote about here. Another is the at once fruity and floral hibiscus.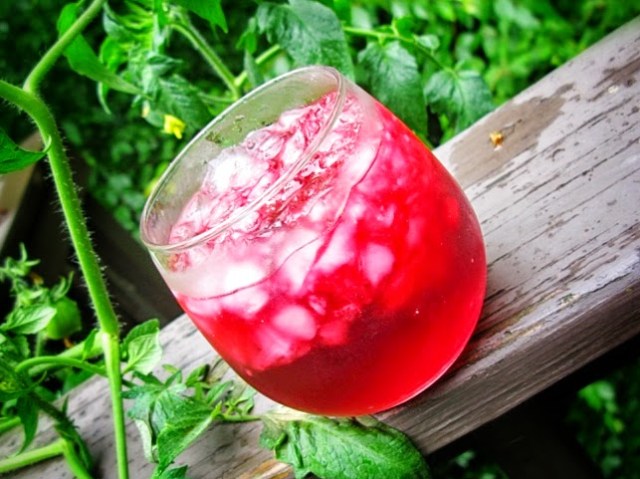 Agua Fresca de Flor de Jamaica/Hibiscus
1/2 cup dried hibiscus flowers, or 6-8 bags of hibiscus tea
8 cups water, separated in half
1/4 – 1/2 cups sugar
1. Boil 4 cups of water, add hibiscus and lower heat to simmer for 5 minutes.
2. Take off heat, add sugar, and leave to steep and cool another 15-30 minutes, depending on how strong you want it/how long it takes you to remember it.
3. Strain into a pitcher and add the other 4 cups of cold water.
4. Taste and add sugar if necessary. Serve over ice.
You can also make tamarind agua fresca by replacing the hibiscus with peeled tamarind pods, and leaving it to steep 90 minutes.