By Kayla and Audrey
Ghostbusters is super gay. Well, it's subtextually super gay, because Hollywood remains resistant to the mere notion of a queer summer blockbuster. But at least Kate McKinnon is here and queer and ready to destroy us with her sex appeal that reaches near-paranormal levels of intensity in the movie. Real Life Queer McKinnon stars as the gunslinging—and gun-licking—engineer Jillian Holtzmann, whose queerness cannot be confirmed nor denied by Paul Feig thanks to studio bullshit, but it's pretty obvious throughout the film that Holtzmann is the queer action hero we all deserve.
Here are the 10 gayest things McKinnon does in Ghostbusters that had us melting in our seats.
---
1. Is incredibly sexy while appealing Not At All to the male gaze
Can we get Kate to come to camp and teach a workshop on How To Gay? Holtzmann is fully aware of her sex appeal, and she leverages it first and foremost for her own pure delight, and secondly to make Erin (Kristen Wiig) question her sexuality. This is an inspiring and moving portrait for me as a bisexual (hi, this is Audrey) who would strongly prefer that no man ever speak to me unless I give him permission to approach.
2. Stares with fascination every time Erin flirts with Kevin (Chris Hemsworth)
#straightpeople
3. Wears clothes, specifically:
3a. A crop top + overalls + motorcycle jacket ALL AT ONCE
3b. This silk floral vest and tie combo


3c. The jumpsuit. Y'all. Jumpsuits are gay.
4. Dances with power tools
Holtzmann loves her tools. She'll even concisely explain the importance of carrying a Swiss Army Knife at all times to you, because she cares about your safety and also about tools. At one point, she quite literally starts dancing with her tools to DeBarge's "Rhythm Of The Night," and Erin, like any sensible human, can't look away.
5. The Wink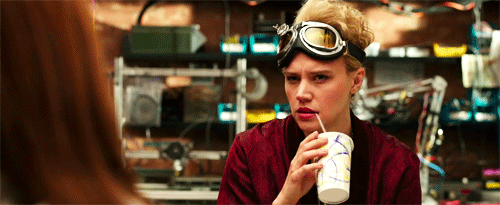 This wink has been haunting us ever since the trailer dropped.
6. Uses safety goggles as a fashion accessory

McKinnon wears at least three (3) different pairs of goggles throughout Ghostbusters, which begs the question: Does Holtzmann have an entire closet just for goggles? The goggles are for safety, but they're also occasionally for pushing her perfectly coiffed hair out of her eyes so that she can stare directly into your soul. ("I now identify as a Goggles Lesbian" – Kayla)
7. Possesses an impossible amount of swagger every time she's on screen
Jillian Holtzmann's swagger could level a city. The only thing more powerful than her many ghostbustin' gadgets is the way she makes you feel whilst merely leaning against something. McKinnon makes it damn near impossible to focus on anyone else when she's in the frame.
8. Gives a tearful toast to how much she loves the other Ghostbusters
It's just very important that her friends know how much she loves them. And is it just us or does she extra love Patty (Leslie Jones)? Patty is the only one who refers to Jillian by the affectionate nickname "Holtzy." Our P.K.E. meters are detecting gal pals. Ultimately, one of the best things about the movie is that romantic relationships aren't the focus, but let's be real: Holtzmann has sexual chemistry with every single ghostbuster, and they have probably all at least thought about kissing her on the mouth.
9. Gleefully watches hot women play with her gadgets, cackles when they explode
I'm not writing terribly euphemistic fan fiction, YOU'RE writing terribly euphemistic fan fiction.
10. This