By now, you've probably heard that Kate McKinnon's character in Ghostbusters—the tool-loving, ghostbusting engineer babe Jillian Holtzmann—is the queer action hero of your dreams. But the Holtzmann Is Super Hella Gay narrative misses out on one crucial Ghostbusters detail: THEY'RE ALL QUEER. Sony, no doubt, doesn't want you to believe there's anything gay about any of the ghostbusters. Paul Feig could only grin and nod when asked if Holtzmann—who is probably the gayest scientist to walk the earth—is indeed gay. He had to be coy about it because of "dealing with the studios," but Feig definitely seems to be in on the Gay Holtzmann reality. And maybe, just maybe, Feig and Katie Dippold worked even more queerness into the script that they knew would get by Sony but would catch the eyes of those among us who are seasoned Gay Subtext Detectives.
Here is what I saw when I watched Ghostbusters, and as Detective Superintendent (this is a very high rank, which I know because it was Helen Mirren's rank in Prime Suspect) of the Gay Subtext Detectives, my interpretation is basically law:
Abby Yates (Melissa McCarthy) and Erin used to date. Maybe it happened right away, right after Abby became the only person who believed Erin saw a ghost at the foot of her bed every night. Or maybe they really were just friends for a long time until they became something a little more (think Carol and Abby, but in this case, things worked out a little better). Abby was one of the first people who didn't just see Erin as "ghost girl," and ever since, they've had a very close relationship. Here's the thing: They started out friends. At some point, friendship turned into something a little more. Then they got wrapped up in paranormal science, and they wrote a book together—a book that Abby quite literally refers to in the film as their child.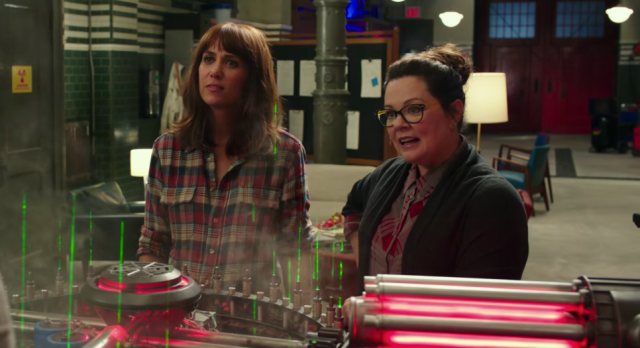 "But, Kayla!" say the naysayers. "A human woman and another human woman can share the most sacred and intimate parts of their lives together and be each other's emotional support systems and also just be friends.wp_postsI propose the following counterargument: Nope.
Sure, I've oft heard of women being friends with other women. I even delightedly participated in the practice of befriending other women myself. But I know gal pals when I see them, and even more so, I know ex-gal pals when I see them. And when Abby and Erin reconnect in the beginning of Ghostbusters, it 100% looks like two exes tensely reuniting. Erin's timidness and Abby's resentment in that scene make me think Erin is the one who ended things. The deeper they got into their paranormal research, the deeper they got in their relationship, and the more entangled and inextricable the two parts of their lives became. Erin got out of the ghost business, and she got out of the relationship, too, because she could no longer tell where one ended and the other began.
So when Erin left, Abby eventually rebounded with Holtzmann. There's no better rebound than an ethereally hot and flirtatious engineer who has an arsenal of powerful toys—er, "weapons." Abby and Holtzmann never dated, but they hooked up a few times and decided to just keep being friends and co-workers because they genuinely enjoy each other's company and also probably still make out from time to time after a few post-laboratory drinks. Indeed, in that scene where Erin and Abby are reuniting, there's a sense that Holtzmann is sizing Erin up, and Abby cozies up awfully close to Holtzmann to see how her ex might react.
Holtzmann and Abby also very casually bring up the time they spent several nights together in the Chelsea Hotel. Supposedly, they were just there to track ghosts, but I'm sure there was time for other activities—ones that don't involve ghosts but do involve the feeling of transcending the spectral plane and entering a new dimension. (Orgasms. I'm talking about orgasms.)
Everyone's screaming about how gay Holtzmann is, but Abby's equally covered in a thick coat of subtextual queerness, especially when it comes to how she acts around Erin. When Erin, who I am positing as the resident bisexual, develops a light crush on Kevin (Chris Hemsworth), Abby doesn't understand it at all. She's probably thinking what we all are: Who would be looking at Kevin when Holtzmann is right there, her combat-booted feet propped up on her desk as she leans back and methodically fingering her goggles? Abby and Holtzmann might just be occasional makeout buddies, but Abby certainly knows how smoking hot her co-buster is. At one point, she gets very close to Holtzmann's face. I'm talking almost-kissing close. Sure, she's technically possessed by a ghost at the time, but I choose to believe that she's so physically attracted to Holtzmann that she temporarily overrides Rowan's strength in the moment.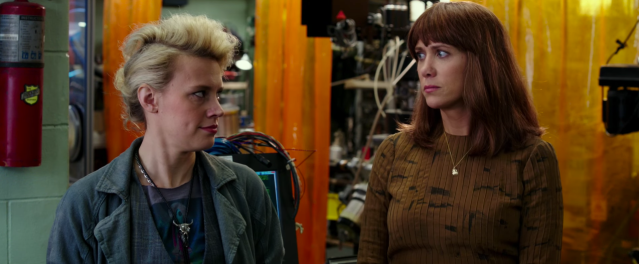 And then there's the greatest love story of them all: Holtzmann and Patty (Leslie Jones). Patty, at first, is slightly terrified of Holtzmann's intensity. But she certainly isn't immune to her swagger, and soon enough, she finds herself falling for the sexy weirdo. Note that Patty is the ghostbuster who comes up with the affectionate nickname "Holtzywp_postsfor her. Holtzmann flirts with everyone—and has chemistry with every ghostbuster, every ghost, and every stranger on the street throughout the movie—but she starts to fall for Patty. Their connection deepens when Patty saves Holtzmann's life from Rowan-Abby, and it all becomes very official when Patty slaps the ghost out of Abby, because that definitely seems like something Holtzmann would be into.
By the end of the movie, Patty and Holtzy are practically sewn together by the seams of their jumpsuits. Holtzmann's tearful toast is directed at all her fellow ghostbusters, but when she talks about how they taught her how to love, it sounds like Holtzmann might finally be ready to seriously commit to a relationship. The power of Patty compels her. "That was real. That was real," Patty says. And just like that, their relationship is the real deal. (Holtzmann subsequently has to end things with her "mentor,wp_postsplayed by Sigourney Weaver, who she had a casual thing with as evidenced by their palpable chemistry during one of the credits scenes.)
Erin and Abby are back together in the end, too. It took saving New York City and a whole lot of green slime for them to realize they belong together. When Erin jumps into the vortex to save Abby, she says that she wasn't going to leave her a second time. Again, these two might as well be wearing signs that say "we are ex-girlfriends.wp_postsIn that moment, I could have sworn they were going to kiss right before they get pulled back up into reality. But then, I was sucked back out of my own vortex of gay delusions and faced with the harsh reality: Like ghosts trapped between our world and theirs, the queer subtext of Ghostbusters never quite breaks through to the surface.
Look, one of the most subversive aspects of Ghostbusters is that it's a movie about women that doesn't hinge on any kind of romantic plot. It's about bad ass ladies bustin' ghosts and not needing any men to help or give them permission (Kevin is wonderfully expendable). But I think it's even more than that. They don't merely not need men; they don't want men, either. The male gaze is entirely absent from the film (which is probably a huge reason why straight cis dudes are so up in arms about it). These women just seem so different from any characters I've ever seen in a summer blockbuster and yet so familiar to me. There's power in the movie's lack of overt relationship drama or romance, but as a lesbian who has loved action movies my whole life, there's power in the narrative I've constructed here, too. And you know what, it's pretty substantiated. I may be extrapolating, but I am pulling my theories from very real, very present stuff. This is basically science, y'all. I'm certainly sick of settling for subtext, but I cannot deny that this was the most queer summer blockbuster my gay eyes hath ever seen.
Say it loud, say it proud: Ghostbusters is gay.