National Organization for Marriage (NOM)'s strategist Louis J. Marinelli enjoyed yelling at the gays on his facebook and twitter. But then he realized he was wrong, and wrote about it on his blog:
Having spent the last five years putting all of my political will, interest and energy into fighting against the spread of same-sex marriage as if it were a contagious disease, I must admit that it is hard for me to put the following text into words let alone utter them with my own voice.
Whether it is an issue of disbelief, shame or embarrassment, the one thing that is for sure is that I have come to this point after several months of an internal conflict with myself. That conflict gradually tore away at me until recently when I was able to for the first time simply admit to myself that I do in fact support civil marriage equality.
While I have come to terms with this reality internally, speaking about it, even with the closest members of my family, has proven to be something difficult for me to do.
In short, if there is an issue of disbelief surrounding my newfound support for civil marriage equality, it is disbelief from those who surround me. If there is an issue of shame, it is a result of acknowledging the number of people I have targeted, hurt and oppressed. And if there is an issue of embarrassment, its roots lie in the face-to-face encounters I have had and expect to have with those with whom I once toiled over this very contentious issue.
I understand that those whom I approach now are well within their right to disbelieve and question me and my motives. I accept that is the result of what I have done over the past few years and would therefore like to take this time to, as openly as I can, discuss the events that brought about my change of heart.
Marinelli then explains his experience on the 2010 Summer for Marriage Tour, a NOM-sponsored situation that happened last July/August. They sponsored and participated in a bunch of traditional marriage rallies around the country with routes chosen by NOM and Marinelli specifically.
In Atlanta, he found himself facing hundreds of counter-protesters and found them "inspiring" compared to his group. At that moment, "the lesbian and gay people whom I made a profession out of opposing became real people for me almost instantly. For the first time I had empathy for them and remember asking myself what I was doing."
The Atlanta rally was a Slam Dunk for the marriage equality folks, because there were about 300 of them…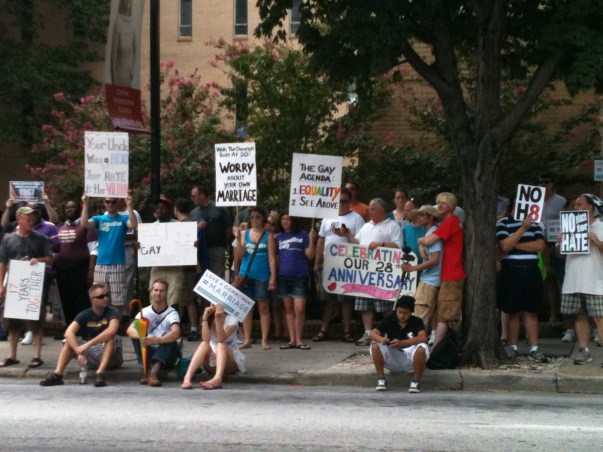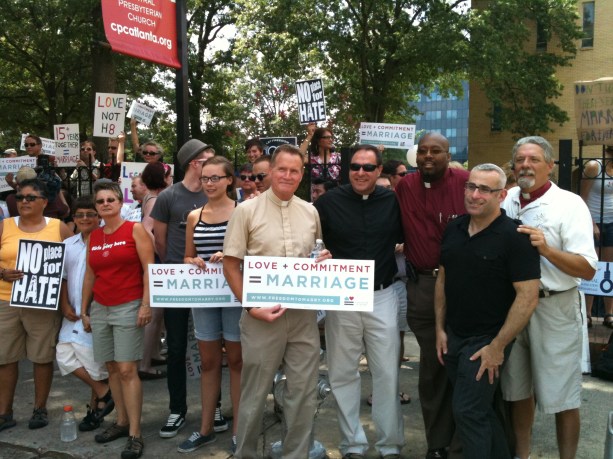 …and about 30 of them:
Marinelli started keeping a blog that fall after the marriage tour, where he talked shit about gay people:
"Some of the articles were fair, even if you disagree with them, but many of them I would now categorize as propaganda filled with strong and unnecessary rhetoric. This is especially true of the YouTube videos I made."
In the end of October 2010, Marinelli was actually touched when a blogger responded to one of his blog posts with "an article addressed personally to me regarding marriage equality. In short, his article had the miraculous effect of instantly putting things into perspective for me."
It was becoming clear… "GAYS AND LESBIANS WERE JUST REAL PEOPLE WHO WANTED TO LIVE REAL LIVES AND BE TREATED EQUALLY AS OPPOSED TO, FOR EXAMPLE, WANTING TO DESTROY AMERICAN CULTURE!!!" [all caps my own]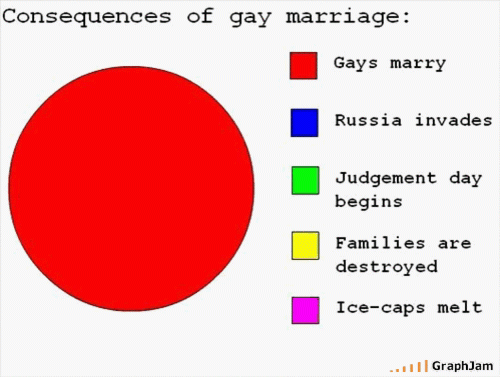 (You can read his statement retracting the statements he made about gays and lesbians here.)
After shutting down his anti-gay blog, Marinelli went back to moderating the Protect Marriage Facebook group and started noticing that everyone else on his Facebook group was a total asshole:
I soon realized that there I was surrounded by hateful people; propping up a cause I created five years ago, a cause which I had begun to question. This would be timeline point number three. I wanted to extend an olive branch in some way and started to reinstate those who had been banned by previous administrators of my page. I welcomed them to participate on the page and did what I could do erase the worst comments and even ban those who posted them.
He started talking to actual homogays on another Facebook group and that was the last straw. He officially realized that gays & lesbians are real people!
My name is Louis J. Marinelli, a conservative-Republican and I now support full civil marriage equality. The constitution calls for nothing less.
You know how when you hear about someone coming out or you see it happen, like you know,  probably Ellen for a lot of people — it seems easier because you've just seen an example? That's all we need. An example. Something to make us confirm "this happens. this is a thing that happens." People get scared to do things other people aren't doing. Even seeing a friend come out and have it go terribly serves the same purpose — it's an example. It can be done. You will live to tell its tale.
So I hope that him doing this — I hope this shows anyone else in NOM who might be noticing the cracks in their case that it can be done. In seeing The Light, Louis Marinelli has confirmed its existence, which means it's possible. Seeing the light. It exists, it can be seen. So maybe, just maybe, other NOMsters will too.