Hello, shining stars of the galaxy, I hope you're all feeling cared for today. The protests and rallies in Baltimore, Philadelphia and across the country – due currently to the murders of Freddie Gray and London Chanel but the list of names is long and never-ending – have many of us feeling pushed to our emotional and cognitive limits. Many of us are afraid for our lives and the lives of our people. Black Lives Matter now and forever. I write these words so that we don't forget the state of our nation even in the midst of writing articles about love and relationships. Everything is connected.
We do not write in a vacuum.
We do not love in a vacuum.
We love with the weight of our skin colors between us and our different physical abilities. We love amidst peaceful demonstrations and wars with bodies that have been and seem to always be abused and marginalized. We love each other across bulletproof glass and from different ends of the privilege spectrum. We love as descendants of enslaved peoples and the offspring of slave owners. We love without always having a shared language to bring our very different worlds together.
There are no handbooks for us. We see mega rich and shiny people in girl-on-girl relationships on the teevee, but many of us have little to no guidance for our relationships. We need all the support we can get. Sharing our stories is the easiest way to get the word out and help each other.
So let's talk about microaggressions and acts of racism in our love relationships. I'll start: I'm a queer Latina boi from the Bronx in a relationship with a queer femme white girl from the Midwest. This isn't my first time dating a white girl. At 32, I've finally learned how to call yt (white) girls out on microaggressions and racist behavior. For me, calling someone out isn't about gleefully shaming someone's prejudiced behavior anymore. I'm more concerned with taking immediate care of myself and deciding if I'll continue to engage with that person. The harm they've inflicted via actions or words needs to rest solely on their conscience and they need to rectify it. I'm not doing that for anyone, no matter how cute they are.
This is not a how-to guide; there's no right way to navigate these situations. POC aren't a monolithic entity in which all racist acts are experienced and digested in the same way, if at all. Nor should it be seen as another moment where a POC + yt person relationship is elevated above other interracial relationships. This post is an invitation to a broader discussion. What I have to offer is my experience; the framework of my understandings of racism and microaggressions in a romantic relationship are based on the aforementioned race dynamic.
Because let's not kid ourselves, microaggressions can be experienced while dating another person of color. Although the dynamics aren't the same, the situations are just as toxic and harmful to experience. Non-black POC aren't above bullshit. Neither is anyone whose intersectional identities connect in a way that vibes more with the status quo. Like if you're cis or able-bodied, ya know? To quote Autostraddle contributor KaeLyn, "People with more systematic privilege than you are always going to fuck up." Word, friend. I'm just sharing some instances of microaggressions — because sometimes we're not even sure if that's what's happened — and some ways to deal in the hopes that you will share yours and we'll all be able to make it out alive, looking sexy and loving our hardest.
---
True Examples of Microaggressions Culled from Real Life and The Internet
Microaggressions: Racial microaggressions are brief and commonplace daily verbal, behavioral, and environmental indignities, whether intentional or unintentional, that communicate hostile, derogatory, or negative racial slights and insults to the target person or group (D. W. Sue, 2005).
1. Your yt gf is complaining about her Black boss. All of the complaints are valid but she uses language peppered with phrases like "those people" and maybe even wonders how her boss was deemed qualified to become her boss, maybe somehow all of a sudden she's talking about affirmative action and you're like "what the actual fuck is happening, right now?" And none of it feels right and what she's saying reads like someone else's tumblr post about their awful racist ex.
2. Your partner doesn't understand why Black people, Native folx and people of color in general, can't just react peacefully when their own people are murdered by law enforcement officers, the KKK, or deluded pro-America vigilantes. Also, they don't see how a system that supports housing inequality, school to prison pipelines that disproportionately affect Black and Latin@ peoples, brutal holding centers for undocumented folx, among other disgusting social practices that are legal doesn't always deserve a peaceful response from its citizens.
3. Without prior discussion as to what's appropriate, white boo decides to call you their "little/sexy/hot, insert slur/obnoxious stereotype here.," e.g. aren't you my "hot little chola or tamale" or something equally cringe-inducing.
4. You're out socializing with your person and their group of friends. One of their friends says some out-of-pocket racist bullshit and your partner says nothing. No one even reacts. You react and then everyone thinks you're too sensitive and shit gets awkward. You both leave early, together. The ride home is silent and your person doesn't give you even a slight hint of understanding. Now you're the girlfriend that none of their friends wants to chill with. And no one has your back.
5. Without any warning, your yt boo decides to share their secret obsession with "thug porn" or "hot asian babes" and you're just like… wayment…
6. Someone not white was mean to your boo and she's crying about it and feels victimized because of her whiteness. She wants you to make her feel better and to denounce the person of color she's talking about.
7. Your latest primary partner posts all the appropriate anti-racist stuff, does tremendous amounts of social justice activism and schools other white people on how they're bad allies and gentrifiers. But they often forget that they're also gentrifiers. They often speak over the voices of people of color on topics of racism and oppression and gentrification so that everyone knows/hears/sees how anti-racist they are.
8. Tinder-date turned current sex-friend dresses up in their idea of Native American gear to participate in a sports thing or puts on a sombrero & mustache to celebrate "Cinco de Drinko" and doesn't understand why you just can't have some fun!
9. Just chillin' with bae and they play the new Janelle Monae and straight up look at you, a beautiful Black woman, and say, "Funny how I'm teaching you about your culture, kinda, right?"
10. White tears are shed when yt boyfriend isn't allowed to go to the POC-only party. They say it's unfair and if there was an all-white party it'd be racist. You're stuck trying to uplift yt boyfriend or bounce to the POC-party. Or both?
---
Tips for Dealing With Microaggressions and White Tears in Yer Relationship
1. Listen to yourself.
If there is any moment where you feel emotionally unsafe, don't doubt yourself. Step away. It's OK to pause, to shut that shit down, and to remove yourself. Not that you need my permission at all, but damn, I know that I've doubted myself in situations like that. I'm here to tell you that you're not being too sensitive. Racism is real and is embedded in our language, interactions, politics, etc. and you shouldn't have to tolerate it.
2. React however you feel is best. Do the thing that keeps you whole.
Only you know the nature of your relationship. Nothing I say here is going to fit everyone nor is it intended to. Here are some ways that I've reacted to racist bullshit in my relationships.
Options:
Explain in under five sentences why you are upset and need to remove yourself from the conversation. I chose under five because that is enough information to give someone with respect to yourself and to them. (I've chosen to briefly explain things in the past because just dipping out of a convo cold turkey can exacerbate someone's anxiety issues. Depending on the relationship you're in, that may be something you're cognizant of and give a fuck about.)
Ex: I'm leaving. I'm not talking to you right now. I will contact you tomorrow. Do not contact me. If you don't respect my boundaries, I won't be able to communicate with you anymore.
With exceptional finesse, proceed to tell her all about herself and how she just acted a racist fool.
Excuse yourself without a word.
There's one Jay-Z verse that's been my personal mantra since it dropped:
A wise man told me don't argue with fools
Cause people from a distance can't tell who is who
Flip the fuck out because it's your right. You don't owe anyone courtesy after they've dropped an N-bomb or called you any other racist slur.
3. Protect your energy.
How much energy are you willing to invest in this situation? If your partner is so with it that all you have to say is "Babe, your fucked up internalized white supremacy is rearing its oppressive head," and lovermuffin is all like, "You're right babe. I'm sorry about that. I value Black women and all women of color and really need to take a pause before I say things that don't represent my value system," and then actually does the work, then maybe y'all are OK and are really gonna make this interracial love thang work.

If that's not how it's gonna go down, and you're going to face mad pushback for protecting yourself and attempting to educate them, asking yourself if you have enough energy or want to invest the energy you do have in such an undertaking is a good move — a super good move, no lie. Your energy belongs to you first and you decide how you want to share or utilize it. Some relationships deserve careful conversations where both partners are OK with being vulnerable in order to tackle difficult issues. Other relationships can't handle those discussions without devolving into abusive back-and-forths founded on faulty understandings of racial inequality or situations where one partner needs to be coddled and reassured by the other that they're not acting in a racist manner. Only you know what kind of relationship you're in.
4. Reach out to your people.
Who in your circle is going to be able to automatically "get" why you're upset? Contact that person. Ask that person to hug you or to sit with you or un-ghost themselves on gchat and rise in solidarity with you. Find the safest place to breathe, whether it's your activist circle or coven of hard femme brujas. Stay there for as long as you need. Vent. Vent. Vent. Get it out. All of it. All of that racist, disgusting, debilitating shit must be purged. Holy shit, don't sit on your feelings, let them explode all over the night sky and fall into the ocean. Swim in that shit with your ride or die camarada and when you both make it to the other side, remember that being a warrior is in your blood.
Read books that provide connection to your truth as well as refuge. Read the works of: Assata Shakur, bell hooks, Michelle Alexander, Mia McKenzie, Janet Mock, Gloria Anzaldúa, Staceyann Chin, Kay Ulanday Barrett, Isabel Allende, and Celine Parreñas Shimizu. These are not the only authors and poets who write about race and social justice and living as a person of color. Find whoever speaks to you and dive into their words. Watch all the movies, and tv shows that highlight and respect your identity.
Online spaces are helpful too. You can vent anonymously on the Microaggressions tumblr. The QTPOC Speakeasy is always ready to hear you and offer love and support. There are other online support groups specifically for people of color in relationships with white people. Such as the QTIPOC Dating White People Support Group.
5. Remember that they have to do the work.
The onus isn't on you to educate. Your partner needs to figure this out for themselves. Your partner needs to feel motivated to read books written by QTPOC about all sorts of things, not just issues of race. They need to seek out spaces led by Queer and Trans People of Color, sit in those spaces, and listen. Your partner needs to actively develop a value system based on anti-racist principles, not rely on you to provide it for them. They need to embody these principles in majority white spaces so other white people don't get a pass when they're with each other and so that the work doesn't always fall on people of color.
With that in mind, you can make the decision to discuss things with them and allow space to hear what they have to say if you want to. I've chosen to listen and share insight because I've believed in relationships as a whole. Like, if this person can be here for me during my darkest hour, then I can provide similar support to them during their personal evolution. But not everyone is worthy of that type of support and none of us owe it to anyone.
6. QTPOC-Only
Some people choose to only date other POC and/or only other Black people and that's OK. This isn't you being weird and somehow proliferating reverse racism – that's not a real thing y'all.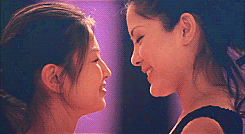 I've often thought: I'm so done with dating yt girls. They just don't get it.
Other POC homies in my circle have expressed similar feelings and have stuck to them. They don't date white people because their understanding of racism and experiences of racial inequality/injustice/violence is so frustratingly different and minimal that the divide isn't worth crossing, not even for love. It's also something that can make one question if our understanding of love comes from a conquered colonized mindset that has forced us to elevate and desire whiteness. And what kind of love is that then? Can real love exist between two people when the imbalance of privilege, quality of life, and just plain safety is severe and often insurmountable? Even love between Black people and non-Black POC can stretch the limits of understanding and solidarity. So, this is where listening to your heart and soul is of the utmost importance.
7. Grab yer umbrella and walk through the white tears
So maybe this gloriously f*cked up human is worth it. Maybe this thing between you two is worth salvaging and navigating the dark and hard places. And like, maybe they've been a bedrock of stability and support for your entire personhood and you want to walk through the storm with them. Ok, then. Make this decision for yourself, tho. Do not give in to pressure or coercion. So how do you move forward? Again, here's how I've done it and continue to do it.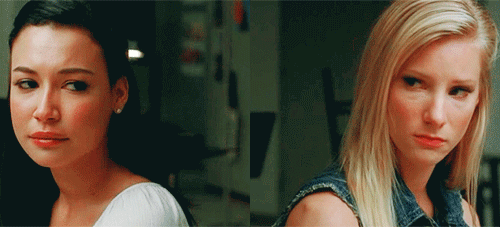 Ask for uninterrupted talk-time. If they can't do this, then fuck, idk what to tell you. But for me, it was a demand and not a request. Either you let me talk and tell you about how you fucked up on me, or we don't do this at all.
Speak without apologizing for your feelings. Lay out the hows and the whys. Ex: When you said/did X, I felt violated. Your actions were rooted in white supremacy and racism. It hurt me and made me not want to deal with you. This is my truth and you cannot explain your way out of this or flip it on me. If those are your intentions, we can stop right now. We can discuss this in an honest way once you've apologized.
Allow them to respond to your statements and ask questions. You've made the decision to wade through this. Let your partner get out their weird/misguided or absolutely fucked feelings. Deal with what you can and be very clear about what you cannot and will not help them through. Again, if they start getting argumentative or turning things into a debate, step away.
Remember that at any time, you have the right to step away and regroup.
Share resources and hold them accountable for finding their own. I've sent links and shared books with my current girlfriend, just as a general practice but also during random moments of racial tension. I've also kept a lookout for when she goes and does radical awesome intersectional work on her own and with others. That shit is mandatory.
Ok, dip your hips and do the butterfly if you've made it this far. White supremacy is a motherf*cker, so is white fragility, which is what we're dealing with when we choose to engage in discussions of race with yt partners.
Dr. Robin D'Angelo, a dope anti-racist educator, defines white fragility as: a state in which even a minimum amount of racial stress becomes intolerable, triggering a range of defensive moves. These moves include outward display of emotions such as anger, fear and guilt, and behaviors such as argumentation, silence and leaving the stress-inducing situation.
I wish I had a term for the act of diving into emotionally distressing conversations with romantic partners steeped in white fragility. That shit causes some serious toxic stress. And if you're someone whose identity is connected to multiple marginalized groups: trans, brown, disabled, impoverished, to name a few — as many of us are. The stress of microaggressions and acts of racism is coming from so many sides. To add one's romantic relationship to the mix of unsafe situations is further debilitating. How dare we not have a word for that type of stress and emotional pain. Like, the fact that we don't have a term says so much, right? Maybe we could make one up.
I've laid out some examples, some tips, links, and a huge chunk of myself here in this post. It's not perfect but I hope it's helpful. I've had moments in relationships where everything is perfect and then boom, something awkward and race-based happens and I've felt alone. I've felt like there's nowhere to really go with this type of stuff and these feelings. I've wondered if I was being too sensitive or too angry, or if I need to leave this human that I love so much for safer racial pastures.
Again, we all come from different worlds with complicated intersections of privilege and suffering. Many of us need to check our privileges while simultaneously calling out the world for misgendering, misrepresenting and mis-everything our identities. This type of stuff is messy and complicated and makes us cry. But if we're gonna do this and fall in love and stick it out, then we need all the help we can get.
I would love to hear from all of you. What types of racial microaggressions have you experienced in your relationships? What steps did you take to get through them? How did you heal?
---
To read more about microaggressions:
I could literally keep adding links forever. Please add your own in the comments to make our list stronger!
---
This comment space is primarily for POC to discuss this issue — if you choose to post as a white person, please be aware that your comment could be deleted if it's unproductive to the discussion.