Welcome back to No Filter, a thing I do. This week in queer celebrity gossip, Demi Lovato admitted to being into multiple genders and also played with these puppies while answering questions (it's as adorable as it sounds). Additionally, Paris Jackson went to a lesbian wedding:
I follow the girl she went to the wedding with and 🌚🌚🌚🌚 pic.twitter.com/tRx7pktd1b

— saina 🍷 (@villanalles) October 16, 2017
And here is an additional rabbithole I am more than willing to go down with you (It's a thread):
I am tweeting this now so that in the future it will be proof of my lesbian ESP: tessa thompson and janelle monae are dating

— jaye "elizabeth debicki is 6'3"" hunt (@hayejunt) October 8, 2017
Anyway, back to Instagram.
---
This just makes sense.
---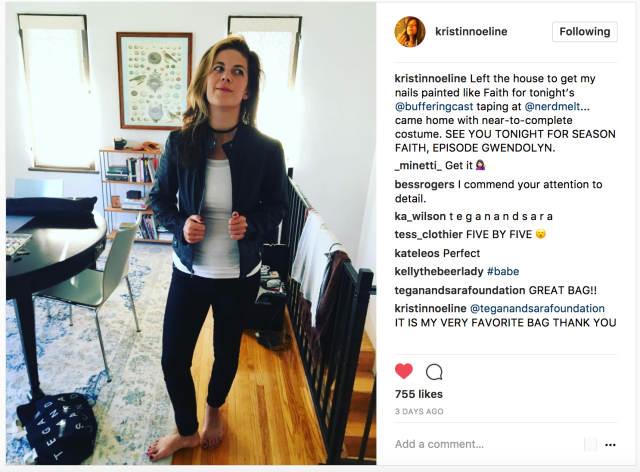 Just for consistency's sake, Kristin Russo is also channeling her inner Buffy character with excellent results. Also, Tegan and Sara like her Tegan and Sara bag.
---
It isn't fair that this is what Jasika Nicole looks like while she's getting ready. Also, I'm pretty sure this is Rosie's first time in No Filter and I am praying it won't be the last.
---
https://www.instagram.com/p/BaSdEk2AZup/?taken-by=gabyroad
Gaby Dunn is feeling festive.
---

Lately, I come back to this picture and look at it while practicing my breathing before I click on any news headlines ever. I've found it enormously helpful.
---

LOOK AT ALL THESE ACTUAL BEAMS OF LIGHT ALL CASUALLY HANGING OUT TOGETHER.
---
Some kind of fashion leopard would like for you to listen to the new St. Vincent album.
---
https://www.instagram.com/p/BaH_eIEF9KN/?taken-by=laurenjauregui
We are now entering a serious portion of No Filter, in which famous queers we love a lot are using Instagram to share actual messages. The world is just like this now, I don't know what to tell you; maybe you needed to read this today.
---
Laura Jane Grace played for a bunch of kids at this rad event thrown by the Gender Is Over folks.
---
Aaaand we're back.
---
https://www.instagram.com/p/BaJ4m3xHOC2/?taken-by=bishilarious
Invite Brittani Nichols to your party or event.
---
Join us next week, when I just wanna look at pictures of Samira Wiley and forget the world.