For the last year and a half, I've been listening to Mitski almost non-stop. Her guitar and singing and lyrics connect so deeply with me as a mixed race woman, a mentally ill woman, and a woman in love. She's creating timeless rock that could've have been made in the 70's or 40 years in the future. It lifts you and you can't quite hold onto it like a wild animal or a wind through tall grass. All of those things make it only fitting that when her songs have been turned into comics, they've been illustrated by the extremely talented non-binary, Korean-American artist Sunmi.
Sunmi's art has a lot of elements that you might've seen in paintings from the 19th century, but it never feels dated. It's expressionistic, full of feeling and gestures towards the things the artist wants you to see. It moves and flows and takes you places. It's like Mitski's music.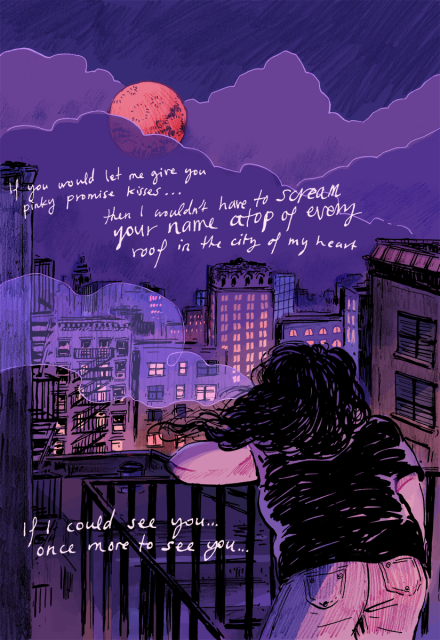 I connect the two because I first saw Sunmi's work when they did a comic for Mitski's song "A Burning Hill." I fell in love and even included the work on my list of the ten best comics of last year. The comic shows us hints of a person and hints of a fire but only once the whole thing of either, and the individual parts that Sunmi focuses on become much bigger than they have right to be. Their art really reminds me of a mix of anime and french expressionist art influences. I love it. They draw lines that don't hold still. You can almost see them coming to life and moving around. They layer lines and colors so that their art looks thick, like you could dig down deep in it and feel what you're seeing. You know how you go to museums and see paintings that have the thick, heavy layers of paint that give the art texture and even more meaning? Sunmi is somehow able to do that with flat, digital art.
They have some other great comics and illustrations on their website, often that show simple and emotional scenes between people and nature. I love their Magical Girls Love zine, which is about Sunmi's "favorite magical girls, '70s-80s fashion, and subtextual queerness." Another short comic, Firebird, has almost zero plot, just two friends driving, but it packs a huge punch of nostalgia and feelings into the little moments it highlights. It takes you right back to every time you rode in a car with your friends at night, every time you saw something beautiful for the first time, and every time you needed someone. Another zine, "Love Letters to a Sea Goddess" is simply breathtaking. If you ever feel like something bigger than you exists, these illustrations will draw up that feeling in you.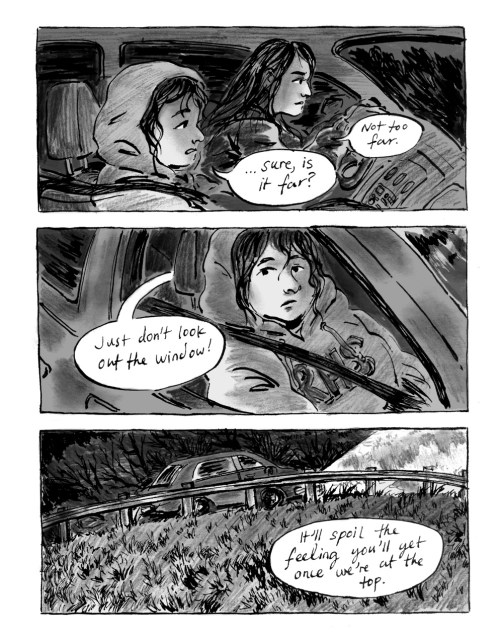 Sunmi has so many great illustrations and comics that it's impossible to list them all. I'd definitely recommend following Sunmi on Twitter and checking out their website. Also, they sell plenty of prints and zines in their online store, and these are beautiful pieces of art to physically own.
New Releases (October 18)
Jem & The Holograms Misfits Infinite #3
Bitch Planet Triple Feature #5
America Vol 1 Life & Times of America Chavez TP
Jean Grey Vol 1 Nightmare Fuel TP
Spider Gwen Vol 4 Predators TP
Wonder Woman 77/Bionic Woman TP
---
Welcome to Drawn to Comics! From diary comics to superheroes, from webcomics to graphic novels – this is where we'll be taking a look at comics by, featuring and for queer ladies. So whether you love to look at detailed personal accounts of other people's lives, explore new and creative worlds, or you just love to see hot ladies in spandex, we've got something for you.

If you have a comic that you'd like to see me review, you can email me at mey [at] autostraddle [dot] com