Welcome back to No Filter, your finger on the pulse of celebrity bullshit. Guys, I don't know what to do about Kristen Stewart. Did she break up with Alicia or what? The tabloids were quick to point out that she's hired a new assistant, but Alicia wasn't her assistant in the first place. Kristen's not the type to post about her breakups on social media, so a statement concerning the state of her relationship is highly unlikely. I'm still not totally convinced (I will hold out hope until the bitter end), but it's not lookin' good. Anyway, the tabloids are pretty convinced that she's immediately moved on with a 21-year-old person named Lyndsey Gunnulfsen, or Lynn Gvnn. According to sources, Stewart attended PVRIS' show in New York City and was spotted hanging out backstage; the pair even left together. To me, this feels like a brilliant PR move on PVRIS' part, but if nothing else this information does prove that this gal is indeed a pal of Kristen's. All we have determined so far about Ms. Gvnn is that she's the singer for the band PVRIS, and that she's the kind of person who shaves lines into her eyebrows.

I mean, apparently she also likes hanging out in dark alleyways and looking somber, so I guess they have that in common.
---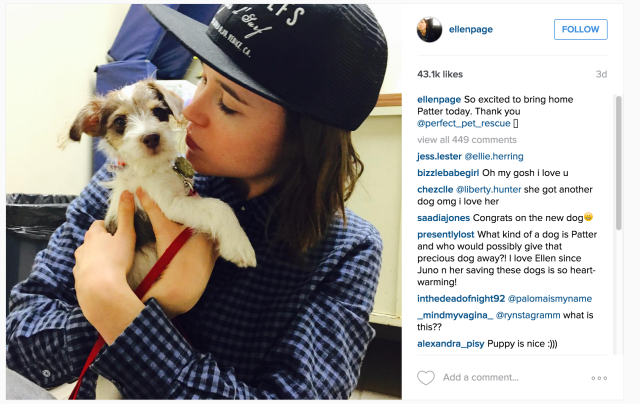 ELLEN PAGE ADOPTED A DOG THIS IS NOT A DRILL. All that time naming other people's dogs and Patter Page was the best she could come up with?
---

Just a cool gathering of superheroes, where they sip martinis and casually talk about taking over the world.
---

Samira and Lauren are perfect, here and everywhere.
---
https://instagram.com/p/883teEmFZx/
The sisters Quin taunt this cat with their opposable thumbs and the freedom they bring.
---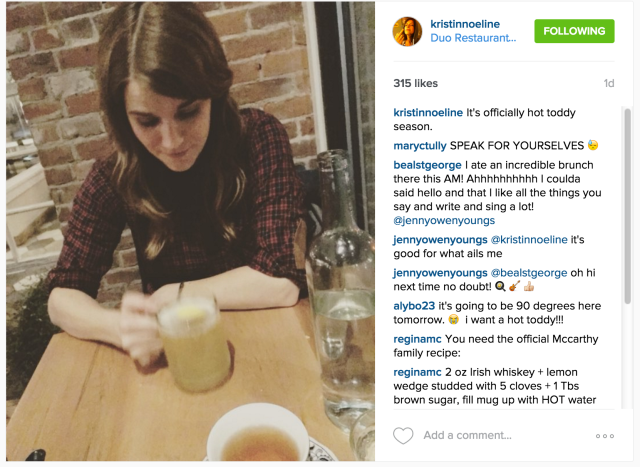 Just do me a favor and click through this one, because it's a really cute video of a really cute person doing really cute stuff.
---

This is from last week, but I really just wanted to talk about casual babe Gabby Rivera.
---

After I implied last week that Michelle Rodriguez might not be very good at Instagram, she stepped it up this week with… this.
---

Cara Delevingne caught this person she never spoke to bragging about hanging out with her and her friends, and casually took a photo of it. I imagine this happens to Cara pretty often; probably it's how she met Taylor Swift.
---

Loiza Lamers became the first-ever trans woman to win a season of Top Model (in this case, Holland's Next Top Model). This is amazing, especially considering all the shit Isis went through back in cycle 11. Mazel tov!
---

I never watched Bomb Girls so I asked Riese what was happening here and she said the Bomb Girls bomb girls are here having a sweet reunion.
---
https://instagram.com/p/9QVcwosZbM/
If Ruby Rose were your girlfriend, this is what your Sunday mornings would look like.
---
Join us next week, as we work tirelessly to get to the bottom of our Kristen Stewart investigation.