Held annually in California, the Worldwide Developer's Conference (WWDC) is Apple's opportunity to show off their new products to thousands of rabid developers and IT types. The highlight of this event is the keynote, which I usually get really excited about weeks in advance, even advance-planning my lunch to be sure I get it early enough to read liveblogs while eating at my desk.
Sometimes I twitter about it, sometimes I instant message my friends with things like, "OMG IT SHOOTS VIDEOOOO," and they have to deal with that. Obvs I'm a big nerd who wishes she could go to cool conferences like this but until then we are very fortunate to have Alexis, a reader who volunteered to cover the event for Autostraddle and give us the scoop — or, more specifically, tell us what it feels like for a GIRL at this virtual Sausage-Fest of an event. Where are the ladies?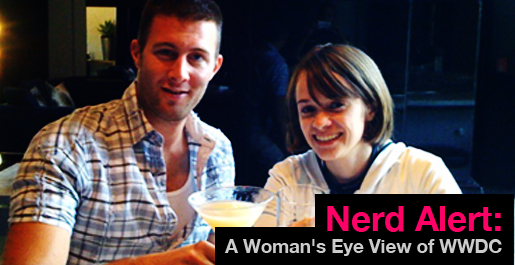 If asked, Alexis would describe herself as such:
I'm a finance bitch, writer, social media junkie, YouTube mash-up maker, entrepreneur and unofficial iPhone app evangelist.  I live in Brooklyn, go to the gym to both run and gawk, and every two years I get completely bored of my latest obsession and pick up something entirely new.  I may be a little too competitive.  And coffee makes me fall asleep.
You can check out her blog and follow her on twitter, but  right now you will just get her take on WWDC '09 from a woman's point of view RIGHT HERE, RIGHT AFTER THIS SENTENCE ENDS. GET READY!
So here we are, several days post-keynote, and you've already heard the sound bytes: iPhone 3GS with VIDEO, better and cheaper MacBook Pros, a $99 iPhone 3G and some cool ass stuff in Snow Leopard.
But there's more to WWDC than easily-digestible headlines. There's more, even, than the incredible PR and music playing between sessions (try MGMT's "Kids" or Bob Marley's "Stir It Up").
1. There are  WOMEN here!
2. Teh Gayz are here!
3. Innovations are here!
There are some incredible pieces of Apple technology mentioned that you might have missed in the sound bytes, and in addition to giving you a small peek into the women of WWDC, I hope to turn you onto some concepts that you may not have heard about.
Mobility is rapidly changing the way we live, play,  interact with each other, and even how we look at soft porn (Meh. They ain't no Autostraddle). Apple's iPhone is at the forefront of our rapidly changing world.  This is a point not lost on the many talented women still roaming the halls of WWDC (not even the soft porn one, depending on who you talk to).

Tuesday @ lunch, about twenty-five women made it out to an informal meetup.  The group was a veritable goldmine of talent, ideas and ambition. There were seasoned professionals, recent iPhone converts, MacOSX goddesses, students with fantastic ideas and shipped products. We had women from Germany, China, and all over the US. And between the women at the lunch and the other women I've met so far at the conference, an amazing list of iPhone  and Mac applications emerge.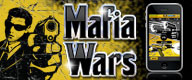 These apps either made with the help of, or in some cases exclusively by, women: Shazam, Tap Tap Revenge, Star Defense, Mafia Wars, ShortCovers, StarWalk, Omni Outliner & Omni Graffle, Scramble, Divelog, GiftTrack, Jellypop, Allrecipes and Live Poker.
There are women here who've founded their own companies and nailed funding from VCs and women who want to find the intersection of fashion and technology via embedded circuits. All of this is incredibly inspiring, but also in one small way problematic: when you're confronted with super ambitious, brilliant women changing our technical landscape, how the hell do you behave yourself? Why, you stay professional and focused on the tech, and not whether or not they are a would-be Autostraddle reader!
Small side note: In our post-gender age, WTF is the protocol for having a women's meetup? I went up to every woman I could find (we're fairly easy to spot). One woman I invited was seated next to another person, who I assumed was a girl due to their fair features, and thus invited them as well. But they introduced themselves as gender_neutral_name and on second-take I was fairly certain he was a transman. I want to include everyone, but hey if you're trying to pass, I bet your day is pretty ruined by some dumb lesbian inviting you to a women's meetup.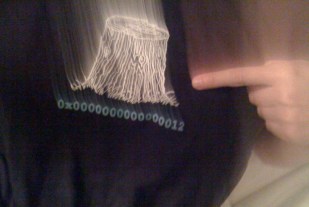 One final note on women at WWDC: we need WAY more stage time. Tuesday night was a session they call "Stump the Experts." Not a single woman got up in front of a mike to ask a question. This must end at WWDC 2010. I did, however, manage to snag a "Stump" t-shirt through my amazing powers of persuasion/magnetism/sheer aggression.
As for the main keynote, it was chock full of presenters — both from within Apple and externally — but only one woman graced the stage. In fact, I was told she is only the second woman ever to take the stage during an Apple keynote. She was from ngmoco:) and she was HILARIOUS. The crowd was super into her demo, as was I! "For an extra fee, you can have a whole NEW UNIVERSE in your pocket!" What's not to love?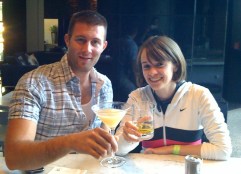 Speaking of LOVE, I also had the chance to sit down with Steve Demeter, creator of Trism and an absolutely fabulous human being. In addition to continuing to innovate like mad at Demiforce, Steve has been keeping quite busy hitting the interview circuit. Look for him in an upcoming issue of The Advocate!

So what did you miss among the many sexy announcements at WWDC? One very important highlight is OpenCL, which allows developers to use the graphics card to do computations. Why does this matter? Unless you're a really hardcore gamer playing a really intensive game, your graphics card typically sits there going to waste. Which is a shame, since graphics cards have become incredibly powerful. Today's fastest graphics cards can perform one trillion floating point operations per second (the tech term? Teraflop. No, really).
But typically, your graphics card sits there like your fucking fabulous heels sit in your closet, neglected and dusty because they're so uncomfortable you can only bear to wear them when you're drunk. Before OpenCL, you could only use the graphics card to process images. After, you can use your graphics card for WHATEVER you want, and WHENEVER you want. It is the gel insoles that let you wear those heels when you're sober, too. Because these little cards are so powerful, scientists will be able to run sophisticated mathematical models in hours instead of days. For consumers, it will mean speedier and more sophisticated applications.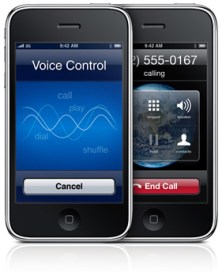 Another innovation you may have missed that you should get very excited about as a techie (or non-techie) is the sheer power of iPhone OS 3.0's Peer to Peer gaming combined with the new Voice Command.  Think Xbox live, but available wherever you and your precious little iPhone happens to be.  This is going to CHANGE YOUR WORLD and mine too.  Here's why.  Forget gaming for a second.  What would the world look like if you could share photos, files, movies wirelessly with your friends from your mobile device, just by talking.  No input, no uploading, no messing around on that damn virtual keyboard.  Just, "Send Olivia Wilde tank top photo to Riese."  Or, "Upload WWDC photo to Carlytron's email."  If done right, this is death-of-the-desktop/laptop-computer level technology.  Why would you ever need a keyboard?
Suresuresuresure, this may all sound like a complete pipedream, but here's why it's coming.  First, peer-to-peer in iPhone 3.0 allows applications to pass data from one iPhone to another over bluetooth.  Gamers are all over this, but I am far more interested in the non-gaming applications of this technology.  The second piece of the puzzle comes with Voice Command on iPhone 3GS.  Now I haven't gotten my hot little hands on this yet, and it could completely suck.  They also may not let developers use Voice Command on the first release.  But eventually, just as they did with the iPod on-board library in OS 3.0, they will release it to the masses.  And then the masses will set it free. Why? You now have a rabid developer community (50,000 iPhone apps + counting) who are going to be testing the limits of this new technology ASAP.  They are going to push Apple to make it better and better, and pretty soon, that pipe dream starts to sounds a little like reality.
And Chinese text input via the mouse trackpad is pretty freaking game-changing as well.
Finally, ONE LAST THING you may not know about the keynote that I found infinitely amusing:  they totally ripped Microsoft for a solid 10 minutes or so.  It was so bad I was flinching.  Here's the summary:  Microsoft, KEEP BLOWING ME!