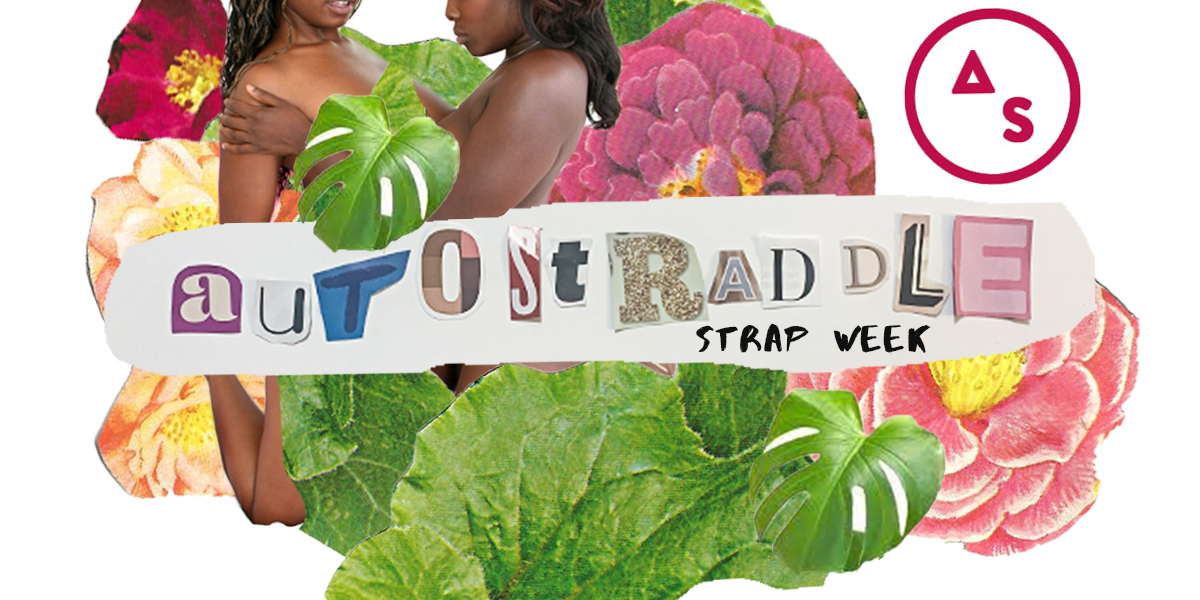 Autostraddle Strap Week 2021 – All Images by Demetria.
---
The beloved overnight bag. Sometimes lovingly referred to as the "spennanight bag." As for me and my queer household, we like to call it the Strap Pack. It is my discreet and very cute (because one can absolutely be stylish and efficiently transport sext toys) go-to bag where I keep the essentials when in anticipation of some strap-on action.
The Backpack:
Before I graduated from baby dyke and advanced (in age and skill) to OG strapper, I used to carry around all of my goodies in a regular ol' Jansport backpack. I've since invested in a cruelty-free, vegan leather backpack with enough storage and compartments for everything I would possibly need. It's from a great company called MAHI that operates using responsible commerce. I love it because it's functional, but also because it looks like it was made from the cork of a giant bottle of wine. I need several compartments and pockets to store my other sex essentials and this bag answered the call.
My Dicks:
I carry at least 2. As a child of Venus (Taurus Mum and Libra Dad), I've always been attracted to things of beauty and artsy shit. So when I was looking to add to my collection, I came across a company, Wet For Her that was created with lesbian and queer womxn in mind. I chose their rose tattoo-inspired dildo, at 7 inches long it's a great size, and instead of the usual smooth surface dildo, this strap has spiraling curves all around it. The design enhances pleasure based on the ridges alone and definitely elicits a not-so-subtle response when I'm using it with my partner. My second dildo and a forever fave is The Union. I personally call this one "the unison" because it allows both myself and my partner to receive exquisite pleasure, which usually ends up with us both orgasming at the same time. Thanks to the adjustable bulb and shaft, switching and maintaining different positions is always a comfortable ride for us both.
Cleansing +:
I don't just throw the toys in the bag and keep it pushin'. When I'm transporting my dicks around, I pack my UV Sterilizer Pouch from B-Vibe. It kills 99.99% of bacteria using rapid sanitizing and score and it's USB powered. This is an essential part because it gives the added sense of hygienic protection. For toy cleaners, the intimate toy cleaner gel by Sliquid Shine fits perfectly into one of the zipped compartments. It gives me grown-ass sex and elegant vibes. I carry the 2oz bottle in my bag when traveling (great for maintaining TSA requirements) and I keep the 8oz bottle on hand at home. Knowing that it's organic and free of harsh chemicals that could potentially damage my toys, is also a relief. Plus it smells like tea tree oil and leaves no residue when using it.
My Harness:
I'm more of a boxer brief kinda person. I'm not a fan of the traditional strap-on harness design that comes equipped with straps and buckles and other time-consuming and at times, frustrating components. My harness needs to do three things: I need efficiency & compatibility with my dildos, I need comfort, & I need cute/sexy. This is why I always carry my Boxer brief harness from RodeoH along with their stabilizer that ensures no matter how wild the ride may get, everything stays in place. The fabulous thing about the stabilizer is that you can get them in different dildo size diameters ranging from 1″ to 2". I carry a second pair of Biker briefs with an additional stabilizer that accommodates a larger diameter dildo. I like having options. PLUS, they're so compact making them easy to pack in my bag, neatly.
Condoms:
In the event that my partner may have an allergy or sensitivity to latex, I always travel with non-latex condoms and there are two in particular that I keep in my bag. The first is SKYN Original,  they're made with polyisoprene, which means they offer the same protection against STI's and pregnancy as latex condoms. The second is Trojan Naturalamb, this particular brand is efficient in preventing pregnancy, but not as efficient in protection from STI transmission, so FYI on that.
Sex Wipes:
Most of us are familiar with the infamous "sex towel" when getting it in. Although it's a well-known accessory to sexual adventures, it definitely is not the most hygienic way to perform your pre or post-sex clean-up. This is why sex wipes come in handy. I pack Swipes Lovin Cucumber Wipes from a Black woman-owned company called Organic Loven. They are moist and soothing on your skin, and hella more hygienic.
Lube:
Before, I was using a simple, generic type of lube. Until one day when I was cleaning one of my dildos, I noticed that the material was starting to deteriorate. I couldn't figure out why since I had bought it only a month prior. It wasn't until I spoke to a sexpert at Feelmore, the first and only Black-owned sex store in Oakland, that I learned your toys could be destroyed based on the chemicals in a lube. That was a game-changer for me and convinced me to do more extensive research on the products I was using.
I came across one of my faves, Alu. It's aloe-vera-based lube made from natural plant extracts. This brand did their research and created this product to match the vagina's pH. It's free of glycerin, parabens, etc. & safe for toys and most condoms. The last thing you want to do is spend money on expensive ass toys (and expensive ass condoms) and find out the hard way that it's chemically not compatible — killing not only your vibe but your toys as well.
---
Do you need to have a fancy bag with all the bells and whistles to have amazing sex? Absolutely not. Does it need to be a specific type or fancy bag? Again, no. If you have a favorite bag or tote that you like to carry, go ahead and use what you have. It's all about being able to carry everything you need. Staying organized and keeping it safe and hygienic helps me so that I'm always prepared to get as freaky as I want — and can lay the strap down anytime and anyplace.