After months of heated anticipation, a substantial trailer and a release date (December 9th) for HBO Max's Sex and the City reboot "And Just Like That" has been unleashed upon the internet. That's us, the internet. And we are tentatively quite excited?!
As previously discussed, Sara Ramirez will be playing "podcaster Che Diaz, a nonbinary, queer, stand-up comedian who often hosts Carrie Bradshaw (Parker) on their show. Che, who uses the pronouns they/them, is described as a big presence with a big heart whose outrageous sense of humor and progressive, human overview of gender roles has made them and their podcast very popular."
And Che is all over this trailer!! And also maybe all over Miranda?
Let's discuss!
---
Natalie: Less than a month away, Carmen.
Carmen: AGGHHHHGGH NATALIE WHAT A GOOD MORNING THANK YOU
Valerie: Carmen the little heart!
Carmen: Hahaahaaa, I am who I am.
Carmen:

Is that Sara Ramirez (excuse me, Che) flirting with Miranda!!!
I think… I think…. MIRANDA HOBBES BISEXUAL????
Could we be that lucky???
Riese: Do you think that Carrie's gonna be like "Che wore a chain with a lock around their neck but did Miranda have the key to open their heart?"
Natalie: I would also like to talk about the woman Miranda is with in the trailer.
Carmen: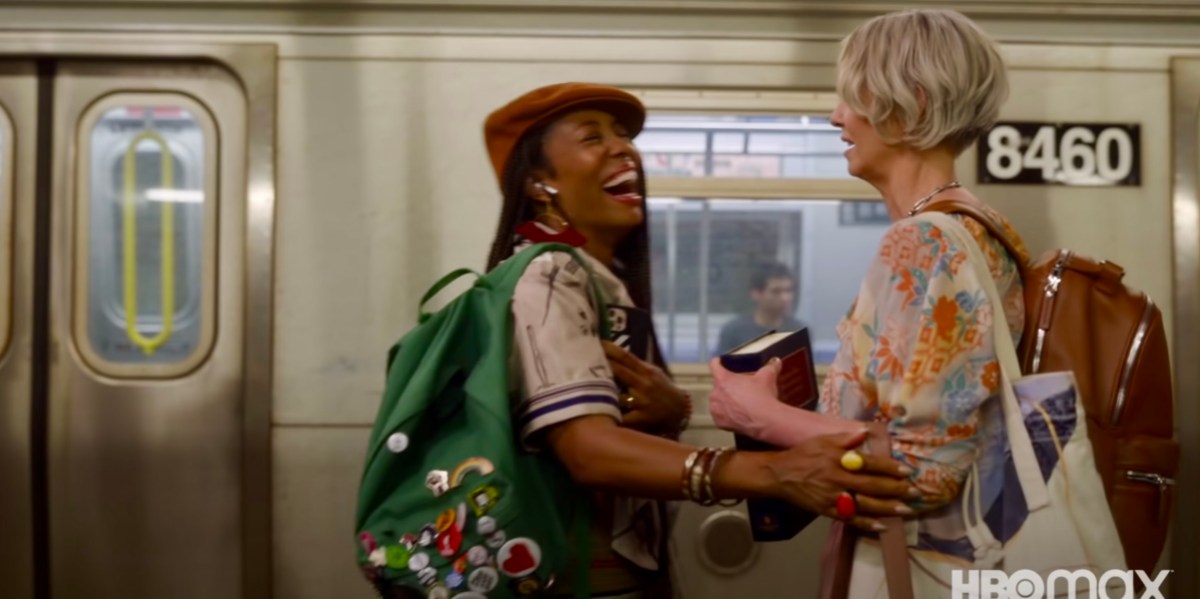 Natalie: Yeah, the woman she's talking to in that screenshot is married on the show but there is a rainbow enamel pin on her backpack so… I'm hopeful?
Carmen: Natalie… are out here doing SATC recon? Am I… going to have to add you to our club?
(Editor's Note: the SATC club currently consists of Carmen Phillips, Reboot Board President and Riese Bernard, Historian of SATC and all things 1990s and 2000s. Drew Gregory puts up with us.)
Natalie: lol
Carmen: So that Black woman with the rainbow pin holding on to Miranda for dear life is Dr. Nya Wallace (played by Karen Pittman). She's a Columbia law professor who's married to Andre Rashad Wallace (LeRoy McClain), a musician. But it's 2021 and I believe everyone is poly and pansexual until told differently.
Heather: What is especially funny to me about the Miranda screenshot is Cynthia Nixon is notorious for riding the MTA around NYC and glaring down anyone who looks in her direction, like unblinkingly, for until that person gets off the train.
Riese: MIRANDA HOBBES BISEXUAL