I tend to roll my eyes when corporations market to the queer community because it's usually empty pandering, often accompanied by back door donations to anti-LGBTQ+ conservatives. And while I still believe that, I was reminded recently that these advertisements — and all the hype around them — can speak volumes about the state of LGBTQ+ rights in a given place.
---
Remember the Hallmark commercial from 2019? The wedding registry site, Zola (owned by Hallmark), aired an ad featuring a lesbian wedding. Conservatives lost their shit and waged a campaign against the commercial for being a desecration of marriage, especially because the two women kiss at the end. Hallmark's TV Chief decided to take the ad off air. After mounting pressure from GLAAD, countless celebrities and a public boycott campaign against Hallmark, the company issued an apology for pulling the commercial. A month later, that TV Chief stepped down in recognition of his huge mistake in the whole debacle.
To be perfectly honest, I didn't think much of the whole thing. In fact, I was traveling at the time and only heard echoes of what happened weeks after it all unfolded. But when history seemed to repeat itself in India at the end of October, I couldn't help but think back to the Hallmark mess and see the clear parallels and, also, the substantial divergences.
Dabur, an Indian brand that sells health and beauty products, aired a commercial for a skin-bleaching cream featuring a lesbian couple celebrating the Hindu holiday Karwa Chauth. The advertisement raised a lot of questions on all sides. On the left, progressives, feminists and LGBTQ+ activists took issue with the advertisement for its coloristic promotion of skin-bleaching and its celebration of a deeply misogynistic festival. But, the backlash from the Hindu ultraright was swift and unrelenting. Ultimately, Dabur buckled to pressure from the ruling Hindu nationalists, pulling the ad and issuing an "unconditional" apology.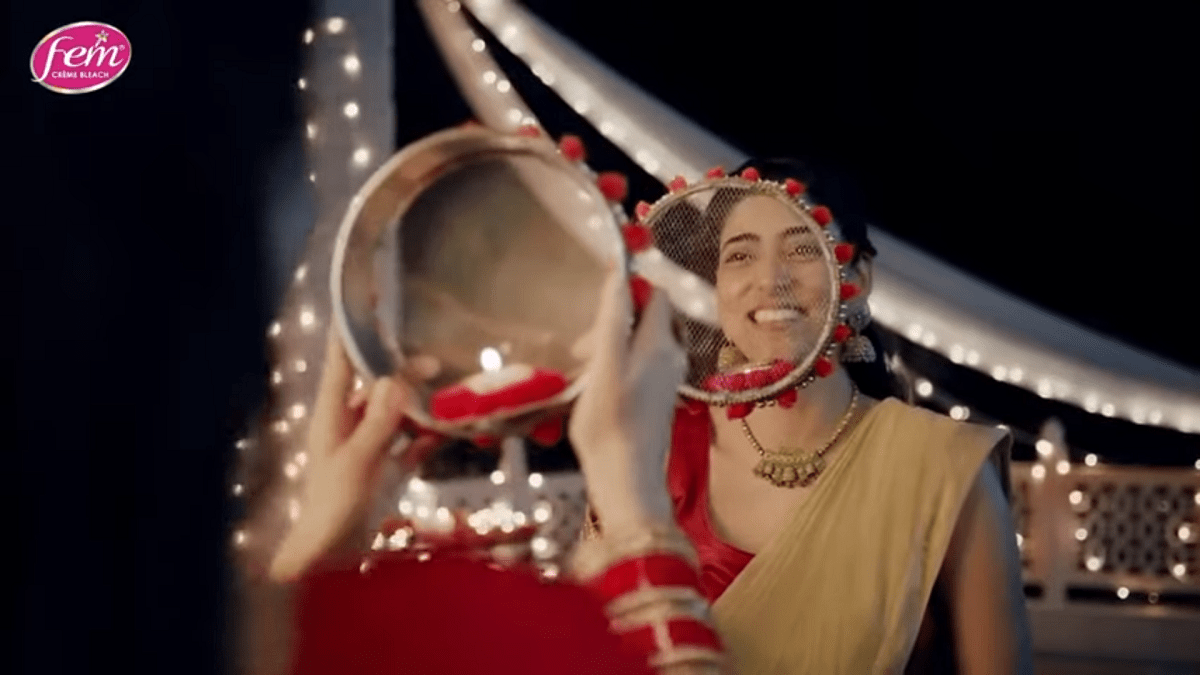 Hallmark and Dabur. These two incidents started out similarly and yet the outcomes couldn't be more different. And if this were just a story of a corporation with a poorly-conceived attempt at pro-LGBTQ+ messaging, I wouldn't be writing about it. But there are so many layers to unpack here, starting with the details of the commercial itself, and each layer reveals something different about the political situation in India.
---
The emotional thrust of the advertisement — and also the heart of the controversy — is the fact that two women are holding the Karwa Chauth fast for each other. To fully appreciate what Dabur was trying to do and what the Hindu right rallied against, you need to know what Karwa Chauth is.
Growing up, my knowledge of Hindu holidays was limited and based largely on observation. The theme generally seemed to be that women must celebrate, honor and worship the men in their lives: fathers, brothers and, most of all, husbands. Karwa Chauth was, perhaps, the epitome of this. My mother would rise before dawn to start an all-day fast of food and water that she would only break at moonrise. My father would go about his day as per usual. I don't recall seeing my parents enact the climax of the ceremony — emotions, most of all love, being nonexistent in my family, after all.
Bollywood filled in that gap for me. One of the key moments in probably the most enduringly popular movie of the '90s, Dilwale Dulhania Le Jayenge, is when the heroine Simran holds the Karwa Chauth fast. Her family thinks she is fasting for the man they expect her to marry, Kuljeet, but she subverts the rituals to be true to her own love, Raj. Once the moon appears, the wife (or, in this case, bride-to-be), looks at the moon through a sieve before turning to her husband. The husband then gives his wife her first sip of water of the day. In the most dramatic telling, the wife also breaks her fast by being fed by her husband. In DDLJ, just as Kuljeet is handing Simran water, she pretends to faint and is caught by Raj who offers the water to her instead. Simran winks at Raj to emphasize the symbolism of the moment for him and the audience alike: the sanctity of their secret relationship is preserved.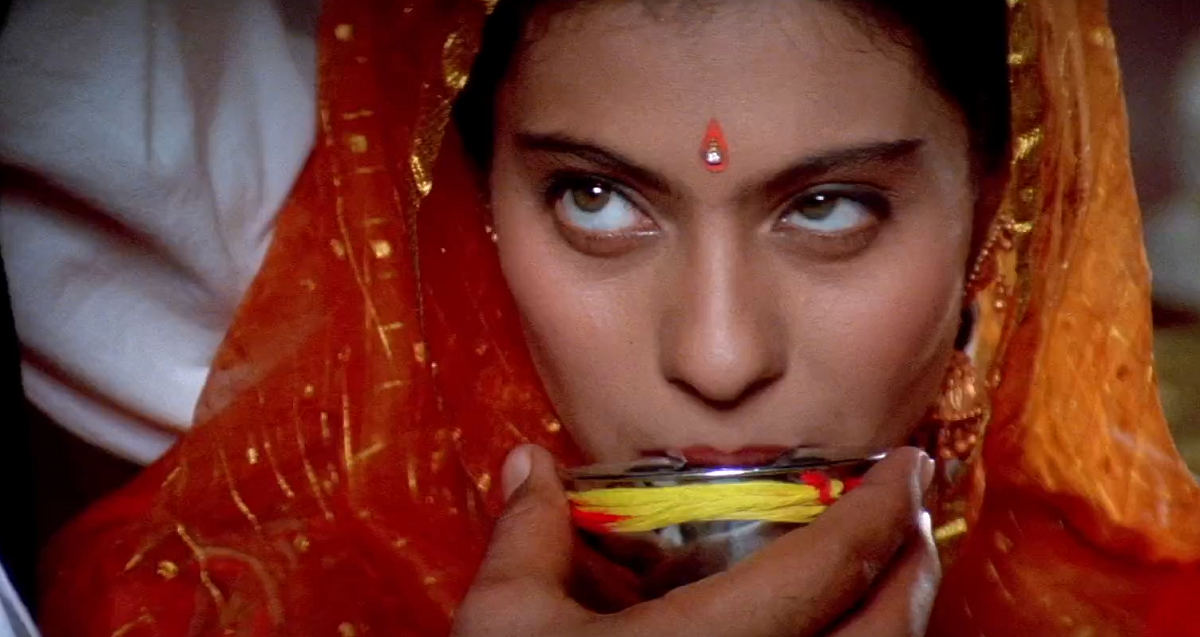 I learned the point of Karwa Chauth years after the fact: the belief is that wives fast for the longevity of their husbands. Wives must sacrifice at all costs for their husbands.
Some modern takes on Karwa Chauth have attempted to blunt the misogyny. Returning to DDLJ, for instance, Simran refuses to break her fast until she can eat with Raj, but Raj is being detained by family at the celebration. When he finally manages to sneak away, she scolds him, saying that he must have been stuffing his face while she was dying of hunger. Simran's sister reveals, though, that Raj, a true modern gentleman, has actually been fasting all day too, for Simran. This perspective isn't unique just to Bollywood. While many Indians have decried Karwa Chauth altogether, others celebrate it as couples, participating in the ritual fast of their own agency and as a sign of their love.
The other side of modernity, of course, is consumerism. There is a booming industry around Karwa Chauth, with the sale of cosmetics, henna, clothes, designer sieves and even phone apps being marketed to women.
And this is precisely where Dabur's ad fits in.
---
While I might not personally agree that a custom like Karwa Chauth can be reinterpreted to have a place in a feminist worldview, I have to believe this is what Dabur had in mind when they created their ill-fated ad.
In fact, as the two women are getting ready for the ceremony, they ask each other why they're holding such a difficult fast. "For their happiness. And you?" one woman says, using ambiguous pronouns in her response that don't reveal the gender of her partner. "For their long life," the first woman replies, similarly ambiguous. Hindi is a heavily gendered language, but it's possible to refer to someone using formal pronouns that would not reveal gender, which is how the women are referring to their partners. That same level of formality is often used by wives to speak with and speak of their husbands, especially in the most traditional settings.
The ad pulls off a bit of subversion beyond the linguistic usage. In the first portion, the viewer is led to believe that these two women are getting ready to celebrate Karwa Chauth together socially for their respective husbands. When a mother-in-law appears, commending them for their "impressive preparations" and hands them their outfits, we think that maybe the two are sisters-in-law living in the same household. It's only when the ceremony unfolds, and we see the two women turn to look at each other that the true nature of their relationship becomes clear. These women aren't just together, they are married, and their marriage has religious underpinnings. In a country where gay marriage is still illegal, the political and social ramifications of such a representation really can't be overstated.
In this respect, the Dabur and Hallmark ads share much in common. Both are subverting and reimaging marriage to be inclusive of queer relationships, specifically, between two women. They're also normalizing queer relationships and affording them the same social legitimacy as heterosexual relationships by placing two women at the center of customs and traditions typically reserved for heterosexual couples.
But what exactly is Dabur selling in its supposedly woman-empowering advertisement? Skin bleaching cream. There's a sick irony to marketing harmful and coloristic so-called "beauty" products to women in an advertisement that is seeking to subvert misogynistic gender norms and depict women's agency in their relationships. And this is what makes it so difficult for Indian feminists and the LGBTQ+ community to wholeheartedly support Dabur's ad the way many comparable American groups did for the Hallmark ad. Hallmark was being equally consumerist by marketing Zola, the wedding registry site, but it wasn't marketing a blatantly racist product that upholds a narrow and sexist view of "beauty."
As an atheist who was raised Hindu, I hate the idea of Karwa Chauth and everything it stands for, modern rebranding be damned. I have spent the larger part of my life in defiance of the notion that love is entirely about the sacrifice of women. So it's easy for me to write off the whole thing as a company that made an especially poorly-conceived attempt to pander to the LGBTQ+ community. And so I largely agree with journalist Sandip Roy, who sums up the issue by saying:
"The Dabur ad tries to queer two topics that are viewed with disdain by many who consider themselves socially progressive — Karwachauth and [skin-bleaching] creams. … Do some rainbow sprinkles somehow radically reinvent our obsession with fairness and the long lives of husbands (but not wives)?"
But I also recognize the very real tension for the Indian LGBTQ+ community and particularly for women in that community. As the Instagram account for the #IWillGoOut movement to end street harassment in India put it:
"I'm more than happy to see a queer couple in love on the national digital space, with a happy mother in law standing by them. Instead of the usual problematic queer representation, we now have a lovely queer representation in a very problematic ad. Ugh. Progress? Who knows. Progress within a patriarchal space is still infected by patriarchy after all. But I know many queer couples urgently need to be able to imagine possibilities of safety, love, hope and home. Until better desi queer visuals come along, this problematic ad will do."
---
Beneath it all, there's a peddling of a particular narrative of Hinduism and India. Karwa Chauth isn't universally practiced by Hindus in India, but looking at mainstream Indian media you wouldn't know that. So many Bollywood movies and even made-for-streaming shows center this celebration, from DDLJ to another beloved Bollywood classic Khabi Khushi Khabie Gham to the recent Netflix show Bombay Begums. And, while the big Hindu holidays like Holi, Diwali and Karwa Chauth are seemingly inescapable in mainstream Indian media, the country with the third largest Muslim population in the world offers, at best, a much more barebones acknowledgement of major Muslim holidays like Eid.
Despite being such an unabashed promotion of Hinduism, for India's Hindu right the fact that Dabur's ad deviates from Hindutva is what's really at stake here. While those of us on the left are conflicted over the ad for what it's selling and how it's selling it, Hindu nationalists (who hold power both nationally and in many state governments through the ruling Bharatiya Janata Party, or BJP) are enraged because, to them, the idea of two Hindu women in a religiously sanctioned relationship is an unequivocal desecration of Hinduism itself.
Whereas the campaign against the Hallmark ad was led by the ultraconservative website One Million Moms and its social media pages, BJP politicians themselves stepped into the fray against Dabur. The ad was pulled after the Home Minister of the Indian state of Madhya Pradesh threatened legal action against Dabur. While the hubbub around Hallmark died down after the company issued an apology for pulling the ad in the first place, Dabur, posted to Twitter that the company "unconditionally apologize[s] for unintentionally hurting people's sentiments" (emphasis added) and removed the advertisement from its social media.
Journalist Sandip Roy offers some context for Dabur's ad, which was only the latest foray by an Indian corporation into social issues that are seen as anathema by the BJP. Most of the previous ads created controversy for testing Hindu nationalists' tolerance of Muslims or anything they view as remotely Muslim-adjacent, even when it isn't. This is, sadly, unsurprising in India's current hyper-Islamophobic political environment. One jewelry ad from 2020 delved directly into India's Islamophobic political debates by showing an interfaith marriage. Shortly after the ad was pulled, India's most populous state, Uttar Pardesh, passed a law (that had been under discussion for over a year) criminalizing interfaith marriages. Reflecting on all this, Roy observes: "Until now, though, LGBT issues had been a safer and less controversial place to exhibit liberal values rather than religion." And the recent controversy around an ad that challenged the Hindu marital tradition of kanyadaan, or giving away of a daughter to the groom's family, would seem to reinforce his thesis.
I would argue that it becomes impossible to really talk about LGBTQ+ rights without delving into religion because religions the world over have long called us sinners. This is as true in America as it is in India, as true of Christianity as it is of Hinduism.
I would argue that it becomes impossible to really talk about LGBTQ+ rights without delving into religion because religions the world over have long called us sinners. This is as true in America as it is in India, as true of Christianity as it is of Hinduism, even before we get into Victorian sensibilities and the legacy of two hundred years of British colonialism. Roy gives the example of two pro-LGBTQ+ Indian ads that didn't evoke the kind of controversy the Dabur ad did, but neither of these ads made the mistake of explicitly placing LGBTQ+ people inside rituals that are entirely designed to exclude us. (As an aside, one of them is an incredibly touching trans-inclusive ad by a jewelry company and shows a trans woman getting ready for her wedding. But the ad doesn't actually show the wedding ceremony itself, which, in my view, is at least partly why it didn't draw as much negative publicity as the Dabur ad.)
At its core, rightwing backlash against Hallmark and Dabur were both about, more or less, the same thing: an insistence that queer people  should have no place in the world. But the difference in the outcomes indicates that the fights for LGBTQ+ rights are in very, very different stages in these two respective countries and societies. America is not, by any means, a bastion of equality, and it has been three years since Section 377 was struck down in India, decriminalizing homosexuality. Yet I struggle to shake the sense that among Indians, being queer remains something to hide and is a cause for shame. In an attempt to challenge that view in the mainstream, Dabur made an ad celebrating a fundamentally misogynistic festival to sell coloristic beauty standards to women. But the fierce outcry was against the notion of a happily married lesbian couple, instead.
And that has only served to reinforce my view.