So Sunday night the American Music Awards happened and I watched because it was DVRed in place of Once Upon a Time. I'm sure by now nearly every news source, blog and twitter has already covered the AMAs, but it took me a couple days to write about them because I'm a slowpoke and it took me three full days to recover from the shrieking at the premiere of Breaking Dawn.
Let's get real: these ain't no Grammys. The AMAs are one of those award shows where I swear every song and album nominated has been out for like a year already. According the the Wikipedia article I read on the AMAs this morning, nominations are "based on sales, airplay, activity on social networks, and video viewing" and then people can go online to vote for Justin Bieber all they want. So in other words, the artists and songs recognized at the AMAs are all the music KISS 107.9 plays on repeat all day long and therefore maybe it just feels like Taylor Swift is intensely permeating album has been out for forever. Well, it was a long evening and I still can't figure out what Lionel Richie's purpose was on the show all night so let's just cut to the chase.
Red Carpet
Because I care about you guys, I'll answer your most burning question first. What exactly was Justin Beiber wearing on the red carpet? Well he arrived with his girlfriend Selena Is-She-Eighteen-Yet Gomez and, of course, they had that kind of giggly love that only exists prior to the first time you get your heart truly stomped on. And the Beibster was rocking a velvet tux which is sort of hideous, but not unique to lesbianage. I started to wonder if maybe I'd been misjudging Bieber. Maybe I was blinded by his swooping hair and unhealthy attachment to sneakers such that I was projecting lesbian attire where there really was none.
But then the jacket came off. Bro, that's a velvet zip-up vest. I have to wonder if Bieber is actually recieving royalties from Lesbians Who Look Like Justin Bieber?
Moving along to other people I care about, the AMAs definitely solidified my long-held suspicious that my tolerance of/appreciation for pink hair and costumes has almost nothing to do with looks or design and is exclusively based on how much I like a performer's music. Thus, while I thought Nicki Minaj looked bomb, despite looking slightly like The Little Mermaid, I have no idea why Katy Perry won't stop trying so hard. Katy Perry did have cute blue shoe though, which makes me like her almost as much as I did when I found out about her cat, Kitty Purry.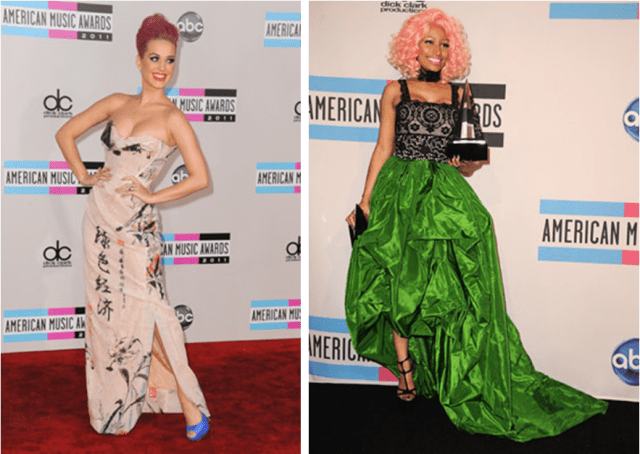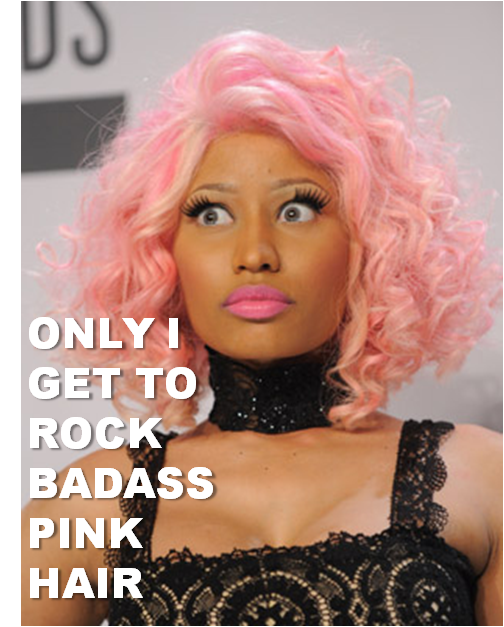 Other than those up for awards, the AMAs were kind of a ghost town. With no Lady Gaga, Ellen, Naya Rivera, Shay Mitchell or even Vanessa Carlton, this was't one of those times where I was bursting to talk about all the gay style frolicking about. Queen Latifa, Sara Ramirez and our gay boyfriend Adam Lambert did show their shining beautiful faces.
I did notice some serious trending in the dress department. Long gowns with slits and festive metallics seemed to be the exclusive options for the dress-wearing sort.
Performances
Generally speaking I don't like the judge the performances at award shows too harshly, as entertainers are expected to sit around without warming up, drink two cocktails and then perform a brand new show on an unfamiliar stage without their usual sound people. So yeah, lots of people were flat, but what really struck me were the stage shows. Oh lord. I'm pretty sure that the show designers we're tripping balls on peyote when they designed the lighting and pyrotechnics for this show. Most of the seventeen performances came standard with over-the-top glow sticks and laser shows. It's like the show director woke up from a Tron nightmare last week and was like, "Oh shit it's the future. Everyone grab a robot, an iPad and as many glowsticks as you can carry and meet me on stage in five."
And yeah, you read right, seventeen:
David Guetta with Nicki Minaj — "Sweat" / "Turn Me On" / Super Bass"
Justin Bieber — "Mistletoe"
The Band Perry — "If I Die Young"
Chris Brown — "All Back" / "Say It With Me"
Kelly Clarkson — "Mr. Know It All"
Enrique Iglesias (w/ Ludacris) — "I Like How It Feels" / "Tonight (I'm Lovin' You)"
Jennifer Lopez (w/ Pitbull) — "Until It Beats No More" / "Papi" / "On the Floor"
OneRepublic — "Good Life"
Pitbull (w/ Marc Anthony & Lil Jon) — "I Know You Want Me" / "Give Me Everything" / "Rain Over Me"
Katy Perry — "The One That Got Away
Mary J. Blige — "Mr. Wrong"
Maroon 5 (w/ Christina Aguilera) — "Moves Like Jagger"
Gym Class Heroes (w/ Adam Levine) — "Stereo Hearts"
Drake — "Headlines"
Daughtry — "Crawling Back To You"
will.i.am (w/ Jennifer Lopez) — "T.H.E. (The Hardest Ever)"
LMFAO — "Party Rock Anthem" / "Sexy and I Know It"
Okay, I don't even know where to begin. David Guetta with Nicki Minaj was so good that everything following them just seemed silly. Also Nicki Minaj rocked out with some robot dudes while dressed in a suit of armor. During the performance the camera cut to Taylor Swift and Selena Gomez rapping along. I'm a big softy– it was cute.
On a second positive note, Gym Class Heroes and Adam Levine were good despite the fact that I was quite certain if I ever heard "Stereo Hearts" again I was going to blow my brains out. The Band Perry was also solid but I was distracted by the sudden realization that the girl who sings "If I Die Young" isn't like fifteen. Similarly I enjoyed Mary J. Blige's performance except for being distracted by the sudden realization that's Mary J. Blige is back. That pretty much ends it for the positive.
Before I continue, I want to take a moment to ask a question. What the fuck was Chris Brown doing performing at an award show? I know that he performed at the MTV VMAs this year, but I guess I just thought that was a bizzare publicity stunt on MTV's part. I thought we'd all unilaterally agreed that his behavior has been repulsive and therefore he isn't allowed to be famous anymore. I'm not even gonna show a clip of his performance. This is from the VMAs: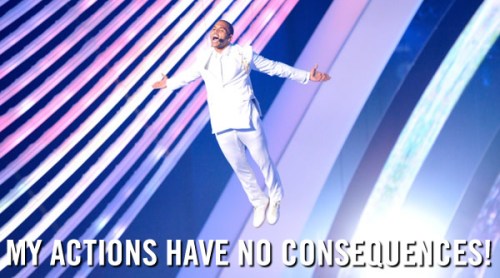 In the category of Oh God What Am I Watching, the Biebster, JLo and Katy Perry all snag Lizz-Awards. Justin Bieber sang this God awful song off his Christmas album dressed like a snowman and even the staunchest Bieber lover couldn't have appreciated it.
Katy Perry and JLo's singing was fine (although I could have lived without Katy Perry a cappella) but their outfits were ludicrous (not to be confused with Ludacris). JLo clearly knocked-off her costume from Britney Spears's VMA performance of "Oops I Did it Again." If not, maybe it was taken from Britney's "Toxic" video. One this is for sure; Britney did it better. Why? 'Cause she's Britney bitch.


Katy Perry just used the AMAs to show off her Judy Jetson Halloween costume.
The night closed with LMFAO performing their two hits from this year "Party Rock Anthem" and "Sexy and I Know It." Both were wicked trippy but, let's get real, crazy party dance music is huge right now. Basically the guys from the bang just stripped down in to boxers with happy faces on them. Everything was all fine and dandy and pant-less until randomly Justin Bieber showed up to dance Canadian style with David Hasslehoff and Keenan Cahill. Like, then Hasslehoff took off his pants. For some reason the audience during this performance didn't realize they were at a live concert. They were all wearing 3D glass and I just wanted to shake them and shout, "Guys! It's already in 3D!" I just don't know.
The Winners
I'm really shocked you made it this far in to the article. You totally could have just read the winners elsewhere, faster. There were no terrible upsets or surprising victories. I mean, that's what happens when American's teens vote repeatedly online. I will point out that women dominated this year. In addition to the three women-exclusive awards, female artists took home eight out of the thirteen gender-neutral awards and Katy Perry received an award for being the first female artist to have five number one hits from the same album. I thought that actually seemed well deserved because I do like that "E.T." song.
Nicki Minaj snagged both Favorite Rap/Hip-Hop Artist and Album (Pink Friday) and maybe I'm wrong but it seemed like a Big Deal for women in hip-hop. I specifically requested of the award show gods that Adele win everything, but I guess she never had a shot at Favorite Hip-Hop artist. Adele did take home three awards: Favorite Pop/Rock Album(21), Favorite Pop/Rock Female Artist and Favorite Adult Contemporary Artist (whatever the hell that is). Despite her wins, Adele missed the show while recovering from surgery TOTALLY NEAR ME IN BOSTON. Some other people won other things but I don't think it's worth really addressing them since this article is already way too long and apparently the only names I can type are Nicki Minaj and Katy Perry.
Anyway Taylor Swift won Favorite Country Album (Speak Now), Favorite Country Female Artist and, surprise surprise Artist of the Year. I can understand why Taylor Swift was so dumbstruck. I mean, it's not like, oh I dunno, she won this award when her last album came out in 2009. No but that was a joke– she did win it then. She's also won Favorite Country Female Artist of the year ever year since 2008. Also she won Entertainer of the Year a the CMAs just a few weeks ago. And in 2009 when her last album came out. So yeah, her surprise it totally valid and proportional to the likelihood that, given endless time on the internet, every fifteen year old girl would rapidly click the vote button for Taylor Swift.
Like I said. These ain't no Grammys.