Featuring original illustrations by Lizz!
Thursday night, after work, my roommate I were supposed to go to the gym, cook some dinner and go to bed early because we are both tired all the time. So, obviously after we skipped the gym and went shopping for matching hats we had to figure out something entertaining to do. We were all but settled on Hibachi when my roommate suggested we catch a movie. Unfortunately the last showing of Puss in Boots had just started fifteen minutes ago. My roommate joked, "Hey, Twilight is showing at midnight. How funny would it be if we went?" I'm a gigantic know-it-all so I respond, "Nah dude, that shit's been sold out for months! MONNNTHHSSSS" My roommate, trying to disprove me, found a theater with tickets for the fifth showing of the night at 12:04.
Something about thinking we wouldn't be able to get tickets and then finding some got us super pumped for the idea of going. So all of a sudden there we were with tickets to a midnight showing of Breaking Dawn Part One. Actually, first we watched the previous film because I never saw it. ( You should read the review we did of Eclipse too!)
I should be clear that I did read the Twilight books and while I totally enjoyed them I also think they're super destructive for basically all women. But that's neither here nor there. Let's start from my arrival outside the theater.
11:10 This is the BEST idea ever
11:12 This was the stupidest idea ever
11:20 Overheard: "I can't believe there are people at the 12:03 showing that get to see this before us."
11:23 We found seats! There are only girls here. Okay now that we're here what do we do? This is like the end of The Graduate. We should throw jackets on our seats and go get a snack to kill the next 40 min.
11:25 Overheard: "Oh my God, did someone check us in to facebook because I totally forgot to change my status."
11:28 Getting in line for popcorn.
11:38 Still in line, wtf this isn't Harry Potter.
11:44 Seriously how long does it take to get a slushy.
11:45 Just paid $6 and my first born child for a small popcorn.
11:50 Okay now what do we do?
11:55
12:05: I totally forgot there would be previews– HOLY SHIT TITANIC IS COMING TO THEATERS IN 3D
12:30(ish): Movie Begins. Uncomfortably long amounts of applause.
SPOILERS BEGINNING NOW
Okay obviously I didn't take notes during the movie because that would have been rude. But basically it was just an entire film built around everyone waiting to see the sex scene. One of the funniest things about seeing Breaking Dawn Part One in theaters is that the entire audience of adolescent women has these hilarious group reactions all at once. Unfortunately it turned in to two hours of my roommate and I having completely the wrong reactions to everything.
The film starts out by Jacob receiving the invitation to Bella's wedding and ripping off his shirt to run out in to the wild like a jackal or a 20 year-old playing a teenager in a movie. This is the beginning of everyone pretending like the characters aren't supposed to be 17 or 18. After the invitations are received and we get the  gratuitous shirtless Jacob,  the movie cuts to Bella's bedroom where Bella is packing up her things to leave her family forever and Edward reminds her one last time that he's a horrible awful monster who can kill and stuff and she's a weak scared little girl. Bella's like, "Yeah cool bro, whatev" and still wants to marry him. So then it's the wedding and they exchange vows and make-out for like five minutes, you know, the way two people who aren't ready to get married might. I will say, weak scripts aside, this movie series is driven forward by KStew and RPat's chemistry.
Then Jacob shows up and pulls Bella aside to ask her graphic questions about her wedding night and tells her she shouldn't "do it" because if she and Edward "do it" he'll kill her and Jacob really needs her to be alive because he totally still loves her for unexplained and underdeveloped reasons. Bella tells Jacob to fuck off and she and Edward run off to their honeymoon on an island so they can consummate the hell out of their marriage. Now that Bella and Edward are married, they can have sex without it sending them both to hell or killing Bella. It was pretty clear (by the cheering and awkward laughter) that this was the part that everyone had been waiting for. There are a lot of feathers involved in the sex. I'm not sure why.
Unfortunately the sex didn't last long because in the morning when Edward saw some bruises on Bella he was all, "I can't even believe I hurt you. Don't tell me you liked it because I Know You Didn't. WHY DO YOU EVEN LIKE ME?!" This is totally not creepy and doesn't make anyone think of actual domestic violence and the phases of denial one can go into afterwards.
So then there was the longest montage in the history of film where the two of them are romping about but not getting down with the get down. This included some actually great scenes of Kristen Stewart in lingerie trying to be sexy in that totally self aware Kristen Stewart way.


Then Bella realizes she's pregnant and freaks the fuck out because, um, she's pregnant and no one knew that was even possible. The baby is a freaky mutant and is killing Bella so she runs back to Edward's parent's house and calls her own dad to tell him she can't see him for a while longer. Oh, did I mention there's also an army of new born vampires out to kill Bella?* I think I forgot that. Jacob is grossed out by the mutant fetus, but he comes around to the house to help save Bella from the army and also so he can get in a big fight with his pack. This seemed to be mostly so that there could be some thoroughly bizarre scenes with the wolves talking in their heads. So Jacob leaves the pack with the wolf-girl and the youngest wolf. Now that he's the head of a pack, he decides the vamps are okay except the freaky one in Bella's belly.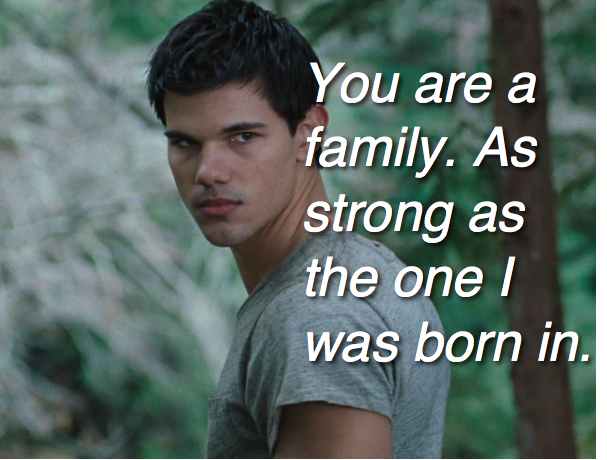 Most of the rest of the movie is a weird pro-life agenda about not killing the "baby-not-a-fetus" just to save Bella's life. You know, because Bella keeps insisting "there's a miracle inside of me." Like I said, freaky pro-life agenda. Anyways the baby comes, by which I mean breaks Bella's spine and her legs. I really think this this was a high risk pregnancy. Right as the army attacks and Edward performs a last-minute vampirization to save Bella's life. Once Edward rips the baby out of Bella with his teeth (something that seemed less weird in the book) all I could basically think the whole rest of the movie was "HOLY SHIT THEY JUST RIPPED THAT BABY OUT OF HER. SHIIIIIIIIT. SOMEONE GET KSTEW AND THAT BABY TO A HOSPITAL"
Also they all beat the bad-guy army*. In the end we see Bella about to wake up a vampire and Jacob falls in love with the baby.
The end.
So overall I found the whole experience to be fun because I love to be part of something, but the movie to be so-so. As a reader of the books, I was prepared for the fact that this particular book was kind of a weird departure from the others. I thought I was ready for the weird feather vamp-sex, the bite-a-uterus C-section and the wolf/baby love, but that all was so much weirder on screen. The acting was good but not great, but the script was horrendous. There were plenty of unintentionally funny moments for the whole audience, but the fault there seemed to lie in the script and/or Taylor Lauter's acting (rather than in KStew or RPat's acting). Obviously there wasn't nearly enough wolf-girl. KStew was at her best yet, but seriously started to show her age in the scenes where she got The Machinist level skinny during her pregnancy.
Finally, the movie seemed loooooooooooong. It lasted forever and ever. It was the longest two hour movie ever. This movie was longer than the lines to get in. Though I'm sure plenty of die-hard fans will be happy for the split, Breaking Dawn certainly could have been one film. Far too much attention was paid to the wedding and honeymoon, and the whole plotline felt crammed in to the end or left for the next film.
Also, seriously. A wolf falls in love with a baby.
*Update: Apparently so little happened in this movie by comparison with the length that I started including stuff from the previous movie. I guess the only people the vamps were fighting were the wolves who were all angry about the demon baby