It's gonna be May and that means there will be new programming featuring queer women and otherwise identified LGBTQ+ people relevant to your interests all over the television!!! If you're wondering what television shows and movies about queer, lesbian and bisexual people are coming to Netflix, HBO Max, Hulu, Amazon Prime Video, Showtime and Peacock then you are in the exactly correct location to find out!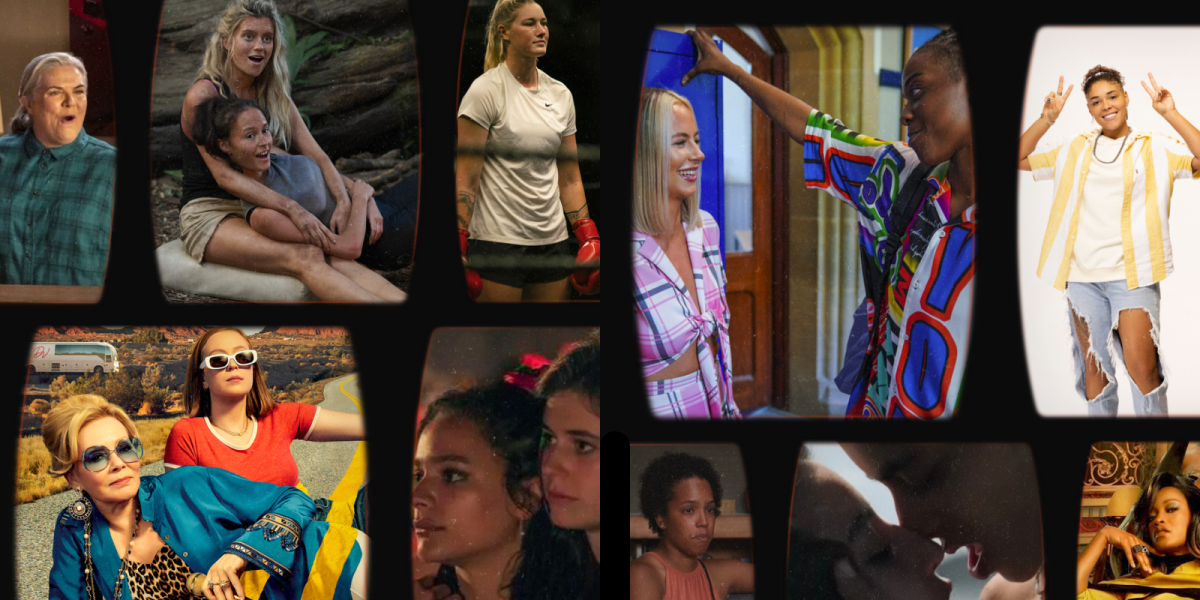 ---
Netflix's New LGBTQ+ Content of May 2022
Summertime: Season 3 – May 4th
Lesbian character Sofia will be back for the final season of this Italian drama in which everybody has beautiful clear skin and it's always sunny and there's the beach and music!
The Circle: Season 4 Premiere – May 4th
This season promises more twists and turns and also hints strongly at the possibility of an appearance by the actual Spice Girls?? More importantly, we have at least one confirmed gay woman — influencer / Harlem Globetrotter Crissa Jackson is in the cast.
Welcome to Eden: Season One – May 6th
This Spanish thriller sees four hot, young and "social media active" people tempted to attend an exclusive party on a secret island wherein things do not turn out as they expected — they find themselves involved in some kind of cultish, highly surveilled human living experiment is being played out. Also, there are girls in bikinis making out in the trailer, so…
New Heights: Season One – May 13th
This Swiss TV show (original title: Neumat) is billed as an "LGBT series" but I don't speak any of the languages that trailers are available in, so besides knowing that the lead man is definitely gay I am not sure about any lady gays! One of the women in the trailer is a farmer, which seems gay, and the other has very short hair and is putting on makeup in a sad mirror while experiencing some kind of mental breakdown, which also seems gay?
Tully (2018) – May 16th
Following the developing friendship between a pregnat mother of two and her night nanny (played by Mackenzie Davis), Diablo Cody's Tully stars Charlize Theron as the aforementioned mother who is bisexual although her bisexuality isn't focal to the film's plot, she is bisexual.
Stranger Things Volume 4: Part One – May 27th
There will be a big time jump into Season 4 of Netflix's most robust investment, Stranger Things, which will also revive the team-up of Steve, lesbian character Robin, and Dustin.
---
Hulu's Queer and Lesbian Items For May 2022
Grandma (2015) – May 1
Lily Tomlin is Elle, a lesbian poet who gets a visit from her granddaughter who is a teenager and needs an abortion but can't afford it, thus sending the duo on an all-day hunt for the funds through Elle's friends and exes.
Saving Face (2004) – May 1
Only one of the best lesbian movies of all time, this sweet romantic comedy from Alice Wu follows a Chines-American surgeon and a ballerina who are very different and yet, if you can believe it, fall in love!
Daytime Divas (Vh1): Complete Series – May 2
This little series only lasted one full season back in 2017 and was based on Star Jones' memoir of her time on The View  — we enjoyed it for its bisexual character Kibby (who was clearly inspired by Lindsay Lohan) and eventually for the Elisabeth Hassleback of the group, Heather, grappling with her child coming out as a trans girl.
Conversations With Friends: Complete Limited Series – May 15
The Hulu series based on the Sally Rooney novel " follows a set of angsty Irish millennials drawn into complicated romantic and class dynamics." It's centered on 21-year-old college student Frances, whose ex-girlfriend Bobbi (Sasha Lane) is still her very best friend with whom she shares all her feelings and performs poetry. At a show they meet Melissa (Jemima Kirke)  and her husband Nick — Bobbi gets an open crush on Melissa while Frances's feelings for Nick lead to an intense secret affair — her first with a man.
Queen Sugar: Complete Season 6 (OWN)
The penultimate season of Queen Sugar addressed the impact COVID had on its community as Nova continued dealing with harassment and abuse from the police as she continues to speak out against political corruption in her community.
---
LGBTQ Content of Interest From HBO Max in May 2022
The Color Purple (1985) – May 1
Alice Walker's epistolary novel was de-gayed for this wildly successful Steven Spielberg adaptation starring Danny Glover, Oprah Winfrey, Rae Dawn Chong and Whoopi Goldberg. Goldberg plays Celie, a teenager in rural Georgia with an abusive family who falls for showgirl Shug Avery, her husband's mistress who Celie nurses back into health.
Frida (2022) – May 1
Salma Hayek got an Oscar nomination for her portrayal of surrealist Mexica artist Frida Kahlo in this biopic mainly focused on her relationship with husband Diego Rivera. Bisexual Kahlo has many affairs with women including Josephine Baker (Karine Plantadit-Bageot) and Tina Modotti (Ashley Judd), who also had an affair with Diego!
Hacks, Max Original Season 2 Premiere – May 12
Deborah Vance and her bisexual accomplice Ava Daniels are heading out on the road with Deborah's new stand-up act. This was one of the best shows of last year and we simply cannot WAIT for more!! And yes this time we are going to write about it because I finally got everybody else to watch it.
Legendary: Season 3 Premiere – May 19
Beloved bisexual Keke Palmer is taking over for Megan Thee Stallion as a judge for this ballroom competition series, alongside Jameela Jamil, Leiomy Maladonado and Law Roach.
---
Amazon Prime Video Queer Women of May 2022
Tangerine (2015)  – May 1
The legendarily shot-on-an-iPhone film tells the story of a trans sex worker who gets out of jail, immediately meets up with her friend (and fellow sex worker) Alexandra and then discovers her boyfriend / pimp has been cheating on her. They set out to track him down on Christmas Eve.
The Wilds: Season Two – May 6
This program made a choice for its second season that does zap some of its initial appeal — they added boys to a cast that was just girls! Another group of teens (boys) will also find themselves stranded on an island after passing out on a plane that was allegedly taking them to a special retreat. But our girls will still be there and also crossing paths with the fellows, including our OTP Toni and Shelby!
Lovestruck High: Season One – May 18th
This reality television show narrated by esteemed bicon Lindsay Lohan is throwing together a bunch of single adults in a fake high school situation for "a full term of love, lust and drama." It appears to contain a healthy portion of queer people so I am really excited for this one 'cause not since Are You The One Season 8 have we gotten something like this! Somehow categorizations like jocks, queen bees, nerds, etc will be … involved? IDK, I'm genuinely excited.
Kick Like Tayla (2022) –  May 27th
This documentary focuses on Tayla Harris, an Australian athlete who is both a successful boxer and a player in the NAB AFL Women's Competition for the Carlton Football Club — looking at "what makes Tayla tick, her love of all sports including boxing and football, the impacts of social media, cyber-bullying, and sexism." Perhaps also at some point they will mention that she is gay!
---
Peacock's Queer, Lesbian and Bisexual Content May 2022
Milk (2008) – May 1
This biopic about the life of activist Harvey Milk that made me cry like a baby features Alison Pill as bisexual activist Anne Kronenberg
Girls5Eva: Season 2 Premiere – May 5
In Season 2 the ladies will be attempting to record a full ablum together on their own terms. Paula Pell is returning as Gloria and she is making out with another woman on a sofa in the trailer, so. The first three episodes debut on May 5th.
---
Showtime's Queer Women of May 2022
Couples Therapy Season 3 Premiere – May 13th
A lesbian couple is amongst those getting therapized this season when a mother of two must learn to hear her partner's cries for help or risk losing her altogether.