Let me tell you guys a secret: I love painting my nails. Maybe this makes me a bad lesbian but whatever, I don't care, I love it. I also love changing my nail polish color all the time, like every few days, which means I use a lot of nail polish remover. But holy shit, how annoying is nail polish remover?
My sister and I found this amazing kind of contraption thing where you just stick your nails into a sponge, swirl them around and voila! Your nail polish comes right off. We didn't have to keep wasting cotton balls or tissues (which creep me out when they get wet and tear anyway for some reason).
Well, at $3.50 a pop I figured I could make the same exact thing out of some stuff I already had laying around. And it worked! Here's my super duper easy foolproof method for the best ever way to take off your nail polish.
Nail Polish Remover Jar
Supplies Needed:
+ Jar (I used a small jam jar I had lying around but even tupperware would work, just make sure it has a lid!)
+ Sponges – I used two, but it depends on how big your jar is
+ Nail polish remover
Level of Difficulty: This week my niece had her fourth birthday party at a craft store and the kids all made customized letters. Nothing will ever compare to that level of difficulty.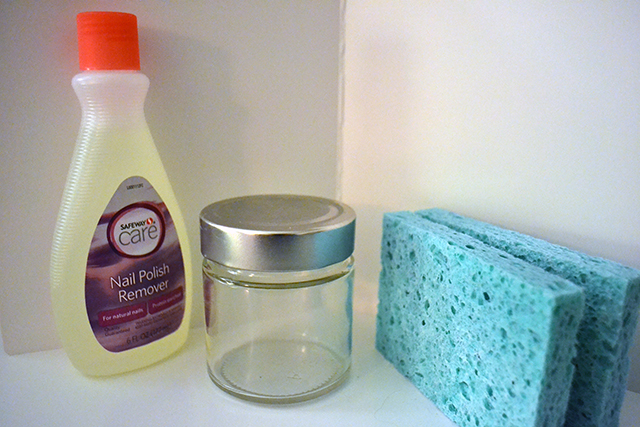 1. Gather your supplies and measure your sponge against your jar to see how much you need to trim to make it fit.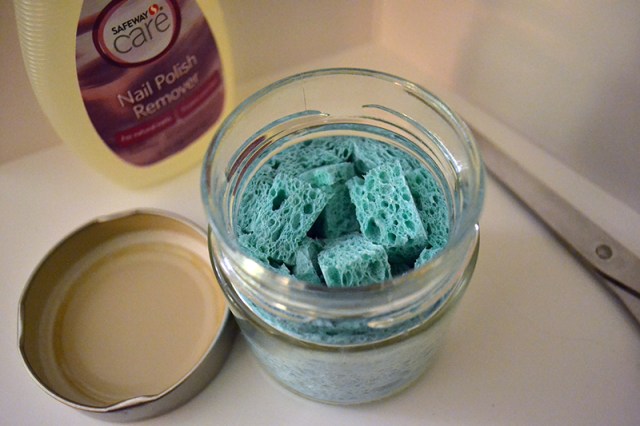 2. Trim your sponges. I trimmed two long sections for the outside and stuffed the rest into the middle for optimum nail buffing surface.
3. Fill your jar up with nail polish, just enough to make the sponges wet without there being excess. You can always pour the nail polish remover back into the bottle. It's not a stressful thing, don't worry about it.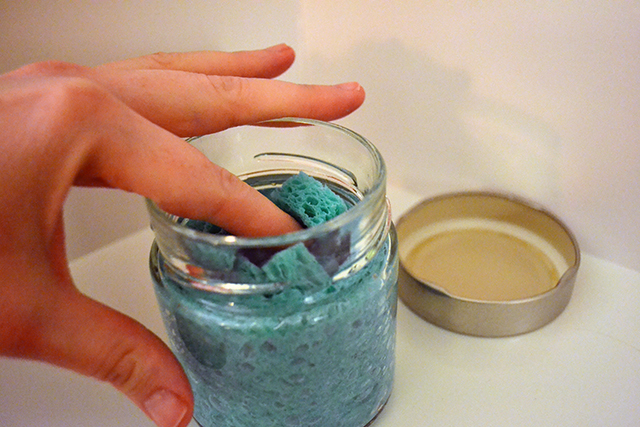 And seriously, that's IT. That is all you need to do. It worked like a charm for this glittery nail polish and got it off in seconds. Glittery nail polish is maybe the most annoying kind of nail polish to remove, as the little glitter specks stick forever.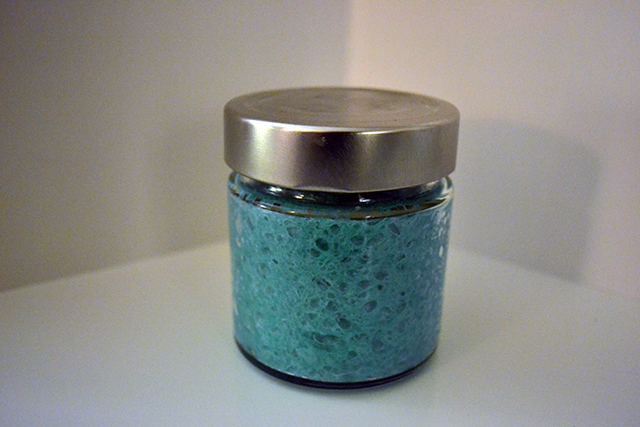 Seal up your jar and use for the rest of the life of your sponges, which you can flip as they get dyed with your polish, which takes my sister and I at least two months of weekly use. You can replace the sponges and the nail polish remover as needed.
---
This has been another installment of Make A Thing where we make handmade gifts for people! Or ourselves. Or our cats. Mostly our cats. 
Header by Rory Midhani