Love Trip Paris — the incredibly queer dating show on Freeform that shipped four "American girls" to France to find true love because France is romantic and full of berets and bridges — wrapped up this week with a solid collection of delightfully unhinged behaviors, including lesbian contestant Caroline bravely tattooing her knuckles with the name of the French girl she'd fallen for. At the series' end, my fave Josielyn Aguilera ended up open to a future with Patrick but mostly choosing to love herself (leaving me personally pining for her fleeting connections to Josephine and Aickel), while Rose's suitor turned out to be mostly just scheming for a visa and therefore unworthy of the engagement ring she'd brought along on this trip.
But two couples actually insisted to the camera that they'd found true love with each other: genderqueer lesbian Caroline Renner (she/they) and her French suitor Lisa; and pansexual mental health podcaster Lacy Hartselle and her French suitor Bastein Buffat.
But what are the queer Love Trip Paris Francophiles doing now??? Are those couples still together? Let's discuss!
---
Love Trip: Paris – Where Are They Now?
It is a truth universally acknowledged that every couple who "matches" on a dating reality show is unlikely to actually still be dating when the edited show debuts 6-18 months later. Well, unless it's Love is Blind and they actually got legitimately married on the reality show, in which case there is a 50/50 chance they're either still married and will stay that way for the forseeable future OR they're still married but will be getting divorced within a year. After three seasons and 17 couples produced by Love is Blind, four couples remain together. Are You The One?, which has declared a total of 90 couples to be soulmates, has produced only seven still-together couples. With 44 seasons between them as of mid-2022, The Bachelor and The Bachelorette have produced six still-intact marriages. Perfect Match, which just concluded its messy first season, produced zero (0) couples, although some did attempt to date briefly following the series' conclusion.
Perhaps what these shows should've done was ship everybody to Paris to go on moonlit walks past the Eiffel tower with French suitors, because Love Trip: Paris actually managed to do what those shows couldn't: deliver a 50% success rate for its contestants.
"I think that love is really important to the French," Rose told Hollywood Life. "I think in the U.S., dating is much more casual, which is okay for some people. But the French really take things seriously almost to an extent we weren't really expecting."
---
Are Caroline and Lisa Still Together?
Caroline found her way onto Love Trip Paris after answering an ad that was "looking for lesbians that speak French." They told The CT Insider that seeing the ad felt like fate: "I was like, that's my whole brand, and applied." They connected immediately with Lisa, one of the first woman suitors in the house.
Lisa was very possessive and jealous about Caroline speaking to or dating other people, despite the premise of the show being "dating other people," an attitude which was especially visible when the French suitors got together to diss each other's chances of getting dates with the people they wanted to get dates with. For example, Caroline went out with Margot, a very hot pink-haired masc lesbian with the word "insane" tattooed on her neck who took Caroline on a date to a cat cafe. Caroline previously had said their type was a "Megan Rapinoe-esque look" — and Margot was definitely their type. Lisa was so annoyed by this circumstance that she nearly fled the show but instead simply decided to show up an hour late to her date with Caroline.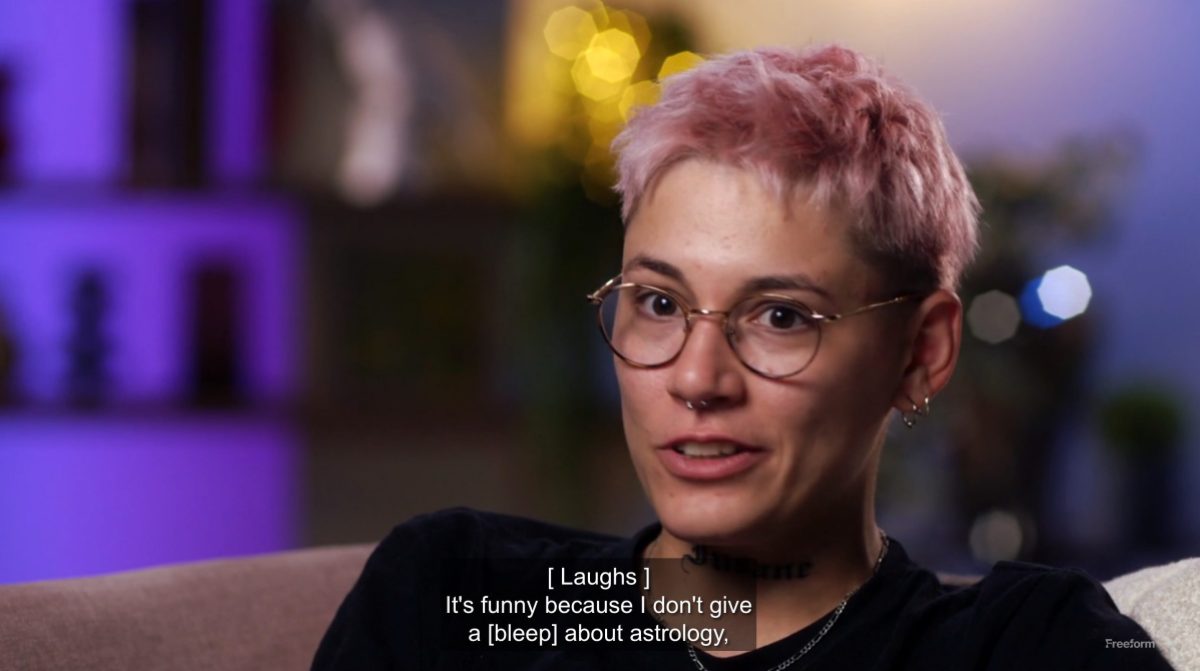 But Lisa's connection with Caroline was so strong that even Margot and her cuffed t-shirts could not stop Caroline and Lisa's love train from leaving the station. In fact, Caroline's heart was so set on Lisa that she got "LISA" tattooed on her knuckles on their last date of the season
Surprisingly enough, at the present moment, Caroline Renner and Lisa are in fact still in a relationship. Apparently they broke up for six months but got back together and are now living the dream!!!
Although Lisa and Caroline are currently long-distance, Caroline is planning to move to Paris eventually and they still consider Lisa their "goofy beautiful amazing hilarious" love. They also remain friends with Margot, who is a barber! Cheers!!!!!
---
Where Is Josielyn Aguilera Now?
Josielyn, a bisexual trans model/actor who'd never before been in a relationship, cascaded through several flings on the program, from a promising beginning with Gessica to a baffling multi-date experience with Mirko, a bad person who just wanted to win the show even though there was no way to actually win the show. Finally she ended the show ready to "see where it goes" with Patrick, a late-season suitor who she'd felt drawn to immediately. While lamenting her inability to make a connection and the impact Mirko's terribleness had upon her soul, Love Trip: Paris treated us to a little supercut of all her strong connections — with Gessica, Aickel and Josephine — that really made me wish we'd seen more of all those relationships!
"This is a big thing and a real big moment and I feel like I just want people to see that I'm just like any one of these other girls trying to figure out love and romance," she told Hollywood Life about appearing on the show as a transgender woman. "I deserve love and respect, and so does everyone else, and so do other trans men and women out there. It's so huge that we're able to show this experience on TV and on Freeform and on this platform… I just want to be myself. I definitely feel like the biggest thing for me was that I felt like I was 100% myself with these girls. I felt like I was never judged. I felt like I could just be me. It was the best experience for me."
At the current moment, Josielyn is no longer in Paris, she has returned to Los Angeles and recently appeared in an episode of Quantum Leap. I can't wait to see what she does next!!
When asked on instagram who was the best kisser, Josielyn gave that honor to Josephine, who she wrote "will forever be the one that got away." :-(
---
Are Lacy and Bastian Still Together?
I'm going to be honest that due to my bias as a person, I did hope Lacy would end up with a woman. Alas, she managed to allegedly find true love with Bastien, despite rumors that he was "in it for the wrong reasons" and already had a girlfriend outside of the show.
But! After taking a picturesque hot air balloon ride at dawn with certified hunk Amaury and having a seaside picnic that for some reason involved an actual clay vase of flowers upon a blanket, Lacy decided to choose Bastien because she felt connected to his soul.
And now, according to her instagram, she and Bastien are together and she's moving to Paris, her favorite city in all the world, where Bastien this very day made her a kale salad, which is nice.
---
And Finally, Rose
Rose isn't as active on social media as Josielyn, Lacy and Caroline, but it appears that the show's lone heterosexual is still beautiful and fantastic and perhaps currently in Paris!
In conclusion, au revoir!