This week's Quantum Leap was a little bit of time traveling for me, personally. NBC's original sci-fi series was one of my favorite shows growing up; I used to record it on VHS tapes, which is how we rewatched TV in the olden days. This week, the series reboot saw Dr. Ben Song leaping into the body of a high school basketball coach, which flooded me with my own memories of spending every second of my teenage years on a basketball court. But while the episode took me back, and of course happened in the past, it could not have been more timely — because the coach Ben leaps into has a trans daughter on the team, and it's got the whole town in hysterics. Sound familiar?
In the original timeline Ben leaps into, the coach doesn't put his daughter, Gia (played by trans actress Josielyn Aguilera), into the game where he lands. In fact, Gia finds out that he promised the school he'd never play her. She runs away and is never seen again, because she gets murdered, misgendered by the cops, and her parents never find her. It's a tale as old as Law & Order, a violence that happens in real life and happens even more on TV created by cis people preoccupied with trans trauma. But in Ben's new timeline, he subs in Gia in the final minutes and the team wins. That's not enough to correct the timeline, though, because Gia's dealing with more than just sitting on the bench. She's being bullied, forced to change in the janitor's closet instead of the locker room, and her dad is too scared of losing his job to publicly stand up for her. So Ben sets out to make all that right, starting with pushing back against the school's administration and telling them he's going to play his daughter, no matter what they say, because she loves the game of basketball more than anything.
She's also a star, and when Ben lets her shine, the whole team is better.
"I have to fight every day just to be who I know I am while everyone else around me tells me I'm someone else — even my own reflection,wp_postsGia explains to Ben.
It's something that really hits home with him because he's constantly leaping into other people's bodies and not seeing his own reflection in the mirror. In fact, Shakina Nayfack, who wrote/directed/starred in this episode said that understanding the trans experience is actually a universal way to understand Ben's experience. Shakina herself is trans, and is no stranger to breaking barriers. In 2020, she became the first trans person to star in a network comedy, NBC's Connecting. She was also a writer and producer on the Transparent musical season finale, in which she played Ava. And you'll see her in Quantum Leap's "Let Them Play,wp_poststoo. She's Dottie.
One of the best things about the episode is that it doesn't make the cis characters trans saviors. Gia is her own hero, and she's helped along by trans friends and mentors, one of whom is Trace Lysette, the leader of her therapy group, and the only person who can properly shoot a basketball in the entire episode. (What? Natalie noticed too! It's not our fault Trace Lysette is good at everything.) Therapist Trace helps the parents of trans kids navigate their fears while the kids themselves argue about whether or not Bella Swan could beat Katniss Everdeen in a fight. (Obviously not!) They dance in slow motion, goofing and laughing, while one dad says to the other parents:
"I just wish they'd stop talking about our son like there's something wrong with him. You hear all these things, you know? And you look at your kid and you just want to keep them safe, and see them happy — and some of these people just want to make that impossible. I bet none of them have met an actual trans kid. They make up this boogeyman, like there's some danger that has to be stopped, when the only real danger is us losing our children. If they would just pause for a second, and get to know some of these kids, maybe they would see what we see: our babies growing up and changing, telling us who they are and who they want to be in the world. Isn't that what we all want for our kids? Doesn't every single child deserve a chance to become their own person? To shine their own light? Because I don't see the harm in that, but I do see the harm in trying to block it."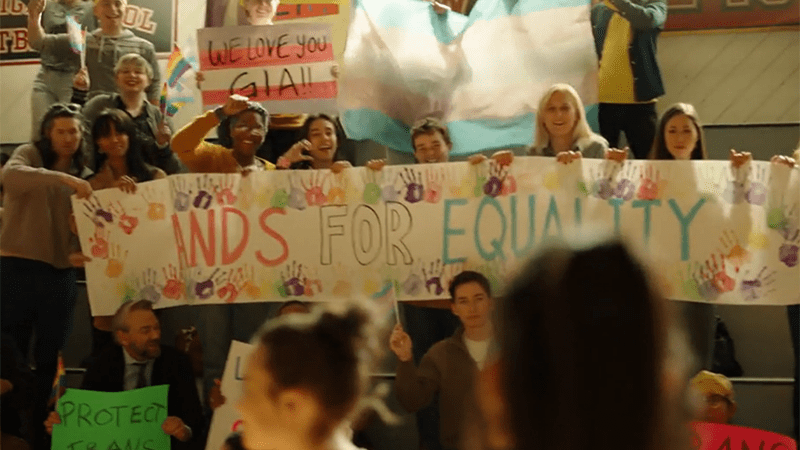 It one of many clear and unapologetic trans-affirming messages the show speaks out loud, on primetime network TV, at a time when trans kids are under legislative attack like never before in this country.
In the end, Gia does become the basketball star she's always wanted to be, and her friends and fans unfurl a banner in the stands that says EQUALITY while she plays. Shakina says it's the prop department's exact replica of a banner she made in high school.
Is it cheesy? Yes, it's cheesy. But all the best sports movies are cheesy, and it's about time trans people had a sports story they could laugh at themselves for crying about. I know a lesbian former high school basketball player who was crying her eyes out when Gia hit the winning shot.