Netlflix's latest reality television dating competition program, Perfect Match, is just barely "so bad that it's good." It lacks the genius Netflix has somehow consistently delivered with its reality competition television department — the irrational romance of The Ultimatum and Love is Blind, the goofy innovation of The Circle or the horny ridiculousness of Too Hot to Handle. But what Perfect Match *does* have is a collection of talent from all of those programs — and from The Mole, Sexy Beast and Twentysomethings: Austin, none of which I've not seen — several of whom are bisexual, including Francesca Farago. You wouldn't know it from the plot of Perfect Match, though!
See, Perfect Match is attempting to sort these Netflix Reality Stars into allegedly perfect opposite-sex pairings. Contestants must be "matched" by the end of the day — meaning just like on Noah's Ark, one (1) man and one (1) woman have agreed to spend the night together —  in order to remain on the show. Every day they compete in really stupid games to test their compatibility with their chosen matches, and the winners earn a date and also the chance to choose new contestants to bring into the house to replace the previous evening's rejects.
Unfortunately, there is no room in this paradigm for Perfect Match to explore what would be the perfect match for me and a television show: girl-on-girl action. Two of the contestants at the show's open (and a few who've yet to join), Francesca Farago and Kariselle Snow, are in fact bisexual and yet have not made out. (Kariselle actually appeared on world's greatest reality television program, the bisexual season of Are You The One?) Kariselle immediately latches on to The Circle winner Joey — they apparently hooked up in the past and also both really enjoy yelling and PDA.
And then there's swimwear entrepreneur Francesco Farago. In the same way that someone tall and strong and team-oriented might be told they should be play basketball, everything about Francesca's physical appearance and personality suggests that she should be out here Influencing. She was born to Influence. Like she popped out of the womb with an Airup endorsement deal. Anyhow, Francesca famously hooked up with Hayley on the first season of Too Hot To Handle, thus losing cash for her cast. (She also had a romance with a boy and I forget his name who cares.) 
Following her season of Too Hot to Handle, Francesca began dating fellow influencer Demi Sims. Everything I know about this relationship I learned between the hours of one and two AM several months ago and was like… wow in 2003 this match-up would've been a Maxim photoshoot but here in the bold new world of 2023, it's an actual relationship!! Wow!!!
Anyhow they broke up. (Francesca is currently dating influencer Jessi Sulli, who identifies as "plant based" and trans.) Unlike Kari, Francesca is immediately OUT AND ABOUT on Perfect Match. At the first night's cocktail mixer, an opportunity for our men to wear loafers without socks and for our women to wear very intricate microphone-friendly bikini-ish contraptions, Francesca asks Zay (of The Ultimatum) if it is a "red flag" to him that she has "dated women," because Zay's ex, Rae, is also a bisexual. This is a very bizarre question but okay. Anyhow, Zay says it's not a red flag, in fact it is "honestly attractive."
But Francesca's most notable bisexual chaos move occurs during a beach game in which contestants have to guess whether or not their partner answered "fact" or "cap" to various statements like "I'm still hung up on an ex." If they loose, a bucket of water is unleashed on their head.
Nick Lachey laid out the true/false statement: "your partner said that they have had a sexident in the past." I immediately googled "what is a sexident?" and Urban Dictionary informed me that it is:
An accident that occurs during some type of sex act. For example, skinning one's knee on a car door while having mad passionate car sex.
Surprisingly to me, a person with really poor hand-eye coordination, not everybody on this beachy stage reported undergoing a sexident of their own. But our very own Francesca Farago dared to come forth and boldly share her own experience, one which LIT UP our Office Slack for the majority of this very morning: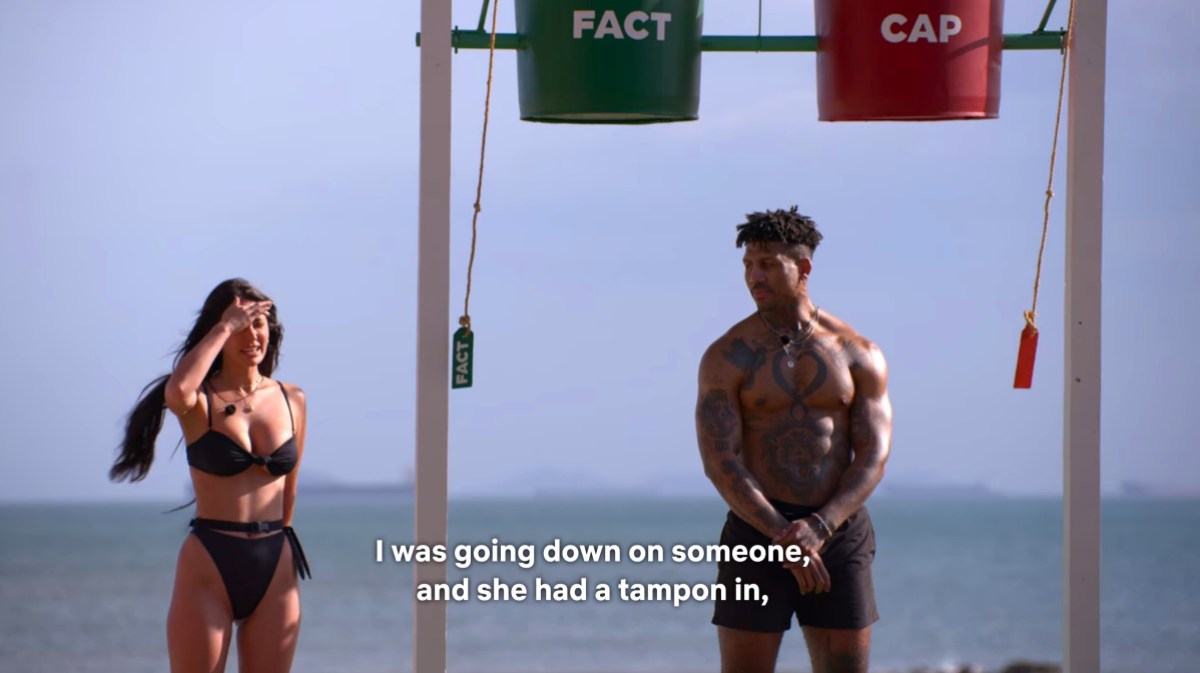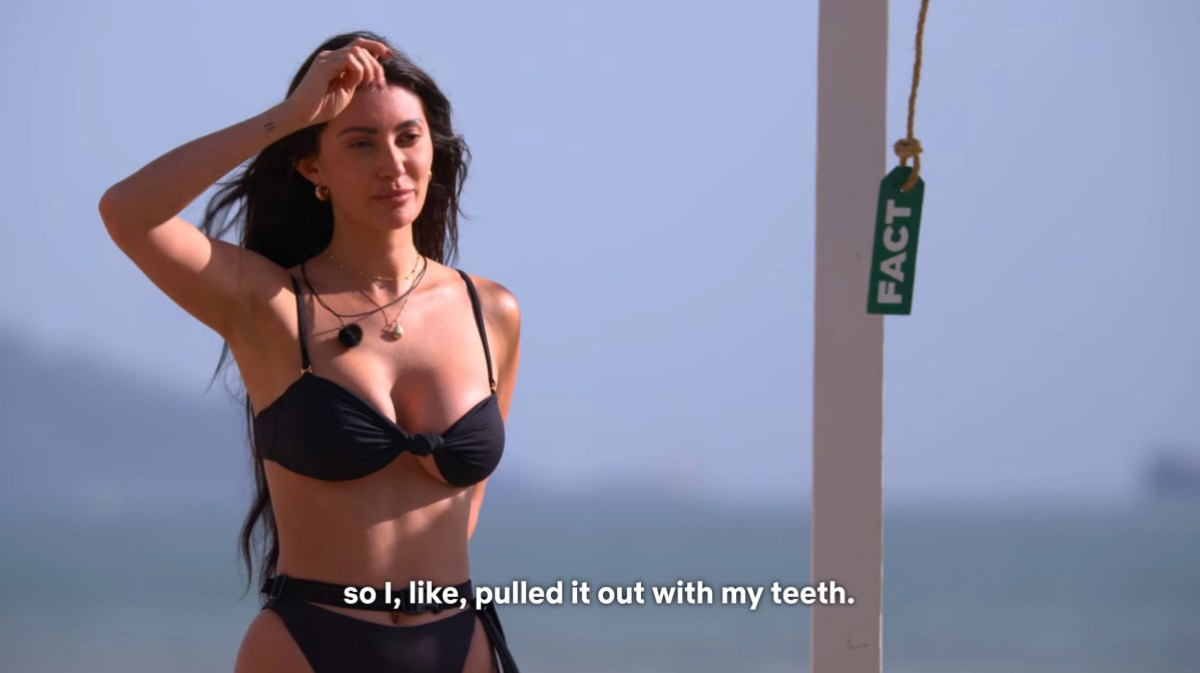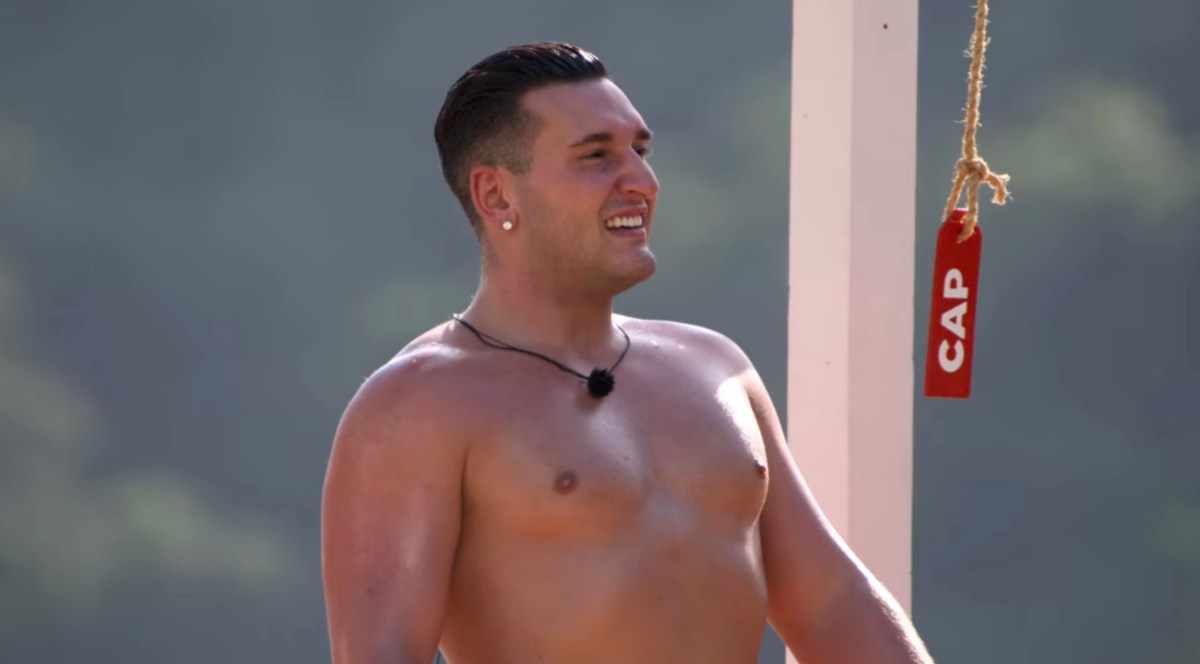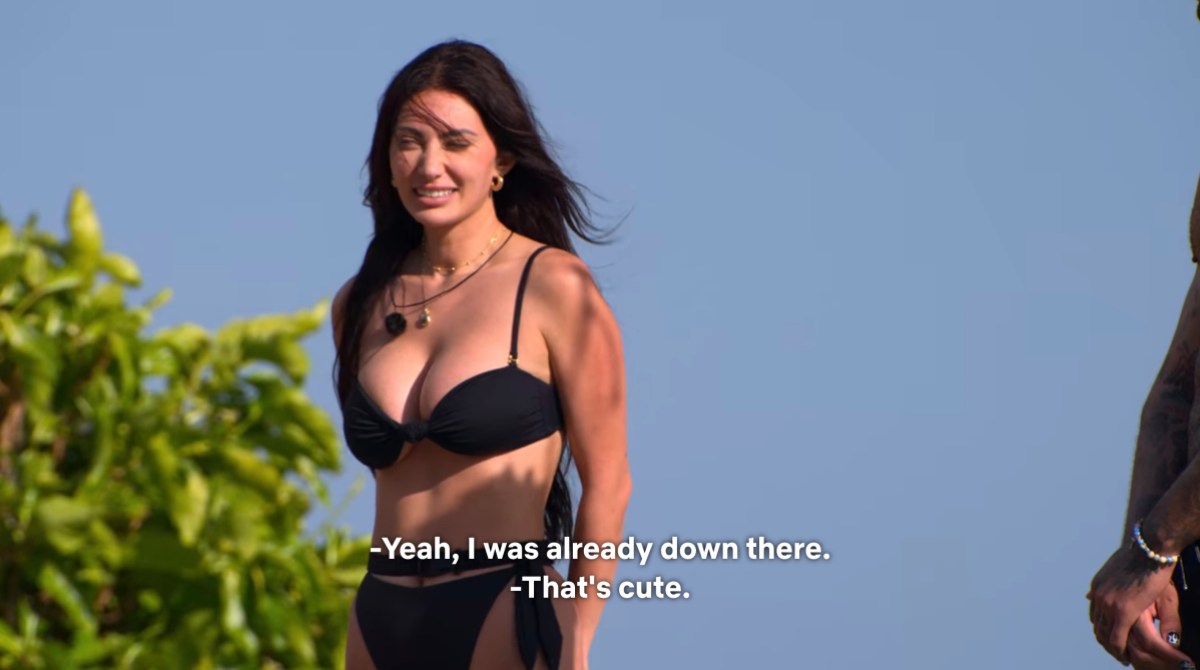 I'M SORRY BUT ….
THAT IS NOT A SEXIDENT
THAT IS A MOVE