It's been ten years since The L Word premiered, and we've got lots to talk about. Welcome to The L Word week!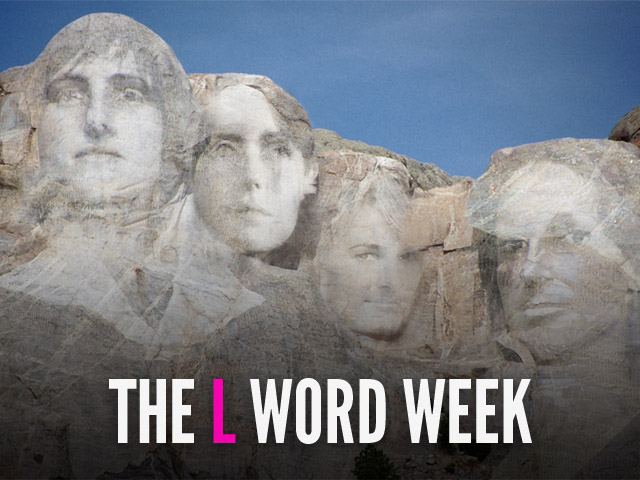 ---
The L Word was often an elusive unicorn for the young queers and those still in the discovery process. Showtime was scarce, and even if you had it, it was probably hard to find a time to watch away from the eyes of curious parents and roommates.
Turns out, though, that when you create the first ever show with a cast of almost all queer women, and do it on a cable channel that allows multiple scenes of what just barely misses qualifying as porn in every episode, we gays get resourceful. I'm not the only one who went to great lengths to watch The L Word before I threw self-consciousness to the wind and became completely shameless about what showed up on my family's shared Netflix account. Here are the team's sly moves for watching our friends in West Hollywood under the radar:
1. My cousin apparently thought my mom would enjoy it, and sent her the first season. Mom wasn't interested, and after eyeing the box on our living room shelf for months, I stole it and watched it on the lowest volume in the dead of night.
2. I bought episodes one by one on iTunes so I could watch them on my iPod video, but I never bought a whole season at a time because it charged my mom's credit card and I didn't want her to see a huge purchase and ask me about it.
3. I'd watch episodes in the car on family road trips with the screen turned away from my sister, which worked great until I realized she could totally see the reflection over my shoulder in the window.
4. When I came out to my mom, she breathed a sigh of relief because apparently it showed up on our bill every time someone watched an on demand show and she thought my brothers were watching it.
5. I requested DVDs from the library but was too afraid to have them shipped to my branch of the library in case my parents saw them under my name, so I drove 45 minutes to the library that had them to take them out.
6. I watched The L Word for the first time on a laptop in Kenya. We had to move around a lot or else the people who were guarding our camp from wildlife might have caught on. We muted the moan-iest scenes. It was really romantic.
7. I'd sneak the DVDs to and from Blockbuster in black plastic bags like I was smuggling contraband.  I greedily inhaled them alone in my weird lofted bedroom with headphones on the off chance my straight dude roommates might somehow develop any idea of what was going on.
8. I would watch The L Word, with headphones, just in case, on fucking Youtube, like who does that? I think I wanted to stream it illegally but didn't know how.
9. I watched the pilot with my mom, but we both bailed during the scene where Bette tries to go down on Tina in the doctor's office.
10. I saw the first two seasons by semi-checking out and semi-stealing the DVDs from my college library – we had every season of The L Word and Xena, which should tell you everything you need to know about my college experience.
11. I still use Project Free TV for it.
12. I would fire up my family's sad little Compaq and travel on over to this L Word fansite that logged meticulously crafted transcripts. …And then I would clear the browser history and keep it moving.