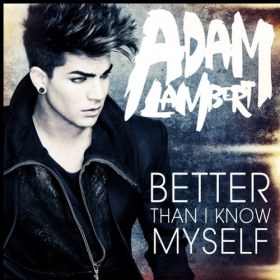 Wax and polish your ears for your virgin listen to the first single off our boyfriend's new album, Trespassing, "Better Than I Know Myself."
Trespassing is already looking to be a huge commercial success as it is currently climbing Amazon's Movers and Shakers list after just one day of pre-order availability. The album will be released on March 20, 2012.
Adam says the new album represents "an exciting journey through the past two years of my life. It's been a transformative period and I really wanted to make music from what I've experienced. All these songs honestly explore the ups and downs of my reality."
Confirmed writers/producers on the album include Pharrell Williams, Dr. Luke, Claude Kelly, Bonnie McKee, Sam Sparro, Bruno Mars, Nikka Costa and possibly our very own Camila Grey. Riese has already predicted that this album will be awesome, because she has psychic powers.
Don't forget to re-live the gorgeousness of "Outlaws of Love" after listening!
Lyrics:
Cold as ice
And more bitter than a December
Winter night
That's how I treated you
And I know that I
I sometimes tend to lose my temper
And I cross the line
Yeah that's the truth
I know it gets hard sometimes
But I could never
Leave your side
No matter what I say
[chorus]
Cause if I wanted to go I would have gone by now,
But I really need you near me to
Keep my mind off the edge
If I wanted to leave I would have left by now,
But you're the only one that knows me
Better than I know myself
All along
I tried to pretend it didn't matter
If I was alone
But deep down I know
If you were gone
For even a day I wouldn't know which way to turn
Cause I'm lost without you.
I know it gets hard sometimes
But I could never
Leave your side
No matter what I say
[chorus]
I get kind of dark
Let it go too far
I can be obnoxious at times
But try and see my heart
Cause I need you need now
So don't let me down
You're the only thing in this world I would die without
---
Before you go!
It takes funding to keep this publication by and for queer women and trans people of all genders running every day. We will never put our site behind a paywall because we know how important it is to keep Autostraddle free. But that means we rely on the support of our A+ Members.
Still, 99.9% of our readers are not members.
A+ membership starts at just $4/month.
If you're able to, will you join A+ and keep Autostraddle here and working for everyone?
Join A+