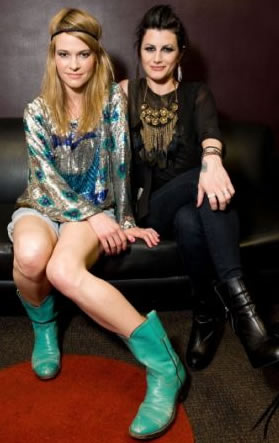 After our recent doozy of a news week, you are most likely asking yourself: hey Autostraddle, it's been 72 hours, where's my Uh Huh Her status update? Well, have we got a good one for you! A one-on-one with Camila Grey, who gives us the Behind the Music treatment on UHH's brand new record, Nocturnes, finally out October 11th.
For the uninitiated, here's the quick and dirty on UHH: they are an electropop duo consisting of Camila (lead vocals, keyboards, guitar, producer) and our very own Alice Pieszecki, Miss Leisha Hailey (backup vocals, bass, keyboards). They released one really awesome full length album, Common Reaction, back in 2008 and a follow-up EP, Black and Blue, this Spring.
Prior to UHH, Cam was a member of the lo-fi rock band Mellowdrone and also played bass and keyboards for Dr. Dre, Busta Rhymes and Kelly Osbourne. Oh, and she most recently did this little thing globetrotting with Adam Lambert as his keyboard player during the worldwide Glam Nation Tour. No big deal.
The girls are about to embark on the Keep A Breast Tour (aiming to educate women on breast cancer awareness and prevention) hitting all major cities in the US starting October 8th. They'll probs make out on stage, so you should definitely go.
Listen to "Another Case"
What's been the biggest evolution from Common Reaction to Black and Blue to Nocturnes?
This record has an anthemic rock sound, cause I was listening to a lot of Pink Floyd… I'm obsessed with The Wall and Dark Side of the Moon. I'm really into 70s rock, like [the psychedelic, experimental band] Can, Bowie, etc.  I would say that Black and Blue was very electronic based, it was electronic influenced and made within a week and a half, two weeks. It was very like stream of consciousness while Nocturnes is very thought out, planned, and done in a studio with live musicians. It's fancy but also done very organically while Black and Blue was just very electronic. Nocturnes is extremely layered, lush, just a deep rock record. When we made Common Reaction in 2007 we were really just getting to know one another. We met, decided to form the band, three months later had a record deal and three months after that we had Common Reaction out and thrown out on tour. It was just happening so fast! This time around we really took our time and thought everything out carefully.
You said Nocturnes was inspired by darkness… how did this manifest in the lyrics/music?
Yea, it was inspired by literal darkness… I would work until all hours of the night, just because that's kind of when I wake up, when most people are sleeping. And, darkness also in the sense of… I had been going through personal turmoil with my relationship, and we left our label and fired our manager and we just left alone and dark and sad… There were a lot of break-ups, in that sense, happening between the two of us and the company we were dealing with. And, then I went on the road with Adam [Lambert] and spent a month in the dark in Sweden and northern Europe cause it was during the winter. I literally spent like 26 days with no sunlight in northern Europe… I'd never done that before and I was writing lyrics during that time and thinking about what that all meant… So, it was a mixture of a lot of things. It was kind of a dark year. I also want to say that there is a light at the end of the tunnel, so, while it's lyrically dark, the music is super hopeful. Which I think we do all the time: dark meets light; light meets dark. You can't have one without the other.
Why did you leave your record label?
Well, without giving away all the details it had to do with the politics and bureaucracy of our record company and we wound up being dropped and then we decided to leave everything – our managers and go off on our own as independent artists.
Did it have to do with being in out band, or the direction of the music?
…I'll just say it had to do with the record company [laughs].
And you were left with the responsibility of financing the record production on your own…
Yeah, which was really scary because we came from Nettwerk where we had like a $200,000 budget which was amazing since we didn't even know if we'd ever be signed when we first started and all of a sudden 5 months later we had this huge budget. So, when we left we had some money left over but not a lot so we wound up holding an auction on E-Bay and sold all kinds of stuff so our fans could help us raise the money we needed to finish mixing the record. We sold guitars, we made art, redesigned vinyl covers and stuff. All kinds of things to raise the money for the final mix of the record. I actually love that we're self-releasing because now we get to have a hand in everything we do which is exciting but it takes a long time. We felt so bad that it was taking forever to come out that we made the EP (Black & Blue) to sell at shows until this record was ready to finally come out.
How much did the record end up costing?
You know what, in the end it cost $20,000 which is basically unheard of, especially coming from that $200,000 budget on Common Reaction. And, I can honestly tell you that the record sounds just as good, if not better. Seriously, you guys can judge for yourselves when you finally get to listen to the record.
A while back you tweeted about possibly changing the name of the band. why did you want to change it and why did you ultimately keep it?
I get so frustrated with the name because I probably have to repeat it 4 or 5 times every time I am talking to someone about the band. It's just so hard to understand, ugh I fucking hate the name so much! So, we really wanted to change it but it's really too late now. It would basically be undoing all of our work over the past few years getting people to know who we are and making a name for ourselves. I just keep referring to us as UHH and I really hope that catches on, like CSS [laughs]. It's just gotta be UHH from now on.
I know it was inspired from the PJ Harvey album title, "Uh Huh Her," but what's the deal there? Were you guys really high one night, joking around and it stuck?
[laughs] I'll never say… It was one of those things that seemed like a good idea at the time in the middle of the night. Like, you drink a 6 pack and everything seems like a good idea at the time and then you're like, "wait, what?! That's an awful idea." But it's too late now.


Who else do you like to listen to?
I like a lot of old stuff, like Zeppelin, Bowie, The Fall, Bjork, The Eurythmics, Depeche Mode…  and then newer stuff like… Ladyhawke is brilliant, Cut Copy…
Does it frustrate you that a lot of people come to the shows to see Alice Pieszecki?
Yes! It's so annoying, seriously! A lot of girls in the audience will actually scream "Alice!" and I'm just like "Come on, really. Come on."  It's a little frustrating because I want all the L Word fans to really get into our music and hopefully they eventually do throughout the show or if they listen to our records. But yeah, that absolutely happens and I gotta win them over.
Does Leisha sing lead at all on the new record?
Yes, she sings lead on one song, "Debris" which she wrote by herself, and I produced.
What is the most personal song on Nocturnes?
Hmm, probably "Wake to Sleep," which I wrote…  it's funny because people will assume it's like this intense, serious song but it's  just literally about our experience writing and recording the record. As soon as the sun goes down I'm like, okay, let's throw some candles on and go write or produce, whatever it is. Basically, Leisha has this thing where she has to leave the studio at 5PM every day and go home. And that's just when I'm getting started and get all inspired by the night, etc. So it's always me asking her to stay later but she always has to leave and go home [laughs].. Leisha's very different. She's very light-hearted, and bright and happy-go-lucky and she'll write during the daytime but, for me… I'm inspired by the night.
Do you write the music and lyrics together or each song written entirely by one person?
When we first started we had this thing where we felt we had to write everything together. Now, we definitely still write some stuff together but there are also songs that I write entirely on my own or she writes entirely on her own. Like, I wrote "Human Nature" and "Wake to Sleep" and "Darkness Is" entirely alone and Leisha wrote "Debris" entirely on her own. The rest we collaborated on.
You guys appear to spend 24/7 together.. ever feel like a married couple?
Yes! Oh my god, we totally are. We write and record together, we do press together, we travel together on tour. And now that we don't have the backing of the label everything is in our hands with regard to promotion and actually selling the record so the company is truly in our own hands.
What's the craziest thing you witnessed on the Glam Nation Tour with Adam Lambert?
Oh my god. Do you have two weeks? What didn't I see?! Probably the funniest thing from that tour was this thing Adam coined called "tongue diving" where he'd be on stage and pick out a cute guy or girl int he crowd, and start making out with them. That whole tour was crazy and so fun and it was just an amazing year. I was on the road with him for a year. I don't think people realize how hilarious Adam Lambert is. Like, I think people see him as this serious, brooding musician but in reality, he could be a comedian – for real. We'd be in a different city in the US and Europe every day and we just had so much fun. I'm working with him now on his new record – I wrote one song and I'm producing another. I just love him – he's like a brother to me, really.
What can you tell us about Adam's new album?
Well, I wrote this song I love called "Dreamer" a few years ago and had been looking for a huge, powerful voice to sing it. Originally Christina Aguilera was supposed to sing it, but that didn't happen so when I started thinking of songs for Adam it was just like "of course!" It's perfect for him. I co-produced it with Brad Thomas Ackley who worked on Black & Blue and Nocturnes with us and and, even if it doesn't make his final album I'm just like, oh my god! To have someone with that caliber voice and hear them do little tricks on on a song you wrote.. I REALLY hope it makes his album, it just sounds so amazing. He's working with these big, huge producers like Pharrell, and then it's like… us [laughing].
Did you watch The Real L Word?
You know, I don't want to bash it, but I cannot watch that show. It's upsetting to me. [laughing].
Which did you find to be the more accurate portrayal of lesbians – The L Word or The Real L Word?
To be totally honest, I only watched the first season of the actual L Word show and then I stopped watching it, so… I really have no idea. I'd imagine The Real L Word? I know Tracy Ryerson and she's amazing and I think she was accurately portrayed, so I'd have to go with the reality show.
What's the sweetest thing a girl has done for you?
Hmmm…flown me to Hawaii just to chill.
So, do you remember the fan video contest you held back in 2008 and these three girls went to SXSW and made this really funny video and won?
Yes!
So, the hilarious blonde girl in the video is Riese, the creator and editor-in-chief of Autostraddle!
Oh my god, that video was great! I remember it! So funny.