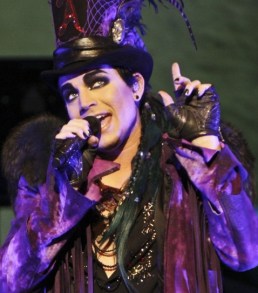 It's happening, it's happening! Our Leading Man Adam Lambert is finally releasing another album – kinda. It will be a late fall acoustic album featuring his For Your Entertainment favorites, plus some live performances from his Glam Nation Tour. What may appear as a double-dip at first, is actually good news, because his stripped back versions of "Mad World," "Whole Lotta Love" and "Whataya Want From Me" were some of the highlights of his Glam Nation Tour.
He also says he'll be back in the studio this winter to record his proper second album due this spring/summer. Christina Aguilera is on his wishlist of collaborators for that new album. (@mtv)
Isn't this hot?
.
Also! His very own E! True Hollywood Story will air November 21. Adam gave E! access to his mom, dad and brother Neil for a juicy one-hour special. Per E!, Glammy will divulge wild stories from his days performing in various musical theater gigs on cruise ships and throughout Europe.
"I was exploring my sexuality a lot more aggressively. I was living a rock star lifestyle. I tried a lot of things – it was a big eye-opener for me."
Also chronicled in the one-hour program are the emotional and controversial milestones in his personal life. From how he told his parents that he was gay, to the release of potentially damaging photos of him kissing an ex-boyfriend during the height of the American Idol craze, to his Rolling Stone cover. DVR set. (@playbill)