Hi, this episode of Glee really affected me personally in my soul because I LOVE ROCKY HORROR. I knew it was gonna be epic when it opened with the signature Rocky Horror lips singing Science Fiction (Double Feature). I think it was Santana singing that one, and it wasn't the only time the show flipped the gender of the performers.
"There's no way I'm playing a transvestite in fishnets and high heels wearing lipstick," says Kurt when granted the role of Frank N. Furter by Mr. Shue. Mike Chang stepped up for a hot minute but his parents ixnayed that "wearing a bustier in front of the whole school" idea. BUT MERCEDES KNOCKED IT OUT OF THE PARK. Don't Dream It, Be It for real.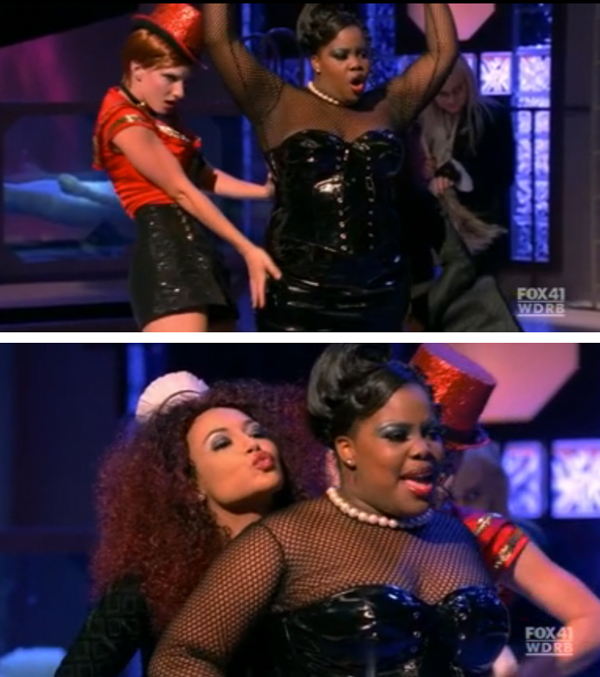 It was an interesting choice but a perfect one — Mercedes' attitude and soul was way more important than whether Frank is a man or a woman. That's the Rocky Horror spirit, and I'm glad Glee didn't care too much either. A reinterpretation instead of a remake!
Also omg Barry Bostwick cameo'ed! Barry Bostwick interacting with Jane Lynch on my teevee was the realization of a dream I didn't even know I had.
So did Meatloaf, I guess, but he was unrecognizable — Aging Republican Senator or Aging Rockstar? — and also, he's Meatloaf.
The first number — Hot Patootie (Rest My Soul) — offered an opportunity for Brittany and Santana to dance together. Do you follow On Wednesdays, We Wear Pink? Because you should. They have animated gifs there like this:
Song selection was well-played: we got the soundtrack essentials like "The Time Warp" (obvs) and "Sweet Transvestite" and left the weird tracks out.
Oddly enough, they also used Touch-a Touch-a Touch-a Touch Me, during which Emma and Mr. Schuester basically had simulated sex. It was weird and unnecessary and I don't really want to talk about it.
Thank god Brittany and Santana kept popping back up in the scene … and went home all riled up. That's more like it.
Sidenote, who knew John Stamos could sing? I should've paid more attention in Full House, because apparently Uncle Jessie had a band. Through some tenuous logic by Sue, Stamos ended up playing Eddie and was kinda good, though he could lose the sideburns.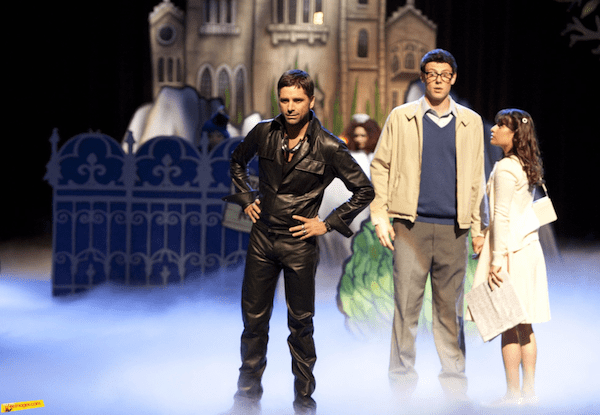 There was a big focus on male body image issues in this one, interestingly enough. Usually Glee takes on issues that are either cutting edge or so five years ago, then handle said issues with something vacillating between totally-offensive, groundbreaking or totally pandering.
Generally, when they do the cutting edge, they have a tendency to make me uncomfortable — not that male body insecurities are super cutting edge, but it's rarely touched upon. Anndd…. I didn't feel weird about this one. It was well-handled.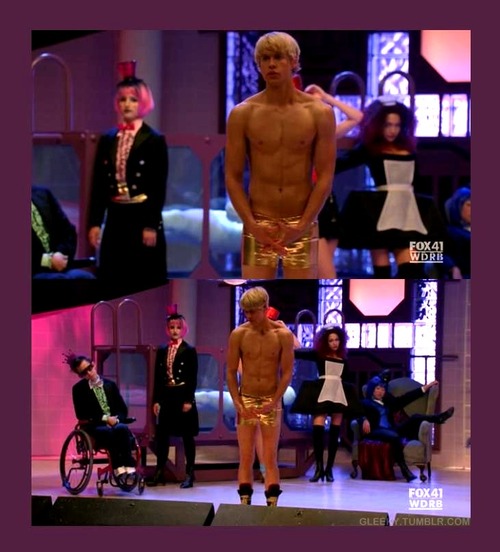 Yeah, yeah, it's kind of weird for a guy with the figure of Cory Monteith to be the one with issues. But that's how it happens in real life. Because EVERYONE has body image issues. Even the guys with six packs — I'm lookin' at you Sam/Rocky.
In the end, the kids weren't allowed to perform Rocky Horror for the school, for reasons that should've been PAINFULLY OBVIOUS TO WILL when he hatched this whole scheme to impress Emma. That was an uncommon bow to realism on the part of the writers. I guess not even those guys could explain how a public school would ever allow that musical.
I'll leave you with the Brittany Quote of the Week:
Kurt: So what are you gonna be for Halloween this year?
Brittany: I'm going as a peanut allergy.
Glee returns in two weeks with promises of Livin' On a Prayer. Oh, and if you're interested, the Glee Christmas album is available for pre-order on iTunes! You can also get the soundtrack from this episode: Rocky Horror Glee Show.