Hello whiskey whiskers! Every Camp, Alex Vega and I lead a whiskey tasting of some sort. Lately, we've been getting sponsors we love and centering our tasting around them. This time we love our sponsor so much, that we're doing a tasting ENTIRELY with their whiskey. I'm here to talk about the benefits of doing that.
But first, let's talk about how you can have a whiskey tasting where you live! The merits of such an idea are many: get your personal grease bats all over your house to hang out and bond is obviously the first one. Sometimes hanging out is easier with a lightly-structured activity. Light structure appeals to many different levels of social angst.
Then the other benefit is that when you pool your groups money to purchase four or five bottles of whiskey, it might actually be cheaper than a night out on the town. It certainly is in New York City, where I live. Having people over and drinking in my apartment is infinitely less stressful for my wallet, even if the upfront costs seem higher.
And lastly, I love getting queer women and non-binary folks and basically anyone who's not a straight cis white dude into an area of interest and expertise typically dominated by straight cis white dudes. Hosting a queermo whiskey tasting night helps break the hegemony of aged spirits, and to that I say huzzah.
Now onto my reason to consider a single-distillery tasting. In the past, we've made sure to taste many different whiskeys to get as wide a variety as possible. This is a great tactic because then the breadth of differences is what you talk about; the contrast between the wildly different whiskeys. But! It does mean that at the end of our whiskey tasting, our tasters come away with a great understanding of differences, but not so much opportunity to talk about similarities and to find unified things they like in a whiskey. And ultimately, that's one of the many goals to choose from when participating in a whiskey tasting — sure, to find individual whiskeys that you enjoy. But also to find similarities so that when you're faced with a menu or with a shelf full of bottles you never seen, you know what questions to ask to figure out what new thing you're likely to enjoy. As an example, I know I like rye whiskeys that have a bit of spice on the finish because I've tasted quite a few of them and I've never met one I didn't like.
Limitting a tasting to one specific distillery is like reading something you like and then picking up every book the author ever wrote. Becoming familiar with one distillery's whiskeys gives you the chance to talk about their body of work as a whole, which is a really interesting way to discuss things — where can you sense the commonalities? What would you describe this distillery's style as? It also allows a group of people to develop an expertise relatively quickly. This year, we picked Coppercraft. I became acquainted with them when Autostraddle reader Jenney Grant emailed me. She works there and felt very strongly that we would love Coppercraft and Coppercraft would love us; she was correct.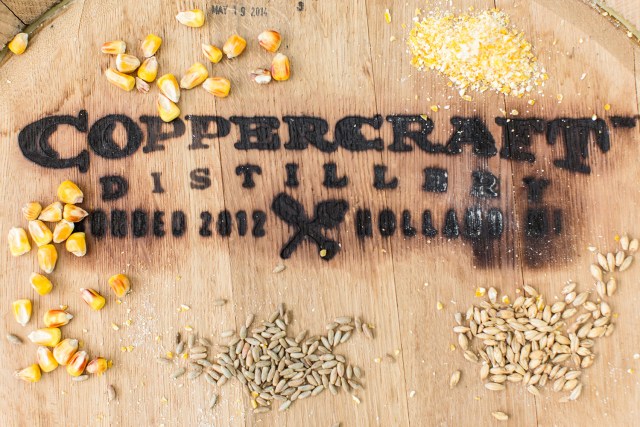 Coppercraft is a fairly new craft distillery that makes a bunch of different things—we actually featured their gin in our winter drink this year (remember the Perfect Penguin Martinis?). This won't be the first time I'm tasting their aged whiskeys — here's what we're drooling over this Camp.
---
100% Corn Whiskey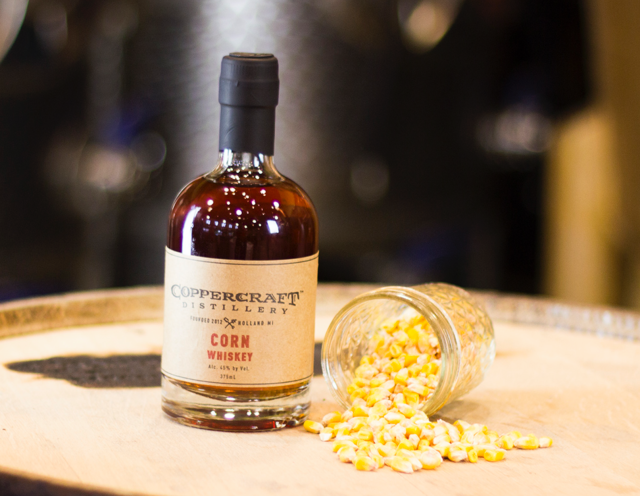 This is definitely on the sweeter side of whiskey, perfect for people who are just starting out on their whiskey journey. Hints of caramel!
High Wheat Whiskey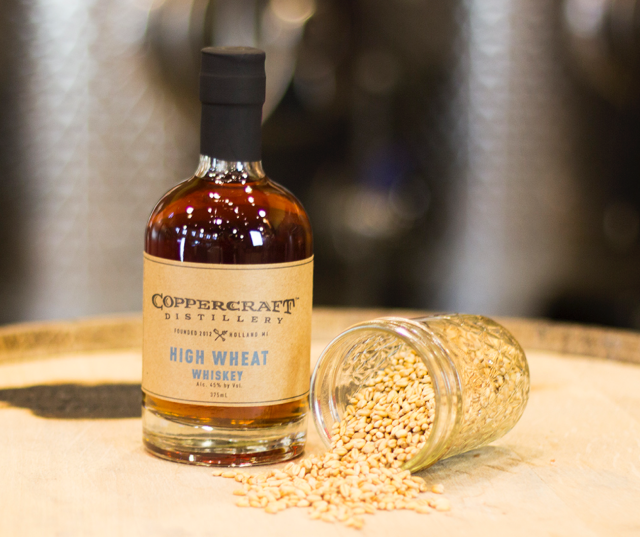 I really like that you can taste the farm on this one, and by that I mean that it both tastes balanced but like grain. I grew up in New Jersey, which contrary to popular belief still has farms in it, and this taste reminds me of walking around when farmers were cutting crops down. A real earthy taste, still sweet on the nose and oat-esque on the finish.
Rye Malt Whiskey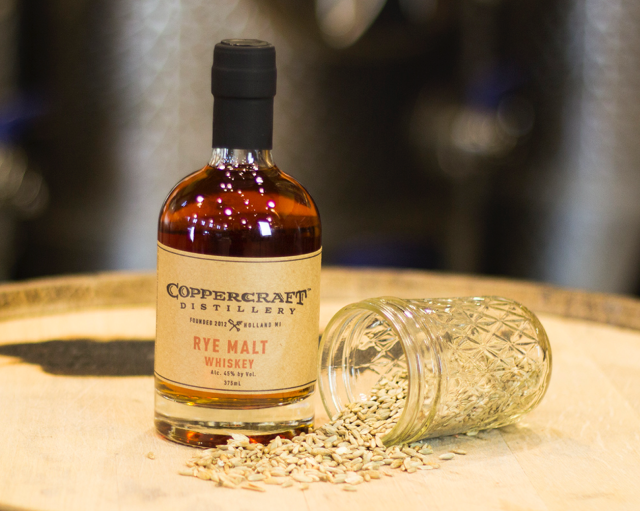 Here's exactly what I was talking about above. Rye whiskeys are my favorite, especially ones with a bit of spice. While this finishes smooth (without kicking me in the teeth), it doesn't leave me wanting on the spice. Just before that easy finish, there's a lovely peppercorn note that gives way to not throwing a tantrum in my mouth (which is what I picture ryes doing when they're not balanced the way I like). Just lovely. Highly recommend.
Applejack
Okay, so it's not strictly a whiskey. This liquor made from apples is, in my opinion, closer to its French cousin Calvados, which I believe is technically a brandy. Sometimes I find Applejack too sweet for me, but this one finishes with a sort of pie spice. That really makes it. I also highly recommend the Dutch Tulip cocktail that Coppercraft has on their website—really great, and definitely fits nicely with our State Fair theme this year.
---
Pulling It All Together
Okay, so remember I said tasting one distillery let's you talk about their body of work as a whole? Here are some cool ways of thinking about commonalities as well as differences as you taste through a distillery's greatest hits.
Going In Blind: pick a host in your group of friends who knows what each liquor is about and have them pour the small tastes before everyone can see the whiskeys. Hide the bottles and line up the glasses in a designated order. The tasters can then taste down the line WITHOUT knowing which whiskey they're tasting until the end. Not only does that make for a fun reveal scenario, but it wipes out biases you might have (*ahem* my rye bias *ahem*).
The Adjective Exercise: as you taste, write down not just the flavors you're getting from each whiskey, but the adjectives that can also describe them. Earthy, smooth, fire-esque — go bananas. Challenge yourself to use adjectives you never thought you'd use with food. When you're done, see which adjectives you've used more times than others. Do you think these adjectives describe the distillery as a whole?
Are You Related?: if the adjectives don't suit you, make a family tree. Which whiskeys are close sisters? Which is the big mamma of the bunch? Is there one that doesn't taste like it belongs with the set at all?
---
For more information on the mechanics of tasting whiskey, please visit:
If whiskey's not your thing and you're not quite sure how you got here, I highly recommend this.
All images are courtesy of Coppercraft's website.