It's that time of year again. The time of year when we get a bunch of people at A-Camp to go in on a few bottles of whiskey and we all taste them together and talk about how great whiskey is. And, as with every tasting we do, we encourage you to follow along at home! If you drink alcohol, you should do a whiskey tasting because:
exploring new horizons is wonderful and makes for being a great person, and whiskey tasting is all about exploration and enjoyment of said exploration.
whiskey tastings are all about community — you get together with some of your nearest and queerest and you do a thing all at once. It's kinda like family dinner, except you're all grownups.
it's cost-effective. Whiskey is an otherwise pricey hobby and you may not be able to afford (or find) some of the tip-top bottles by yourself. Going splits with a couple of people ensures that everyone gets a taste of the good stuff even when you're on a budget.
you get to learn a new skill — tasting whiskey is an education and you're going to learn a lot about the traditions of making liquor and also about what you, yourself, enjoy. You'll learn not just about whiskey, but about yourself.
If you're looking for jumping off points in your newly formed whiskey tasting club group thing (because I know you ran right out and formed one as soon as you polished off that unordered list above), Autostraddle has some great whiskey resources. The classic How to Drink Whiskey for example, not to mention this other whiskey tasting line up (and this one too, which tells you exactly how to taste whiskey/what you need to throw a whiskey tasting). Alex has also recommended five cost-effective whiskeys you should totally try.
Have we convinced you yet? If not, some of the fabulous whiskey that we're putting in our mouth-holes is sure to do the talking. Here's what we're drinking on the mountain this time around.
---
Brenne Whisky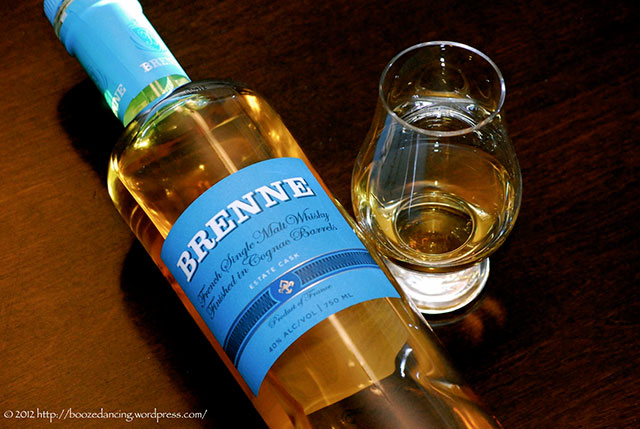 Brenne Whisky is a French single malt aged in Cognac casks and our esteemed sponsor for the A-Camp Whiskey/Whisky Tasting May 2014. They love us (as in, they love our little weirdo queermo community), and boy do we love them. From their website:
Brenne Single Malt Whisky is full of fruit-forward and complex-sugar notes like rich creme brûlée, burnt caramel, bananas, tropical fruits and warm spices like cinnamon and clove.  Why?  Because we wanted to produce a whisky that embodies the terroir and style of the region in which it is produced: Cognac, France.  This is not trying to be a Scotch just made in a different country – this is truly a French Whisky.
Om nom nom I CANNOT WAIT. Not to mention this is a small, woman-owned business (and I am all about that conscious consumption) and they're fairly new on the scene. You can keep up with Brenne Whisky's happenings on their website. Their Twitter handle is @BrenneWhisky.
---
Bernheim Wheat Whiskey
Bernheim claims they're the first new style of American whiskey introduced since the end of prohibition, and I believe them because their whiskey is truly a horse of a different color. They're the first distillery to use winter wheat as their main grain, which gives it a soft, sweat flavor and a medium finish. Kinda like swaddling yourself in clouds made of whiskey. It's got vanilla aroma and hints of coffee and spice (while remaining fruity and fresh). This is one of those whiskeys that's great neat or mixed into a cocktail, so it's a very versatile addition to your collection.
---
Rittenhouse Straight Rye 100 Proof
Rittenhouse is a mega versatile rye, meaning that you can enjoy it neat and in a cocktail. And, as we all know, rye is my darn favorite kind of whiskey. This has been called a must-try for anyone who loves whiskey and has been recommended by Our Lady Rachel Maddow by way of using it on air:
https://www.youtube.com/watch?v=DNurztGCCEk#t=403
This is my go-to mixing rye. Depending on how you mix it, it's kind of a combination of both getting kicked in the teeth by and getting a bear hug from a muscular lumberjack except actually it's a rye and everything it's doing is 120% consensual. Highly recommend.
---
Jefferson's Reserve
A little bit about Jefferson's as a distillery — though they are relatively new (1997), their family goes way back in whiskey. The founders' great (times-eight) grandmother was arrested in 1799 for the production and sale of liquor. And they chose their brand figurehead, Thomas Jefferson, because they like to uphold tradition yet also push boundaries. This bourbon (their flagship bourbon) fits right in with that mission, as it is a bold and sophisticated bourbon with deep tastes that include spice and leather.
---
Elijah Craig Barrel Proof Bourbon
Elijah Craig Barrel Proof Bourbon is one of the strongest bourbons on the market. That's because of that "barrel proof"signifier, meaning it's exactly as it comes out of the barrel when the master distiller tastes it. No chill-filtering, which is said to alter the taste of whiskey (and only for cosmetic reasons). It's as close as we're gonna get to tasting it out of the barrel — any closer, and we'd have to be standing right next to great master whiskey as he's actually tasting it. This has notes of butterscotch, vanilla and black pepper.
---
And Here's The Finish — 33 Books Co.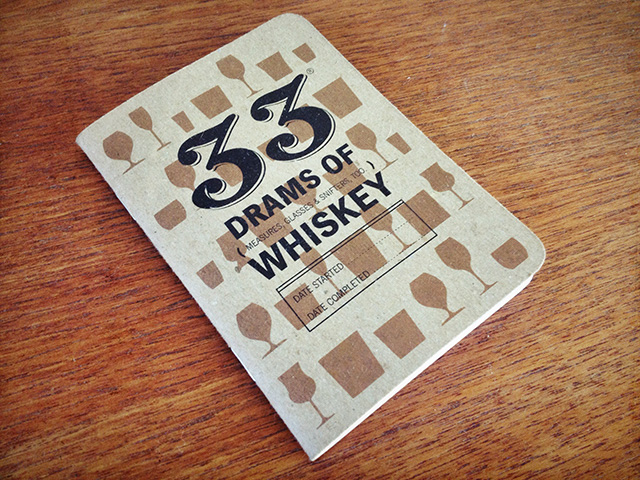 Usually on the mountain, we just talk about the whiskey. Some people take notes. This time, though, we'll all be taking notes because 33 Books Co. sent us some amazing mini-journals that will allow us to record our thought for each taste (and many more after). Check it:
So if you want to remember thoughts you have while drinking like "feels like being hugged like a muscular lumberjack" or literally anything more traditionally related to whiskey than that, you can do it with some helpful guidance from 33 Drams of Whiskey. Fits in yr back pocket, also comes in a Scotch-specific variety and approximately one billion other kinds.
---
So bring it on, queermos: what are y'all tasting at home this week in your secret whiskey societies? Have you tasted these? What are your feelings?