We're celebrating Autostraddle's Fifth Birthday all month long by publishing a bunch of Top Fives. This is one of them!
---
Hi my name is Alex and I have an obsession with whiskey. This is me at our whiskey tasting at A-Camp: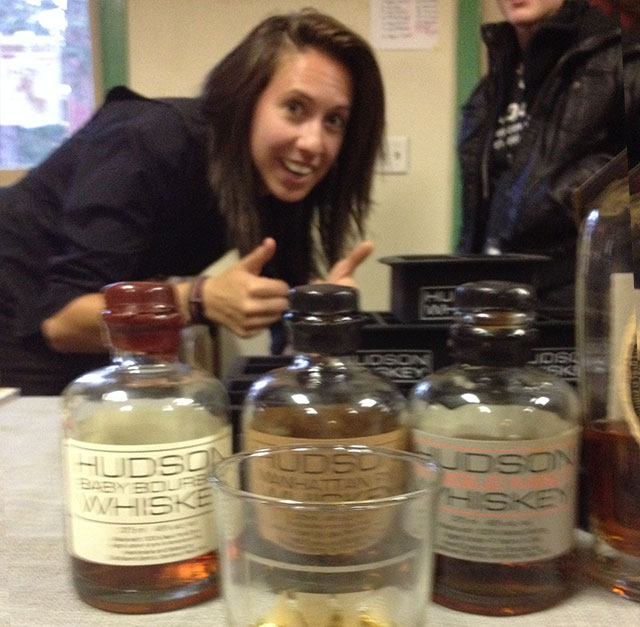 My love for whiskey is a really expensive hobby. There was a time that me and a friend managed to spend about $400 on whiskey at Seven Grand one night (which my girlfriend rightfully loves to make fun of me for!). And I think that it's worth spending $65 on a unique craft whiskey (like Balcones True Blue Cask Strength or Brenne Whisky).
But good whiskey, or even amazing whiskey, doesn't have to break the bank. These are five whiskeys that prove it, and there are definitely more out there. We all know Jack, Makers, and Knob Creek, and everyone and their mom (except my mom, despite my repeat efforts) buys and loves Bulleit. That's not to say these aren't quality whiskeys (they absolutely are), but what would be the point of telling you what you already know Instead I opted to find and include whiskeys that you're guaranteed to enjoy for around the same price as a bottle of the usual Bulleit.
Also, I've stuck only to American whiskies, like bourbon, because that's what I know and love. I am not a woman of scotch (yet!).
So with that, grab your Glencairn glass and on with the whiskey!
---
5. W.L. Weller 12 Year Old / Old Weller Antique 107
Price: $25 – $30
I have to admit I'm a bit hesitant to put W.L. Weller 12 Year Old on this list because it's hard enough to find without more people knowing about it! W.L. Weller 12 Year Old is a wheated bourbon that comes from the same stocks and warehouses as the notoriously hyped Pappy Van Winkle whiskies. They're made of the same mashbill. So you're really getting something special for such an absurdly low price, not just with taste but also historically, as the Weller company name dates back to pre-Prohibition.
"A "wheated" bourbon, meaning that it doesn't have the spicy rye notes found in a more traditional "ryed" bourbon. A pleasantly sweet, easy-going, well-balanced experience. Creamy vanilla, caramel, candied corn, and ripe berried fruit , along with more subtle notes of glazed orange, cocoa powder, and wood shavings. If I were going to ease a new bourbon drinker into the category, I might pick this one." – Whiskey Advocate
I couldn't agree more. W.L. Weller is rich, delicious, well-balanced, inexpensive, and I make sure I always have a bottle on hand. That's if I can find it, which is becoming increasingly difficult. I was lucky enough to find it for our first whiskey workshop at A-Camp last year. Needless to say, if you see W.L. Weller 12 Year Old at the store, buy it. Even if only so I can buy it off you!
If you can't find the 12 Year old, Old Weller Antique 107 is a good backup option while we brave the great whiskey shortage.
---

4. Buffalo Trace Bourbon
Price: $20 – $25
It's perfect, it's available everywhere, and it's less than $25. If you haven't tried Buffalo Trace yet, what is honestly wrong with you I mean really.
It's a classic, a lovely balance of sweet and warm spices with brown sugar and vanilla notes. So so good. It doesn't hit you too hard and it's complex enough to where I could (and often do) savor a dram for hours.
Buffalo Trace really nails it in general: their Antique Collection is award winning and the Experimental Collection yields one of the most unique series of whiskies from a major distillery, in my opinion. Anything Buffalo Trace does is solid, so it's no wonder their original bourbon really hits the mark.
---

3. Eagle Rare Single Barrel 10 Year Old
Price: $30
Speaking of Buffalo Trace, the Eagle Rare label is part of the Buffalo Trace family. I don't know how it took me so long to try Eagle Rare 10. I did so at a bar specifically for this review, and I loved it. When it comes to a single barrel whiskey, I think the bottlings can vary a lot. With that said, I experienced a pleasantly balanced bourbon with sweet fruit and oaky vanilla flavors. It's a truly satisfying drink.
At under $30 for a bottle, it's unbelievable that you can get this taste for that price.
---
2. Evan Williams Single Barrel
Price: $27
Evan Williams makes more than just that black label bottle that looks like a Jack Daniel's rip off. Evan Williams actually has a lot going on (and, for the record, I actually really like their black label). But even better is the 10 year old Evan Williams Single Barrel Vintage series.
What's a single barrel? Well, most whiskies are a combination of barrels of whiskey that can even be different ages that are used to create the desired flavor characteristics. Single barrel whiskies are bottled solely from one barrel and one barrel only. Every bottle is marked with the exact date that it was placed in oak and bottled, in addition to the exact serial number of the barrel from which it was drawn.
Available now is the Vintage 2004 release, which is getting great reviews and stands to be as good as any of the other years. I tried the Vintage 2001 for this review and have been on the lookout for my own bottle ever since.
These were my tasting notes:
"A little smokey/charry, then becomes sweet — like butterscotch or custard. It reminds me of a creme brulee! So awesome. Medium body, very drinkable. A delicious balance of smokey (char character) and sweet."
Apparently I really liked it.
---
1. Four Roses Bourbon (Yellow Label)
Price: ~$20
As I sampled whiskies for this list, Four Roses Bourbon wasn't on my radar at all. It was only after I tried and ruled out Elijah Craig 12 Year Old and Wild Turkey 101 that I noticed the regular ol' Four Roses there on the bar shelf. I'm more familiar with the Four Roses Single Barrel and Small Batch releases, which are special (and award-winning) limited edition releases. I decided to give the Yellow Label a shot and I was so happy I did — for $18.99 at BevMo, Four Roses is a steal.
It's soft and incredibly smooth. I never understood what people meant when they described a whiskey as "floral" — that is, until this bourbon. THIS. The nose is fruity and floral and the taste is soft warm spices with a little citrusy sweet happening in there as well. I actually ordered my Four Roses with a side of ice and never used it. I just enjoyed this bourbon way too much to throw an ice cube into it.
---
Can't find something in stores? Check out Caskers for whiskies and other liquor situations, especially for sending gifts.
Header Image by Rory Midhani