Because you deserve to be the best dressed homo in the office. Read previous posts here.
Header by Rory Midhani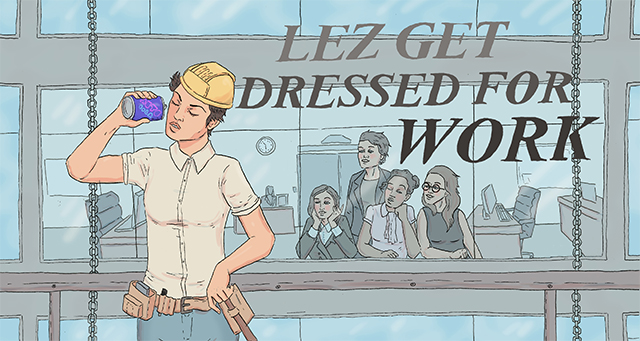 ---
Feature image via MoMo on We Heart It.

Hello little ducklings. Are you staying dry? I barely am. I mean right now it's nice(ish) out, but for the past week NYC has really just been taking one long humid shower, the kind that makes you more dirty. Aside from stating the obvious, which is that summer is just doing it wrong, I think it's time we talk about a sticky issue. Yes, I'm talking about shoes. When it's ninety degrees and raining or at least maybe going to rain at some point, and you're on your way to your air conditioned office in the sky, what the fuck do you wear on your feet?
Think about that question for a second while we take a break to talk about something really cute. Remember how two weeks ago I told you about Everlane's new Poplin shirts? Well, at least one of you is listening to me, because look at this lovely gem that appeared in my inbox.
If you find yourself following the advice in this column, please send me a picture like Heather did (gabrielle@autostraddle.com). Thanks Heather! Also I like your necklace, it looks really good over that shirt. I would totally give you a promotion for this outfit.
Okay, back to feet. While waterproof winter shoes can be really super great (Hunter boots, I'm lookin' at you), waterproof summer shoes are still definitely working on getting there. Sometimes it can feel like you have to choose between hot feet (rain boots) and wet feet (cute shoes). Neither are really work appropriate, though. Sure, you could wear your rain boots to work and then change your shoes once you get there, but honestly I don't really find that convenient. Like, who wants to schlep a pair of shoes to the office when one is also carrying lunch, snacks, coffee, water, all of one's makeup, and whatever else you can't live without during the eight/twelve hour work day?
To be completely honest with you, so far this summer on rainy days I've been wearing black skinny jeans and Doc Marten's with a very lightweight top. I look kind of like this by the time I get to work:
So, let's get more appropriate shoes together, shall we? The first thing to consider is material. Nothing's going to keep you dry like some good old fashioned rubber. But rubber's not exactly known for it's breathability. Here we find ourselves at a crossroads. Are you okay with wearing rubber sandals? Your feet will get wet but your shoes will stay dry, meaning you'll have to wipe those feet off with a paper towel once you get to work, but after that it will be smooth sailing. Since jellies are kind of back in style but have been updated to be more grown up, it's actually really easy to find a cute pair of jelly-inspired rubber sandals that are nice enough to wear to work. Plus, if you wear a cute enough outfit, people will think you are just wearing those shoes because you like them a lot. Also everyone is a little less fancy in the summer, it's a fact of life, because sweat.
If rubber sandals don't go with your spirit's vibe, consider the rubber oxford shoe. Yes, it exists, and I'm kind of obsessed with it (pictured below, center). There's also all kinds of rubber flats out there for your perusing pleasure. Granted, they're going to be a little sweatier than sandals, but still less sweaty than big old boots. Boat shoes and other slip-on situations all come in rubber. Here are some nice ones that will suit a variety of gender expressions.
So, what are your strategies for keeping your feet dry in the summer rain when you also have to look professional?