Because you deserve to be the best dressed homo in the office. Read previous posts here.
Header by Rory Midhani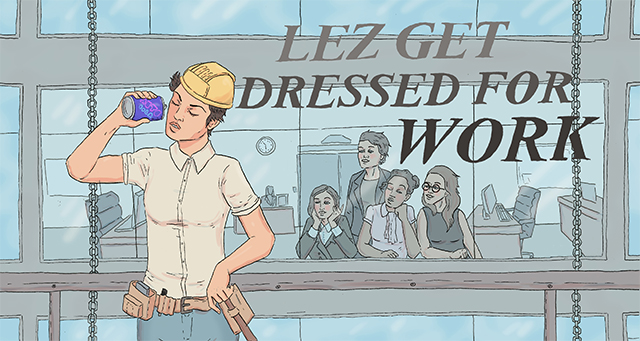 ---
I've already mentioned to you my love of Everlane, due in no small part to their high quality basics that are the perfect things to build a work wardrobe upon (okay also I like their cotton t-shirts and their policy of "radical transparency"). Their silk blouses are really the best things, but, you know, $80 for a dry-clean-only situation isn't always appealing. Plus, I don't know about you, but silk isn't my go-to summer material. So, when I caught wind of their new poplin collection that launched on June 20, I couldn't wait to tell you about it.
Everlane's poplin button front shirt collection is truly the perfect thing for your summer work life. Poplin is crisp yet great for hot weather, and these shirts appear to have just the right amount of breathing room to ventilate [certain kinds of] hot sweaty bodies while also looking professional. (Disclaimer: I haven't seen one in person, but I trust this brand a lot.) They come in collared long-sleeve ($55), collared short-sleeve ($50), and sleeveless band ($45); there's also a men's version ($55). But, the women's shirts are menswear inspired, so if you're looking for something more tomboy than femme, this shirt will probably work for you.
I feel like $45 is a really good price for a high quality shirt that one could potentially wear twice a week for the rest of summer.  The colors are lovely, too: white, midnight, and sand for the women's cut, and those plus dusk, light blue, navy, and Mediterranean for the men's cut. They look good tucked in or not tucked in, will work with trousers, skirts, or shorts, and, maybe most importantly, have that special magical quality that makes something look pretty queer.
You should check out the Poplin Collection Lookbook on Facebook for all the ways you can wear these shirts to express your unique snowflake office self, and then tell me what your feelings are.