I've always had a bit of a thing for bad girls, and I don't think I'm alone on this one. Who doesn't love gals with switchblades hidden in their beehives, girls with killer smirks who drink the tears of their enemies, and ladies that enact revenge without smearing their lipstick? And why do we love them? Is it the clothes, the hair, the make-up? Or is it more about attitude, manipulation, and that pesky sexual ambiguity? For slightly shy girls like me, bad girls let us live out our wildest fantasies. All those things we wish we could have done to that one girl in high school who made our lives a living hell. For these reasons, this column, "Rhymes with Witches" will be a weekly piece dissecting our love for the fictional mean girls that make it hurt so good. Every week, come take a walk with me on the wild side (switchblade not included) to explore the evil women we love on TV and in film and why we love them. Heroes and damsels in distress be damned.
---
Here in RWW headquarters, also known as my little house in rural Georgia with the two best roommates EVER, we do a lot of research (aka movie marathons) to help me figure out which pop culture Mean Girl to write about and for this week we noticed a strange phenomenon. I noticed that quite a few of my favorite mean girls were actually played by the same actress. Like how Mandy Moore played both Hilary Faye in Saved! and Lana Thomas in The Princess Diaries and Bette Davis in, like, every other role she ever played. The list goes on but for my first ever Double Feature edition I wanted to focus on my favorite repeat offender, Marla Sokoloff.
If that name sounds familiar it's because Marla Sokoloff was kind of a big deal in the '90s and early 2000s. She gained recognition with her major guest starring roles in Full House and Party of Five and moved on to star in several teen flicks (even one with Ashton Kutcher and that other guy from American Pie). And I'm glad to see she's made a return to TV with a role in The Fosters. But today we are here to discuss her iconic mean girl roles as Margarite 'Cokie' Mason in The Babysitter's Club and Lisa Janusch in Sugar & Spice.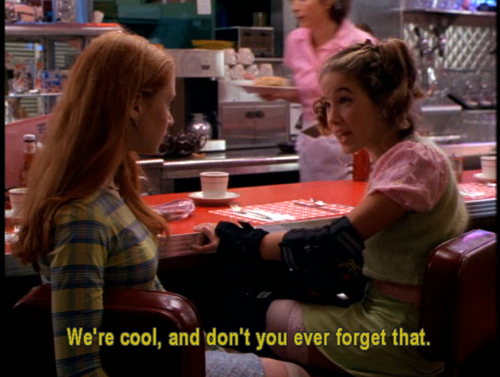 At first glance eighth-grade terror Cokie, with her floral leggings and jelly shoes, appears to share very little with teen cynic Lisa and her perfect green eye shadow and matching wardrobe. While Cokie (is this nickname supposed to be endearing?) spends her summer terrorizing the BSC with pranks and boyfriend stealing with her two other minions with matching knee socks and scrunchied side ponytails, Lisa is a stickler for the rules and is seen mostly as a lone wolf. But the two share more than the talented actress portraying them.
First there's that Sokoloff Smirk that puts Liz Lemon's eye roll to shame. But what made them stand out to me and what made me sympathize with them so much more than their squeaky clean counterparts is their longing to be a part of a group. For Lisa it's the varsity cheerleading squad (and consequent tight knit friend group) and for Cokie it's the '90s cutesy cult we know as the Babysitter's Club. Most movies (and the rest of the media) trash on teen girl cliques as stereotypically just for the popular group full of rich kids and jocks. But cliques run the gamut of the middle school/high school social hierarchy with as defining features as race and class to more frivolous similarities such as extracurricular. In the piece "Clique Membership and Social Adjustment in Children's Same-Gender Cliques," Kyongboon Kwon and A. Michele Lease identify five types of cliques based on clique members' aggregated scores on seven behavioral characteristics (i.e., prosocial, bully, reactive aggression, athletic, withdrawn, bright, fun): average, withdrawn, tough, incompetent/aggressive, and competent cliques.
What are these cheerleaders and babysitters if not a clique? Yet they are portrayed as the heroines in the story, and the outcasts are the villains. We can probably guess that both the BSC and varsity cheerleaders are a competent or average clique, but they are still a group that relies heavily on this cultlike mentality of "us against them" and exclusivity. In the same study a cluster analysis identified that on average, children in average, tough, and competent cliques were higher in their social status than children in withdrawn and incompetent/aggressive cliques. In other words, being a part of a formidable group still has some cache and definitely influences your popularity in school. While Sokoloff's characters might wear silly outfits, they are not dumb and they understand what they need to do to gain power in the battlefield that is adolescence.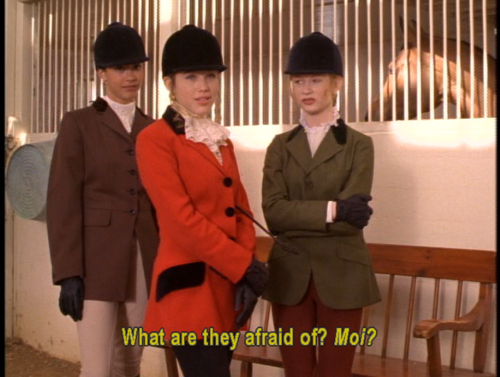 Unlike the mean girls in other movies who serve as the core of their clique, Lisa and Cokie are on the outskirts looking in. I related to Sokoloff's characters because they were just like me, dying to be a part of a group that would never accept her for whatever reason. Well, I guess trying to steal Mary Anne's boyfriend is a reason, but that's what you get for wearing a sweater vest and loafers. And that's the other thing! They don't care who they have to hurt or step over to get what they want. They will do anything they need to do to survive and they don't care who knows it.
And how they retaliated towards their exclusion was pretty much what I fantasized of doing in high school, which was blackmailing my way into the desired clique (Lisa) or destroying it all together (Cokie). Though I wish Cokie's character was more fleshed out in the movie, both her and Lisa have some serious one-liners and a sarcastic wit that I totally copied and still embody to this day (though I still wish I could rock those jelly shoes).