Hold onto your eggs, we're getting ready for Autostraddle's International Brunch Weekend 8/23-24! Find a brunch meetup in your city or create your own by heading over to our events page. You can also load up on all things brunch by watching this space. From playlists to recommendations to personal essays, we're writing all about the brunch experience. Get excited! BRUNCH.
Barefoot Brunch — the kind of brunch where you don't brunch out. You brunch in. The brunch was within you all along. Or at least, in your apartment. And you don't have to wear shoes in your apartment. Y'all, it's raining outside today. And I just moved, so I've just put together a lot of IKEA furniture. Like hell I am going out for brunch right now! I am staying in. Who's with me?! Plus I like making brunch drinks; brunch drinks have a special place in my heart. Here are a few excellent cocktails to make for your guests.
---

Easy Peasy Peachy Bellini
1.5 oz gin (I'm using Brooklyn Gin)
1 oz peach schnapps
top with Prosecco
Peach slice to garnish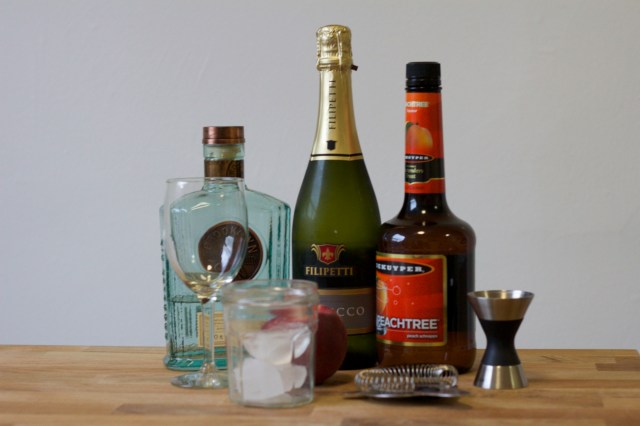 Now probably I could have built this bellini in the glass since the Prosecco would have taken care of chilling it. But I am cray cray and wanted everything really chilly, so I grabbed a jam jar filled with ice to mix in. If you're at the same level of "it's so damn hot outside, what the hell, this is the Midatlantic, it's not supposed to feel like this" as I am, please feel free to join me in that level of crazy and mix the 1.5 oz gin and the 1 oz peach schnapps in a glass with ice.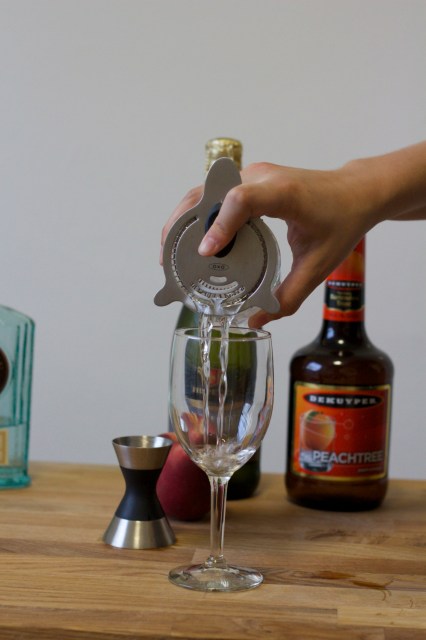 Strain it into a wine glass or champagne flute. Top with Prosecco. When popping a bubbly, please always use a tea towel so you don't shoot someone's eye out.
Slice a peach and just drop the whole slice in. The easiest way to slice a peach is like an avocado — slice all the way around and then twist so you have two halves, one of them with the pit in it. Slice off the half that doesn't have the bit. Eat the half that does because dang it, peaches are tasty. And then that's it, you're done. Easiest brunch drink in the world. No juicing. No crazy techniques. And it's amazingly delicious and very boozey.
---

Morningside Sunrise
3 oz Lillet Blanc
1 oz Crème de Cassis
top with tonic water
garnish with a peach slice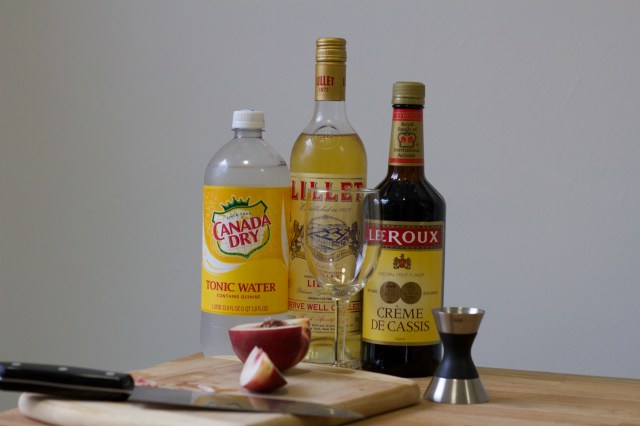 This is named for its lovely color — a nice rich purple. And it's very sweet. Grab a wine glass and fill it with ice. Dump the crème de cassis in the bottom of the glass, the 3 oz Lillet on top of it.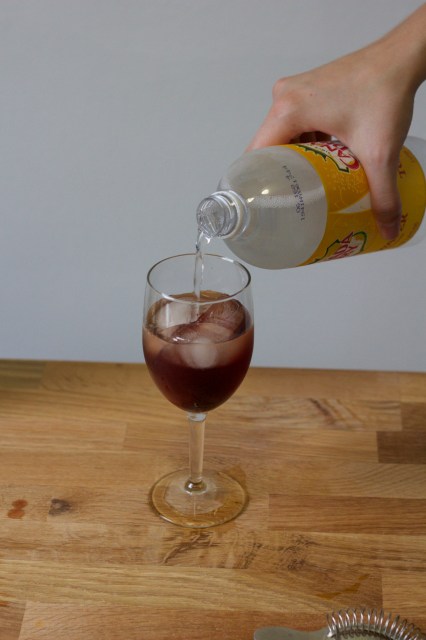 And then top with tonic water. Hang a peach slice on the side of the glass. You literally don't even have to mix it. It's a lazy lazy sunrise. And if you're making the bellinis, it's also a good way to use your sliced peaches up if your guests don't all want the booziest bellini in town.
---

Mary's Fish Allergy
I can never order a Bloody Mary — I am both a vegetarian and allergic to fish. For those of you in that boat, join me on the dark side. These are just as delicious.
2 oz vodka
6 oz tomato juice
2 dashes soy sauce
2 dashes favorite hotsauce (I'm using Tabasco, but some people use sriracha)
2 dash Bittermens Hellfire bitters because my real goal is to light your mouth ablaze
2 pinches sea salt
2 dashes tamarind paste (or 2 pinches tamarind powder)
All the pepper. All of it.
Celery stick to garnish
Fill a shaker half with ice. And then do the dashes first — the soy sauce, tamarind, Bittermens Hellfire Bitters and hot sauce. Yes, yes both of them. Both the hot sauce and the habañero bitters. Because I want it to kick you in the teeth. That's the whole darn point.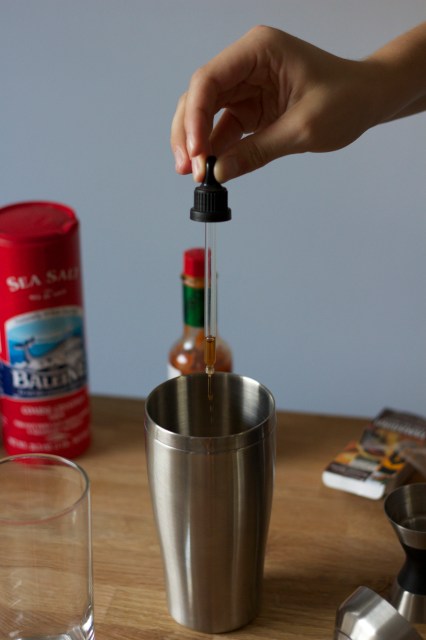 Then add the sea salt and four turns of a pepper grinder.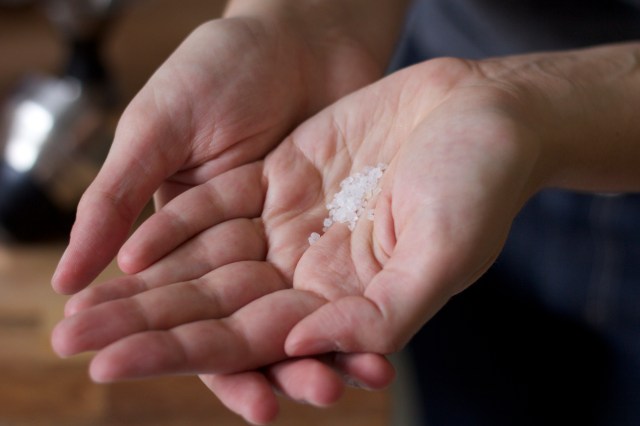 Just as an FYI, the tamarind and soy sauce are what's standing in for the traditional (and fishy) Worcestershire sauce — all you really need is something to give it an umami flavor, and the combination of those two things will definitely do it.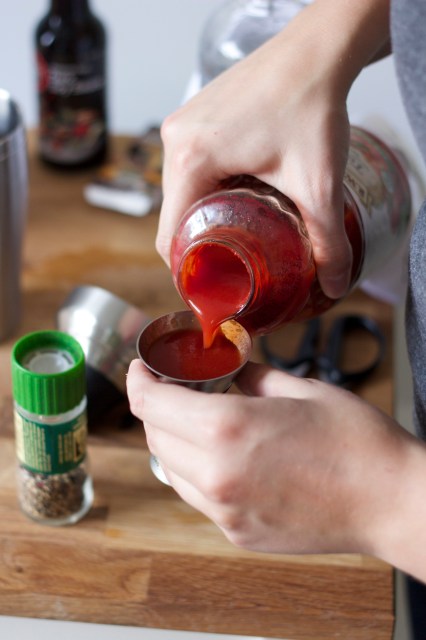 Dump in the 2 oz Vodka and the 6 oz tomato juice and shake it for a good 30 seconds. You want that salt and pepper to get all up in there.
Strain it into a tall glass and cut your celery stick to match the glass's height. Add four turns of a pepper grinder right on top for good measure.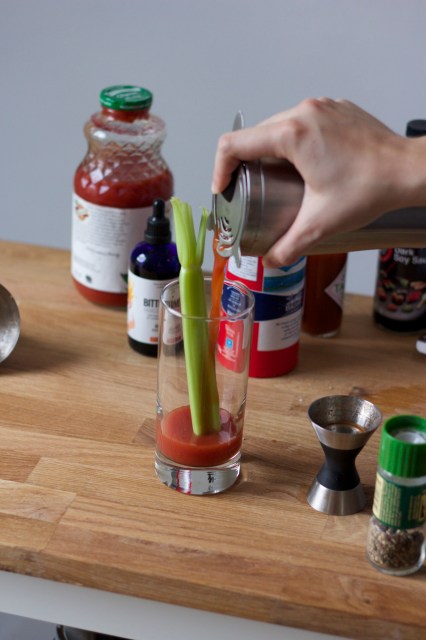 If you want what my fiancée's sister calls a "Gentle Mary," cut the vodka down to 1 oz. It is much gentler that way.
---
What are your go-to brunch drinks? Have you riffed on anything traditional lately? If none of these are go your liking, I highly recommend trying a Fizzing Whizbee.