As I've said one million times on this and every website, I just got married. I say this because I married a brilliant Ravenclaw genius who looks like a supermodel and I'm still in shock at my own good fortune, so Imma shout this shit from the rooftop. As the weather grows cold — actually, here in New York City, we pretty much skipped Fall and went straight to winter, so as the weather is instantly cold, I'm using a spiked mulled cider to warm us up and bask in my own incredulity. There are two of us, so this recipe is for two! Here's hoping you use this for your own cozy dates this month. And I hope Fall didn't skip where you live if it normally exists there!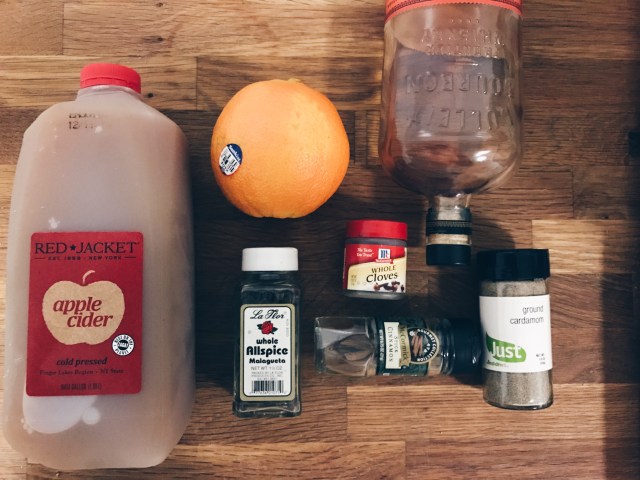 What you'll need:
Four cups of your most local apple cider
Half an orange
Five whole allspice berries
Eight cloves
A pinch of cardamom
Two cinnamon sticks
2 oz. bourbon per mug/glass (I'm using Bulleit)
Cloved orange slices for garnish
Slice up your orange rather thin. You're not juicing this time, so you don't have to cut long ways. Cut midway, the pretty way. Measure out your four cups of local apple cider and pour it into a medium-sized pot. Float those orange slices on top.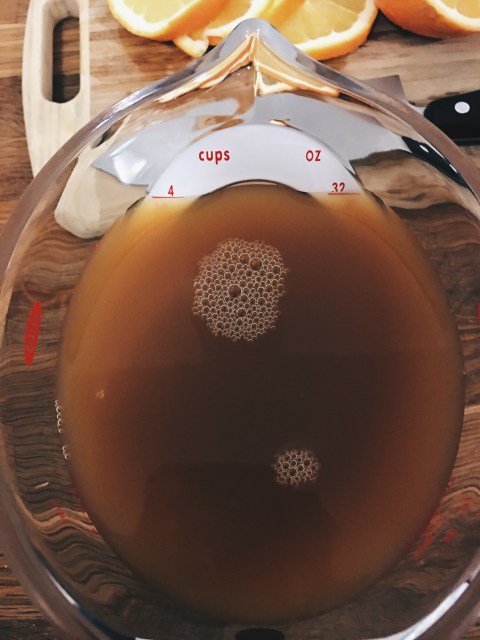 Add your spices and turn your stove on to medium-high heat, then put a lid on that pot. Bring the cider just to a boil, and then turn it down to simmer for ten minutes.
Grab your heat-proof beverage glasses. We use Irish Coffee glasses for most of our warm cocktails, but your fave coffee mugs will also do just fine. Pour 2 oz. of bourbon in each mug. You may be wondering why I don't mull the cider with the bourbon in it — that's to make sure the alcohol doesn't boil off. Grab a ladle and pour the cider through a strainer over the bourbon. If you get lazy and pour from the pot like me, you will pour it all over the counter! Don't do that! Use the ladle!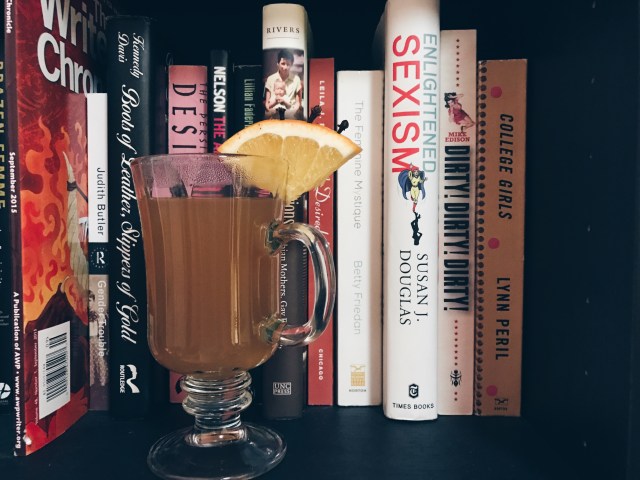 Garnish with the orange wedge that looks a little like a dinosaur and enjoy in your bathrobe with your favorite slippers on.
So what are you drinking in the cold weather?