feature image via shutterstock
Sometimes, it felt like this day would never come. Like we were stuck in a Groundhog Year of our own pernicious making, doomed to watch the same several intensely voice-acted ad spots without end. But the US's election day has arrived. Many people have already voted through early or absentee voting; many more will vote today. If you are a registered US voter and have not voted yet, please do so! It's easy to find out your polling location and what's on your ballot! If you're confused about what you need to bring to your polling place or are feeling hung up by other logistics of voting, let us know in the comments and hopefully we can try to help each other out!
Once you've voted, head back here and hang out with us! We'll be here all day posting updates and pulling commentary and analysis for you from different sources, as well as commiserating in the comments. Once results start coming in, we'll be here to talk through that too. It's been a long election season and all of us are worn pretty thin; let's be here for each other today (and for the next four years). Let us know how voting went for you! Tell us about what local races and candidates are on your mind! Readers from outside the United States, you're welcome here too!
If you're tweeting about the election today, use the hashtag #ASelection and we'll grab some of your best tweets and add them to our liveblog! 
---
8:45 a.m. EST Good morning, my dear friends! This is Heather and I'm taking on the first shift of today's election liveblog. Stacy and I got up early and voted this morning and I was surprised by how emotional I got. Not quite as emotional as the time I was standing in line to meet JK Rowling, but close. Today was my first time voting in New York. I've always voted in my home state of Georgia (a shocking toss-up this year?!) and NYC voting is so different in so many cool ways. Ballots and signage in a five different languages, disability access for voters, no one standing in line talking about how whatever Democratic candidate is in league with literal satan. I read this really optimistic article on The Nation last night that you might like. Also don't forget that most major US newspapers are dropping their paywall today.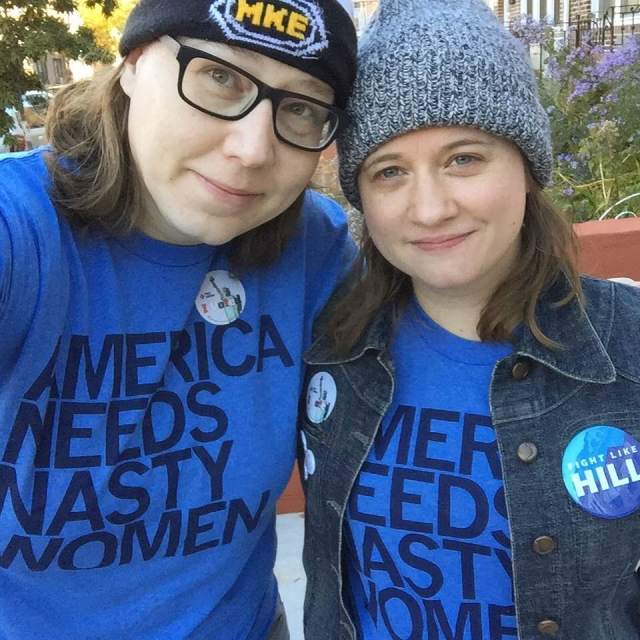 9:00 a.m. EST Tim Kaine's voting day tweet is the most Tim Kaine tweet of all time. Minerva Turpin!
I wanted to be first at my polling place, but 99-year-old Minerva Turpin beat me to it. Looks like I need to get used to being number two! pic.twitter.com/9YvWOjuKUe

— Tim Kaine (@timkaine) November 8, 2016
10:00 a.m. EST There's an hour-long wait at Susan B. Anthony's grave this morning. Facebook is livestreaming folks stopping by to pay their respects.
This is not a line to vote; it's a line to see Susan B. Anthony's gravesite. #Election2016 pic.twitter.com/xUd44WpJgj

— Patrick Thornton (@pwthornton) November 8, 2016
10:30 a.m. If you're looking for some furry adorableness to get you through the day, @darth is retweeting photos of pets wearing their owners I VOTED stickers.
Cats 4 Hillz #iVoted pic.twitter.com/w2Q143ZEs7

— Anne Holden (@adholden) November 8, 2016
https://twitter.com/HumiliationExp/status/796002901768343552
If you're looking for some hope and optimism and you just want to cry some more, President Obama's speech at Hillary's New Hampshire really last night ought to do the trick.
"One voice can change a room, a city, a country, the world"

This Obama riff today got audience all teary-watch/share it with a young voter pic.twitter.com/jZySD0pcvv

— Khanoisseur 🐶🤦🏻‍♂️🌎 (@Khanoisseur) November 8, 2016
11:30 a.m. EST: Besides staying tuned to this liveblog all day long, you can watch the election results on virtually all the devices you own.
11:34 a.m. EST: Lol This was satisfying to watch.
And here's @realDonaldTrump getting booed even harder on the way out… #ilovenewyork pic.twitter.com/rkXSPklrul

— Harrison Greenbaum (@harrisoncomedy) November 8, 2016
11:52 a.m. EST: Yo voter intimidation is illegal. Here are some examples of voter intimidation: "aggressively questioning a voter about his or her citizenship, criminal record or other qualifications to vote"; "shouting and abusive language"; "If a voter is being followed and photographed or has his license plate numbers recorded"; "baseless or discriminatory challenges to one's eligibility to vote and the brandishing of weapons in front of a voter." Here's the Washington Post with how you can report voter intimidation:
Voters can call the Justice Department Voting Rights Hotline at 800-253-3931; TTY line at 877-267-8971 or email the Justice Department Civil Rights Division at voting.section@usdoj.gov
Voters also can call the Election Protection hotline led by the Lawyers' Committee for Civil Rights Under Law (866-OUR-VOTE), the hotline led by the National Association of Latino Elected and Appointed Officials Education Fund (888-Ve-Y-Vota), or the hotline led by APIAVote and Asian Americans Advancing Justice (888-API-VOTE). The Arab American Institute Yalla Vote Hotline is 844-418-1682. In addition, voters can report intimidation to county poll workers, the county clerk, elections officials, local and state officials, or the state board of elections.
12:33 pm EST: Hi everyone, it's me, Rachel! I just got home from running some errands and voting this morning and I'll be liveblogging for a while. I just almost cried while wearing my voting sticker inside a Walgreens when I realized they didn't have Queen Helene Mint Julep Mask in stock, so that's where I'm at, emotionally and spiritually. How are you holding up?
12:45 pm EST: Thank you to commenter @rachmelia below for sharing some more voter support information below specific to disabled voters! I'm going to reshare it up here so it's easier for people to find!
* The National Federation of the Blind is running a voter hotline until 10:00 PM for blind voters encountering difficulties with non-visual election technology. It can be reached at 877-632-1940.
* There's also a state specific directory of protection and advocacy hotlines for any voters with a disability encountering issues at polling places. http://www.advocacymonitor.com/directory-of-protection-and-advocacy-voter-assistance-hotlines-2016/
1 pm EST: Personally, I'm still feeling very anxious and probably will all day, but everything I've seen so far has been good where I live (in Milwaukee; Wisconsin is predicted to go Hillary). There were no lines and things seemed to go smoothly at my polling place (although Wisconsin does have a voter ID law and there is a lot of concern about voter disenfranchisement in my state). Earlier I was out (see above, crying at Walgreens) and saw this building decked OUT for Hillary and Russ Feingold, our Dem Senate candidate. I'm not sure what the building is — I looked it up later on Google Maps and it seems like an empty property for lease —  but I'm into it.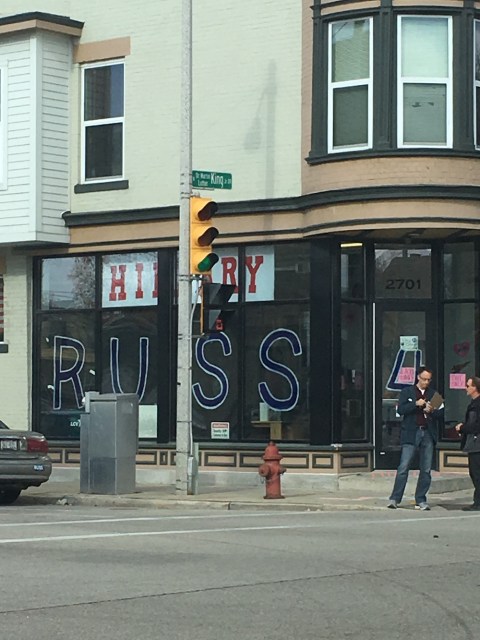 1:15 pm EST: One of the first news developments of the day: we're seeing reports that Trump's camp is filing a lawsuit against Clark County, Nevada, alleging that the county kept polls open late. Again, it's extremely early in the day to draw any conclusions, but pre-emptive defensiveness suggests Trump does not feel great about his chances. Interestingly, Dems are already suing Trump for attempted voter intimidation in Nevada. As FiveThirtyEight points out, "voters are allowed to cast ballots past the official poll closing time, as long as they were in line before the end of official voting hours."
Breaking: #Trump files Nevada voting lawsuit vs. Clark County Registrar, they allege, for keeping polls open "2 hours beyond..closing time"

— Jim Sciutto (@jimsciutto) November 8, 2016
1: 30 pm EST: Amidst the atmosphere of optimism I think many of us are trying to cultivate, there are a lot of anecdotal reports of voting problems, especially with voters of color being presented with more obstacles, asked for ID more often, and waiting longer than white voters. We'll likely see more of those throughout the day, and we're seeing numbers and news reports, too. New York and the tri-state area is experiencing long wait times and lots of problems "from long lines in Brooklyn to broken machines in New Jersey to late openings in the Bronx and hours-long waits across the city." NBC, which has been reporting on voting problems since early voting began, says that GOP efforts to block Black voters through limited early voting seem to have succeeded: "African-American turnout in the Tar Heel state through Saturday declined this year compared to 2012 by 8.7 percent, or around 66,000 votes — going from just under 754,000 votes to just over 688,000."
1:55 pm EST: We still have a few hours to go before we begin getting even preliminary poll results (and, as FiveThirtyEight points out, "We won't know who is going to win until the votes are actually counted. Don't believe in reports you read online that supposedly give you a keen insight of who is going to win. No one knows.") so let's do a mini link roundup in the meantime! Here's an Al Jazeera roundup of how some people globally are reacting to the US election; here are some openly LGBTQ candidates people can vote for downballot this election; here's a piece about the death penalty ballot question in CA and NV.
If you're looking for more resources on voter support and making sure people can access/stay at the polls, here's Remezcla on how to use Uber or Lyft to get a free ride to vote and here's Pizza to the Polls, a site where you can donate to send pizza delivery to people who are waiting in line for hours to vote and may be tired and hungry (or report a long voting line that could use sustenance).
Also, courtesy of Yvonne, here is a tweet featuring a mariachi band serenading voters.
There's a mariachi band playing at Halle Hewetson Elementary here in northern Nevada ushering voters to the polls 🎺🎶 pic.twitter.com/vAZvS8gInL

— Tamerra Griffin (@tamerra_nikol) November 8, 2016
2:25 pm EST: How's everyone feeling? Are you nervous? Excited? Frustrated? What are you doing to cope? Personally, I've been marathoning Bob Ross (beauty is everywhere!!!) since I started working on this post. It's a small thing, but it helps. As results start coming in, I might need to make a move for the big guns: that's right, Slow TV. Feel free to join me.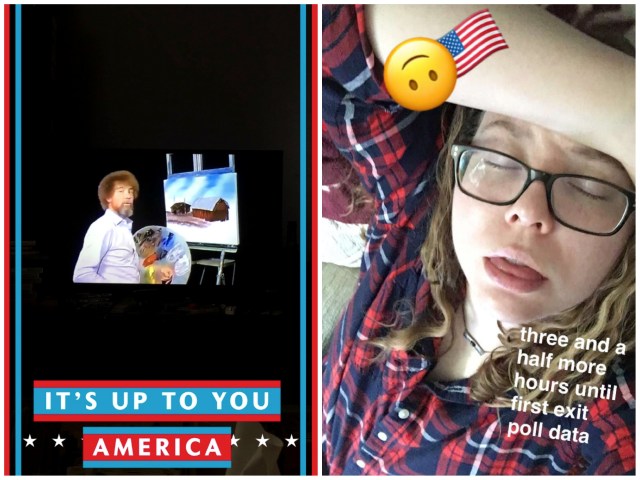 2:45 pm EST: Today, we are all Josh's pug.
When you're skeptical of exit poll results but you're still waiting for them. pic.twitter.com/JZ6MVJwe5s

— Josh Gondelman (@joshgondelman) November 8, 2016
3:00 pm EST: So, a bit more about the lawsuit Trump has filed in Nevada! Things are moving too fast for me to feel confident sharing lots of real analysis, but here are a few things: Although voting law says that anyone in line to vote when the polls close is allowed to vote, it seems the lawsuit is alleging that NV's Clark County let people in line after the polls had already closed. It's not clear that there's any evidence that this occurred, unsurprisingly. Sahil Kapur suspects that this is part of Trump trying to reverse his loss before he's even lost and contest the election results. (Americans who lived through the 2000 election may be shuddering at this idea, deservedly.)
From Trump's NV lawsuit. Seems like he's laying the groundwork to contest the result, and thus refuse to concede. pic.twitter.com/uEnxrRuxzt

— Sahil Kapur (@sahilkapur) November 8, 2016
It's not farfetched; in radio interviews, Trump has still been saying he may not accept the results if he doesn't win. (Although he also said earlier that if he lost, he would peace out from the public eye. Which is it, Donald???) ThinkProgress thinks the lawsuit isn't worth worrying about because of the "likely event that Trump does not have any evidence that state law was violated here."
The hearing on the lawsuit is happening essentially right now; I haven't been able to watch it live, but the general consensus seems to be that the judge is not particularly impressed with this lawsuit, or the attendant request to make the names of the implicated Nevada poll workers public. This is a good little exchange to watch:
The Trump campaign wants to make names of Nevada poll workers public. Judge's response: pic.twitter.com/tes99IMbbH

— Deadspin (@Deadspin) November 8, 2016
In other news related to the larger theme of Trump family members not understanding and/or not facing consequences under the law, Eric Trump took a photo of his filled-in ballot in New York, where it is a misdemeanor if someone "shows his ballot after it is prepared for voting, to any person so as to reveal the contents." He has since deleted the tweet. Womp womp.
3:08 pm EST: I don't know, I got a laugh out of it.
Kid just ran in front of the camera on MSNBC and screamed "fuck Joe Arpaio!"

— kubernetes juul pod (@FlimFlamEconomy) November 8, 2016
3:20 pm EST: Hi, it's Yvonne again! How's everyone doing? I'm ok, I've now moved to a coffee shop with a friend who needs to study for her organic chemistry exams and I'm like it seems like a great idea to change scenery because it's gonna be a long night. Anyways, how about these pantsuits!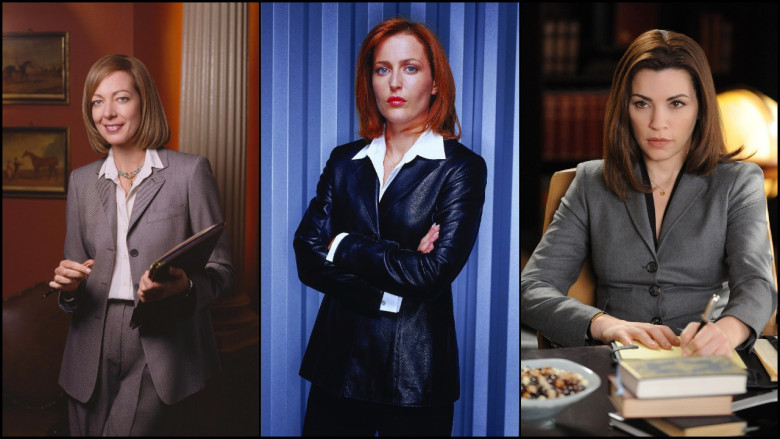 3:32 pm EST: A Nevada judge denies the Trump camp's request.
Breaking: Nevada state judge denies #Trump campaign request to isolate ballots from 4 early voting sites, can appeal to State Supreme Ct

— Jim Sciutto (@jimsciutto) November 8, 2016
3:46 pm EST: Two women wearing hijabs were singled out while waiting in line to vote in Michigan in an act of voter intimidation. A man in East Lansing, Michigan tried to keep the women from voting by asking them for their voter information and trying to direct them to a different polling location.
3:47 pm EST: ::sob emoji:: ::praise hands emoji::
This Trump hotel housekeeper just #voted for the first time—against her boss https://t.co/tvBvPixxlq pic.twitter.com/UY5mDuMprj

— Splinter (@splinter_news) November 8, 2016
4:00 pm EST: You can read more about the Nevada judge denying Trump's camp complaint that polling locations in Clark County stayed open two hours after it closed to accommodate voters. Politico reports: "Clark County Judge Gloria J. Sturman said at a hearing today that the campaign failed to take up its problems with county officials before coming to court."
"There's been a failure to exhaust administrative remedies,wp_posts[Sturman] said at the hearing, which was broadcast over the internet. "I am reluctant to impose any obligation by court order on our registrar of voters, who is a very busy man and does an excellent job for all of us."
4:07 pm EST: Y'all, I just realized that the U.S. spans what seems like infinite time zones. I mean just look at this graphic. Here's what our timeline looks for the evening.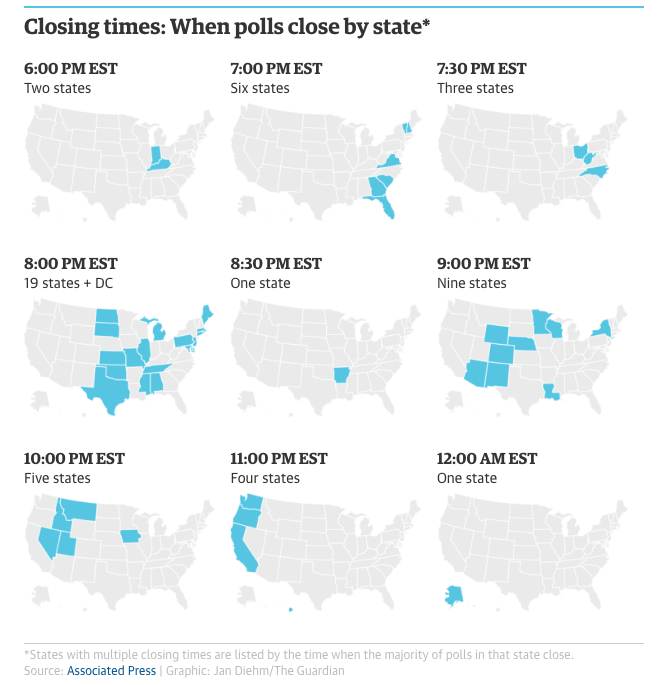 4:12 pm EST: It might be too late for this but it's worth mentioning to y'all because I care about you! Babeland is giving away free sex toys to the first 100 customers who say the word "vote." They're also doing offering it online too!
4:30 pm EST: Staff writer Kayla is the real winner today.
4:39 pm EST: There's been several reports of voting problems around the country. In North Carolina, about six precincts in Durham County experienced software malfunctions used to verify voter registration. The malfunctions forced polls to switch to paper rolls, causing one precinct to run out of forms and halting voting for at least two hours. These problems could hurt Hillary Clinton since 40 percent of Durham County voters are black. Across North Carolina reports of missing registrations were filed by voters.
In other states: In Utah, voting machine malfunctions forced poll workers to use paper ballots. At one point all the machines in Wilson County, Tenn. were down. In Louisiana, voters were forced to wait outside while new machines were installed.
Journalists are tracking voting problems via Electionland.
4:55 pm EST: Have you heard that state legislative offices are at stake as well? "[Democrats] could flip legislative chambers in Arizona, Colorado, Iowa, Maine, Michigan, Minnesota, Nevada, New Hampshire, New Mexico, New York, Washington and West Virginia." This could push five states into Democratic control.
5:00 pm EST: Holy shit, you guys! This Florida Trump supporter sprayed mace at a Clinton supporter at a voting location. NY Daily News reports:
Jupiter police were investigating after Donna Tatlici said Tom Garrecht screamed at her that he didn't need anyone's help with his vote outside the Jupiter Community Center, WPBF-TV reported. Investigators said the fight happened when he walked outside from voting around 10 a.m. on Tuesday.
Garrecht, 52, faces charges of assault and battery.
5:13 pm EST: LOL Someone hacked Trump's website and left a poop emoji!
5:23 pm EST: Rachel again! I've made some tea and am watching Forensic Files to chill out. Early exit polls will be out soon, but every outlet is frenetically reminding us that we shouldn't rely on them for accuracy. They're right, so please don't let any numbers get you down or prematurely hyped up!
5:30 pm EST: If you're looking for more live election coverage and cable news is making you feel like you're biting on tinfoil, Buzzfeed is doing some live coverage in connection with Twitter; you can watch it online here.
https://twitter.com/annehelen/status/796111279748423680
5:40 pm EST: There are social media reports that Colorado's (entire?) voting system was down for "about twenty minutes," and is now back online.
5:41 pm EST: An update on the Trump website hack.
Seriously, whoever made Donald Trump's website should be ashamed of themselves. This is SO EMBARRASSING https://t.co/LiQ3s328Yu pic.twitter.com/bXG0mbesbv

— Shoshana Weissmann, Sloth Committee Chair 🦥 (@senatorshoshana) November 8, 2016
5:44 pm EST: Early exit poll numbers are out; I'm seeing a few different things floating around and will see what I can grab that seems accurate (to the exit poll numbers themselves; there is no guarantee that the exit poll numbers themselves are accurate to a final result).
5:51 pm EST: I'm still having trouble finding specific numbers to share, but consensus between outlets like Politico and FiveThirtyEight are that both candidates have low approval ratings, but that Trump's approval rating is lower; and that Obama has fairly high approval ratings, which may bode well for Hillary if voters conflate her with Obama. Carl Bialik at FiveThirtyEight:
Preliminary exit polls show that many voters were motivated by dislike of one of the candidates more than by support for the person they voted for. One in five Clinton voters said they chiefly oppose the other candidate, and 27 percent of Trump supporters said the same; those figures were just 8 percent for Obama voters in 2012 and 10 percent for Romney voters. Asked about Trump's treatment of women, 70 percent all voters said they were bothered some or a lot; 62 percent said the same about Clinton's emails while secretary of state.
5:55 pm EST: In personal news, it will be 5 pm in my time zone in 5 minutes, at which point I will fix myself a drink. Thank you for your support during this time.
6 pm EST: We've now reached the point in the evening where the first polls are CLOSING, in parts of Indiana and Kentucky (you can follow this here). It is also wine o'clock for me, and maybe for you, who can say.
6:10 pm EST: I'd like to take a moment to do a quick human interest spot with a woman-on-the-street quote from my coworker and close friend Laneia. Laneia is a US citizen in the red but also maybe sort of kind of contested state Arizona, and she also got a root canal earlier today, which was very badass and also I am hoping gave her some kind of flash of insight into our shared future, like how you can see beyond the veil in the moment before your death. Anyway here's Laneia for you.
On the way to get my special election day root canals (which I was terrified about), Megan came to a stop at a red light, right next to a large truck full of men. Her window was down and so was theirs, so they heard her loud and clear when she opened the sun roof and said to me, "Look at that beautiful sky! That's the sky on the day we elect our first woman president!" And do you know what those men did? They laughed and smiled. Did they do so in support of Megan's statement, or were they laughing at her? WHO GIVES A FUCK. Because guess what, she was right about the sky and this day, and even when I'm on my way to get the roots of my teeth drilled out, my misandry remains strong and powerful. Now I'm lying on the couch reading twitter and this live blog and crying and looking forward to the sweet peace of what will surely be a new matriarchal society where everyone gets a kitten and free dental care!
Laneia also wished me to pass along this video of a dog from Lindy West. Enjoy!
6:20 pm EST: An update with the reported voter problems in several battleground states: Hillary's campaign has reportedly asked North Carolina to extend voting hours due to their technical issues.
Clinton's campaign calls on the NC Board of Elections to extend voting hours due to technical issues pic.twitter.com/z3dbGzOZzh

— Dan Merica (@merica) November 8, 2016
6:34 pm EST: Let's talk about Florida! It's been a contested state for months, with wonks talking about how Hillary's campaign was strategizing around it months in advance and Trump's wasn't putting nearly enough effort into it early on, with very few staff there. Now, so far at least, it seems as though the move may be paying off for Clinton; Florida is looking good for her in these very early stages. The state is seeing record voting turnout, and to briefly summarize, we're seeing increased participation by Latinx voters (who are generally voting against Trump) and are not seeing an increase in numbers of whites who didn't attend college, Trump's core base. CBS Miami reports that "Florida has gained 929,327 registered voters since the past presidential election, according to voter registration data released late last month. About 39 percent of that gain came from Hispanics." FiveThirtyEight reports that "In the preliminary exit polls, 39 percent of voters were people of color. That compares to just 33 percent in 2012."
6:46 pm EST: Another good indicator! Exit polls also ask about general political issues and legislation, and it appears that most people (again, early exit polls, who knows how accurate they are) are not fans of HB2.
North Carolina exit poll bad news for proponents of anti-transgender law https://t.co/rSWevILwse #ElectionDay pic.twitter.com/PgmYG1oncI

— ThinkProgress (@thinkprogress) November 8, 2016
6:52 PM: The newest FiveThirtyEight interpretation of exit poll data shows that 91% of Clinton voters think votes will be counted accurately and the election results will be trustworthy, and 77% of Trump voters do. Granted, that's not great, but honestly 77% is much higher than I expected and I'm a bit heartened. As we get more accurate data throughout the night, that number may drop, but still!
6:57 pm EST: You've seen the headlines about the lines at Susan B. Anthony's grave; you may also know that many of the early suffragists, including Susan B. Anthony, were racist! Here's a piece about Black women who also deserve us paying our respects today.
7:00 pm EST: More polls just closed! This time it was polls in much of Florida, Georgia, the rest of Indiana, the western half of Kentucky, New Hampshire, South Carolina, Vermont, amd Virginia.
7:05 pm EST: I'm playing the Buzzfeed coverage in the background on my laptop and this inspiration get-out-the-vote ad spot they're doing with Ken Bone (that I think might be sponsored by Izod??) is driving me up a wall. Sorry! I just had to put that somewhere! Sorry!
7:06 pm EST: In unsurprising news, it looks like Kentucky and Indiana will go for Trump, giving him 19 electoral votes between the two of them.
7:09 pm EST: It appears we're calling Vermont for Clinton! Good on you, Vermont. Love your maple candy.
7:28 pm EST: Hi, it's Yvonne! Oh man, everything has just gone into overdrive now. Like I turned on CBS news to see if that would help me with this liveblog but it was an absolute disaster. It just made my anxiety spike and I hate all the terms they use for Latino voters. Anyways, NYT officially reports that Trump wins Indiana and Kentucky. They're also saying Virginia and Georgia are too close to call when polls closed half an hour ago.
7:33 pm EST: On twitter, I'm seeing Trump got West Virginia.
7:40 pm EST: North Carolina's Board of Elections extended voting times in 8 precincts ranging from 20 minutes to 60 minutes.
7:49 pm EST: A man fatally shot one person and three other people in Azusa, California, a suburb of Los Angeles. It temporarily closed two polling locations and locked down two schools. It's still being investigated.
7:55 pm EST: Hey a good reminder! If you're still in line when your poll closes at 7 p.m. in your time zone, stay in that line until you vote!
7:56 pm EST: A bunch of polls in several states will be closing soon! Get ready for more results.
8 pm EST:It's being projected Clinton wins Illinois, New Jersey, Massachusetts, Maryland, D.C. and Delaware.
8:06 pm EST: Tammy Duckworth wins the Illinois Senate! She's the second woman to become senator in Illinois.
8:12 pm EST: Listen to Gina!
https://twitter.com/HereIsGina/status/796157793598193664
8:14 pm EST: Holy shit, I just saw NYT's election map and I see TEXAS a light shade of blue????? WHAT IS HAPPENING
8:16 pm EST: lol it switched back to red. I REGRET NOT SCREENSHOTING IT WHILE IT WAS BLUE.
8:21 pm EST: Trump wins Tennessee and South Carolina.
8:22 pm EST: My dog feels my anxiety! He keeps pacing up and down and I'm like omg, can you please stop that.
8:23 pm EST: Colorado Dems sought a court order to keep the polls open an extra two hours after a system failure earlier in the day.
8:30 pm EST: A Trump supporter was arrested after trying to vote twice in Texas. He said he was "testing the system."
8:30 pm EST: I love this! More women of color in office!
https://twitter.com/marinafang/status/796159837461774336
8:32 pm EST: YESSSSSSSS
I KNOW I KNOW, it's early yet, but I wanted to capture this moment in time in which Tx is lovely in blue. #ElectionNight pic.twitter.com/7DTe1Rymaz

— Laura Zak (@la_wa) November 9, 2016
8:35 pm EST: Update on my dog. He's hate sleeping now. He's just like fine, whatever don't pay attention to me. I will forcibly sleep really loudly.
8:38 pm EST: Black Lives Matter Is a Game Changer in These 6 Races
Includes races in Chicago; Cuyahoga County, Ohio; St. Louis; Orange and Osceola counties, Florida; Maricopa County, Arizona; and Henry County, Georgia.
8:51 pm EST: ABC keeps talking about the Latino vote in Florida and how it's diverse and how it can be a problem for Trump. He's leading right now in the state with 74% reporting.
8:54 pm EST: Speaking of the Latino vote…
Wow: In TX, Clinton support among Latinos was 80% on election eve vs. Trump's 16% (Romney was at 29%), per Latino Decisions #TexasVotes2016

— Alexa Ura (@alexazura) November 9, 2016
8:57 pm EST: In Dallas county, Hillary wins! She has a small lead in Texas at the moment.
9:00 PM: It's Rachel again! I've been alternately coping with the tight race in Florida and extremely not coping. Hope you're finding a way to stay calm somehow; it's a long night ahead of us.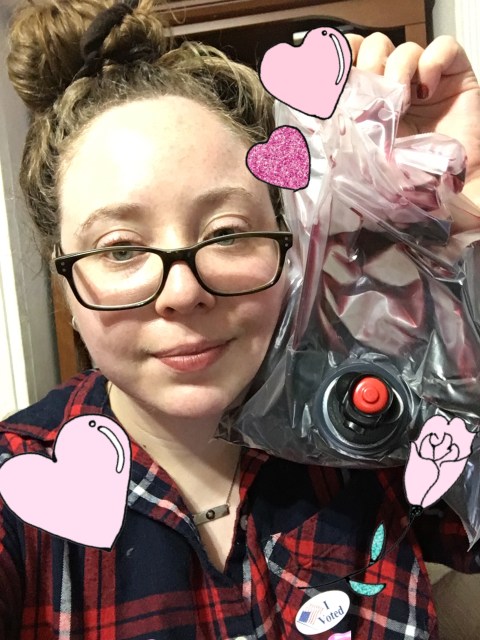 9:08 PM: Aaaand just as I signed on to liveblog, I heard it reported that Texas has been called for Trump (as well as Nebraska). Goodbye, Light Blue Texas. You were a beautiful dream. Florida is still in play; I'm seeing it at 77% reporting right now, and a 1.6% difference in votes.
9:10 PM: And Illinois has been called for Clinton; not a surprise, but 20 more electoral votes.
9:13 PM: I'd like to acknowledge that Mey has issued a formal callout to this liveblog for not featuring her election tweets and cute outfit, and to be accountable to my own role as liveblogger in this occurrence. I apologize to all those I have hurt with my thoughtless actions; thank you for allowing me this opportunity to begin to make amends. Let us gaze upon Mey's cute outfit and begin to heal as a community.
Honestly I look fucking cute, and if you're not convinced yet, maybe my cuteness can convince you to vote for Hillary #ImWithHer pic.twitter.com/x7X8EeuN9b

— Mey "is this real" Rude (@meyrude) November 8, 2016
9:20 PM: I'd like to update everyone briefly on my personal situation, which is that two of my cats have fallen asleep in strategic positions such that I can't really get up from my seat. It's sort of a performance art project about how the electoral college has also trapped me in a poisonous election cycle without a clear way forward. Haha, just a little topical humor! Anyhow, Florida is still leaning Trump with 89% reporting, but did manage to legalize weed, so?? I guess there's that??
JUST IN: Florida votes to legalize medical marijuana: https://t.co/4HEsgOswlp pic.twitter.com/jLchvoRbfw

— The Daily Beast (@thedailybeast) November 9, 2016
9:28 PM: Still feeling anxious and ill over Florida (reporting at 92%, still for Trump) and Michigan. The Detroit Free Press, a paper I respect highly, is confident that Michigan (16 electoral votes) will go for Hillary; it's only 11% reporting, though, so we can't really say. For those following my crisis of pet immobility, I am not at 3 cats, with 100% of the cats in the household reporting, and truly cannot move.
https://twitter.com/mastruman/status/796175288979849217
ALSO, speaking of newspapers, I'm now seeing that the hashtag we've been using to talk about the election on Auto twitter (#ASelection) was also being used by a newspaper out of South Carolina, the Aiken Standard. Strange bedfellows, truly.
9:38 PM: Hello! I have had a rough ten minutes watching the NYT numbers change, and I expect we all have. I can't reassure you completely; I can tell you that FiveThirtyEight is putting Clinton's chances at 73% still, and that we're still waiting on MI, and that CA and CO have a lot of electoral votes. PA is 20 electoral votes, and we're waiting to see how MO and NC go. You know, we're in this together.
9:46 PM: FOX has called New Mexico for Hillary; Virginia and Michigan are still in play.
9:51 PM: Nate Silver himself is weighing in on FiveThirtyEight, which we haven't seen so far tonight, saying that "Stating the obvious, but it's very hard for Clinton to win the Electoral College if she loses Michigan along with Ohio, North Carolina and Florida none of which look particularly safe for her right now."
10:00 PM: Clinton looking projected to win Pennsylvania and Virginia, along with Wisconsin, which she was always expected to take. Michigan and New Hampshire are still in play, but FiveThirtyEight is predicting them for Clinton. North Carolina is leaning Trump with 66% reporting.
10:15 PM: Hey, it's Yvonne again! I looked away from election news for a little while and then came back and was like WTF IS HAPPENING.
10:25 PM: Misty Snow lost in Utah.
10:27 PM:
BREAKING: @IlhanMN makes history Tuesday night as the nation's first Somali-American legislator. https://t.co/dcPXnQSqJW by @faiza_mahamud pic.twitter.com/FEVrw4k59B

— Mukhtar M. Ibrahim (@mukhtaryare) November 9, 2016
10:34 PM: Leslie Herod won the seat for the next State Representative for Colorado's District 8!
Congratulations to @leslieherod, the next openly LGBT legislator in Colorado! #VoteLGBT pic.twitter.com/0qmx7XDzqm

— LGBTQ Victory Fund (@VictoryFund) November 9, 2016
10:36 PM: Here's what FiveThirtyEight is projecting:
"Right now, Trump leads in both Michigan and Wisconsin. If those leads hold, I don't really see a path for Clinton to win. If, however, Clinton wins those two states, she'll be on track to win. If she loses one of them, she still has a path that includes Arizona, where the race is tight. Even if she does win either Michigan or Wisconsin, though, Trump is the favorite."
10:43 PM: I mean, I want to advocate for deep breaths right now but also like the fear is real.
If you think you know what this election is about, talk to me when you are flooded with texts from friends, terrified for their lives.

— kristin russo (@kristinnoeline) November 9, 2016
10:46 PM: Just a reminder that we live in a racist country.
The whitest U.S. counties are voting for Trump by an unprecedented margin. pic.twitter.com/nmwJrVZn5E

— Brad Heath (@bradheath) November 9, 2016
11:07 PM: Another reminder <3
no matter what: we belong here. this is our country. we will be fierce and free af. we stay fighting & loving & pushing to make things equal

— Gabby Rivera (@QuirkyRican) November 9, 2016
11:15 PM: Some hope for you.
https://twitter.com/passantino/status/796202570137993216
11:18 PM: Dems aren't doing too hot in the Senate races. They're trailing in Missouri, Nevada, and NH, and they lost in Idaho. If Republicans win the Senate, which FiveThirtyEight projects they will win, and if Trump becomes president, his role will be more powerful. While if we have Hillary as President and a Republican Senate, it will continue to be deadlocked.
11:25 PM: Eek!
Down to 0.6% in Michigan, lots of precincts in Detroit, Flint, and Ann Arbor out. Likely to flip soon. pic.twitter.com/1omjfXdIRb

— Benchmark Politics (@benchmarkpol) November 9, 2016
11:28 PM: Hello! Rachel here! I'm not doing great. None of us are. But we're here, and we're (virtually) together, which is how we've spent our whole lives and will spend the next four years no matter what. I don't know how much solace that will ultimately end up being, but it's true: you're not alone, no matter how you're feeling, you're not alone. We're stronger together and we're together.
11:34 PM: Florida has officially been called for Trump.
11:40 PM: Some outlets, not all, are now calling Wisconsin (where I live, where I voted, and where at one point predictions were in the 70 or 80% for Clinton) for Trump. At this point, as FiveThirtyEight explains, the most hopeful scenario is an electoral college tie for Clinton.
11:52 PM: FiveThirtyEight is reporting that "the gender gap overall is going to be the widest since 1976," but that within the gender gap we're also seeing MORE gaps, of education and race (and the implication, class) — that college-educated white women are trending toward Clinton (51 percent to 45 percent) and non-college-educated white women are trending Trump (62 percent to 34 percent).
12:07 AM: Here we are! Still! I've embraced crying and am still here, still typing. I texted my mom and brother as if there were a natural disaster because it feels like that, doesn't it. They're both ok inasmuch as anyone is ok. Anyways, here are some numbers; I don't have substantiation for them right now but they also aren't shocking:
Young whites, ages 18-29, seem to have opted for Trump, per exits 48%-42%. (That wasn't something we saw in the polling …)

— Asma Khalid (@asmamk) November 9, 2016
This points to two things, one of which is more important than the other. One of which is that polling was wrong, which, hey, welcome to the broadcast for those of us playing along from home. More pressingly, in many ways, is the acknowledgment of how pervasive voting for Trump was amongst whites in the US. This wasn't a generational issue; we're seeing young and Millennial voters in addition to older ones. This wasn't a class or "economic anxiety" issue (it was, but it wasn't); we're seeing numbers on millionaires and wealthy one percenters voting Trump too. This isn't a gender issue; many, many white women voted for Trump, even after hearing the pussy-grabbing audio that was imagined to alienate him from all women. This is a white people problem; this is a white supremacy problem. The sooner we own that, fellow white people, the sooner we can do the work to keep people as safe as possible.
12:35 am: Hey, friends, loved ones, this is fucking brutal. I'm thinking of you and we're all thinking of each other; and it's nighttime and it's hard to find a way forward. If you need it this is your permission to tap out, to rest, to do what you need to take care of yourself. You've done what's in your control for today, and tomorrow will begin a new day where it will be required of all of us to do what's in our control to make things right once again, in a long line of days wherein that is our mission, and you need a good night's rest for that. If you need someone to be with, it's ok to stay here; if you need to take time and rest, it's ok to do that too.
1 am: We haven't seen concrete updates from institutional polling places in a while — FiveThirtyEight is still calling this as unclear — but it's also calling a Clinton win "not impossible but extremely difficult." Wisconsin has been called for Trump. It doesn't look good, my friends. I will need to sleep soon and so do you (please do! Rest is an essential element of wellness and self-care) but please know that we'll still be talking about this tomorrow, and we'll have content up that will both address this and allow you to address this, to talk this through with the gravity and magnitude that it deserves. This is a world and a country that doesn't love us — us as queer people, as trans people, as queer and trans people of color, as disable people and neurodivergent people and poor people and people otherwise made vulnerable by violent systems of power — but there should be at least one place where you can feel assured that you're considered valuable and worthy of personhood and love, and we'll still be doing our best to be that place tomorrow.