LILO: On Friday, we wondered if Lindsay Lohan would tweet about her father being nuts for telling everyone Lindsay was about to die of drug addiction, and then she did the girl is nothing if not reliable when it comes to tweeting all her strongest feelings. She also went on a winning streak of @-replying everyone who @-replied her, after which we're imaginging she needed a nap.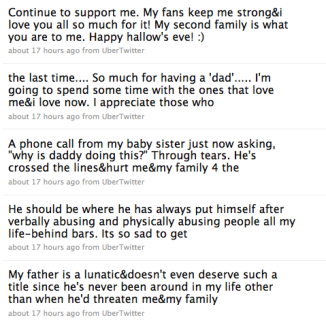 A a couple gossip sites were saying earlier this week that Lohan was spotted canoodling with a male model. She tweeted later saying that hanging out with a guy doesn't mean she's dating. Then she posted a link to a Gossip Cop story clearing up the rumors. Twice.
Lohan told Gossip Cop, "My photo shoots consist of work and only work.wp_postsMore importantly, when we asked if it was true that she was hooking up with the model, she simply responded, "NOT."
About a minute ago, Lindsay Lohan announced on twitter that someone just pulled a gun on her, so we'll be on top of that.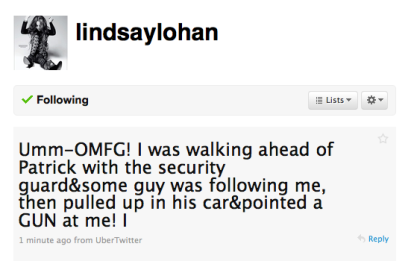 She spent Halloween in Morocco, looking significantly healthier than she has in some time, or at least her lips have deflated slightly?
POWER UP: Tonight the Power Up! Awards, which decided to add men to its award recepients this year (if only some gay men's institutions would decide to include ladies!), will honor ten men and ten women in Showbiz. The women include Anyone But Me's and FOA (Friend of Autostraddle) Susan Miller, Future Wife of Autostraddle/Susan MSNBC's Rachel Maddow, Lesbian Sitcom Maven Carol Leifer, Comedian Liz Feldman and Kelly McGillis (that lady that tried to kick Tasha out of the army and was mean to Alice!). Special guests include the usual Lesbian Event Favorites: Queer as Folk's Michelle Clunnie & Peter Paige, L Word's Daniela Sea & Janina Gavankar, South of Nowhere's Mandy Musgrave. We'll attempt to cover the event tonight if we can find an inside source!


GLAMBERT: Adam Lambert doesn't have a boyfriend either … anymore.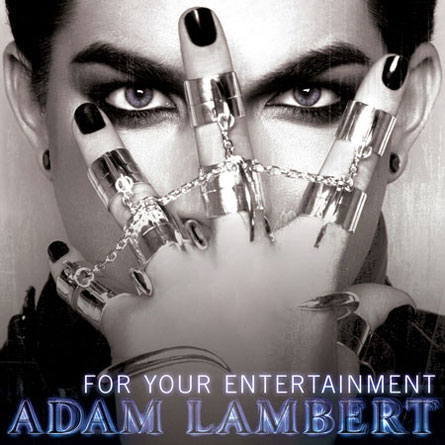 More importantly, Adam Lambert debuted his new single For Your Entertainment on Friday. It kind of reminds me of Black and Gold. The LA Times had an in-depth analysis of the song. Lambert finally might accomplish what sometimes expat Robbie Williams and Euro favorites the Scissor Sisters haven't quite yet done: inventing an American take on comfortable male androgyny.

Haviland Stillwell's newest column at California NOW is up! What Do You Want? Make a Decision! Rather than reading about diets, read about vitamins, natural ways of healing yourself, ways to stay healthy.  That goes for the mental and the physical.  We know it's all connected. The real "health care" is the way we care for ourselves.
MCBEAL IS BACK: There's going to be an Ally McBeal reunion on Good Morning America next week. At 8 AM. I don't know if I'd wake up that early for a Dana & Alice reuinion. (@ew)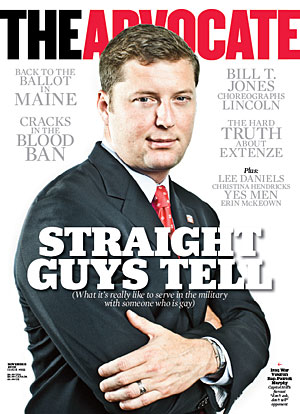 DEATH OF PRINT: Regent/Here! Media is firing people. Regent Media owns PlanetOut.com, Gay.com, GayWired and SheWired, in addition to The Advocate and Out magazine. They let go 13 staffers from The Advocate, which will now become a 32-page insert in Out, significantly lessening the chances that The Advocate will ever give lesbians as much coverage as it does to men.
Employees still employed will experience payroll deductions and health care insurance will double immediately. Some freelance contract writers and photographers have gone unpaid for months.
Sites like Queerty rely on Titles like The Adovcate and Out to write stories about their stories. That's why we try to do as much original reporting as we can here despite a budget of zero. The article doesn't mention any new news for SheWired.com, the young lesbian website built from Lesbian Nation's ashes. A lot of PlanetOut's digital staffers were laid off earlier this year when Regent acquired PlanetOut Partner's LPI Media.
WEDDING MARCH IN MAINE: The New York Times sat down with John Baldacci, the governor of Maine, to talk about the upcoming vote on the referendum to end gay marriage. It's not going to take you long to get through this interview, trust us, because Baldacci is probs the most short-winded politician of all time. He also has a great response to the Catholic Church's protests: I respect the church and appreciate their leadership, but my responsibility is for all the people. (@nyt)