Last night, I was sitting on my couch playing my Switch while my wife watched Thursday Night Football, and suddenly her phone was in front of my face and she said, "According to [Autostraddle writer] Nic, your people are really excited about this!"
"This" being a photo of Wallis Day (the new Kate Kane on Batwoman) and Lili Reinhart (the always Betty Cooper on Riverdale), and "your people" being "gays who watch every show on The CW." And she was right! I blink-blink-blinked because I couldn't believe what my eyes were beholding, and then I spun through various fictional crossover scenarios that would warrant Kate Kane and Betty Cooper being loved up on each other, and then I determined that no, this was real life, and Wallis Day was absolutely kissing Lili Reinhart on her ear. Which is not something friends do, I am sure of that!
The origin of the photo appears to be Wallis Day's IG story, which also includes this less kissy one from a different time period (how long has this been going on???)
What I also have been able to discover due to my training in Queer Internet Sleuthing is that someone on TikTok recently asked Wallis Day if she was comfortable labeling her sexuality and she posted about thirty photos of Harry Styles draped in Pride flags, so I think that is that on that. (Lili Reinhart is, of course, famously bisexual.) And also, last week Lili asked how to use TikTok on Twitter, and Wallis Day said "omg you're so cute bye" and Lili said "sly emoji, kiss emoji." Which also indicates something though it's not as blatant as the aforementioned ear kissing.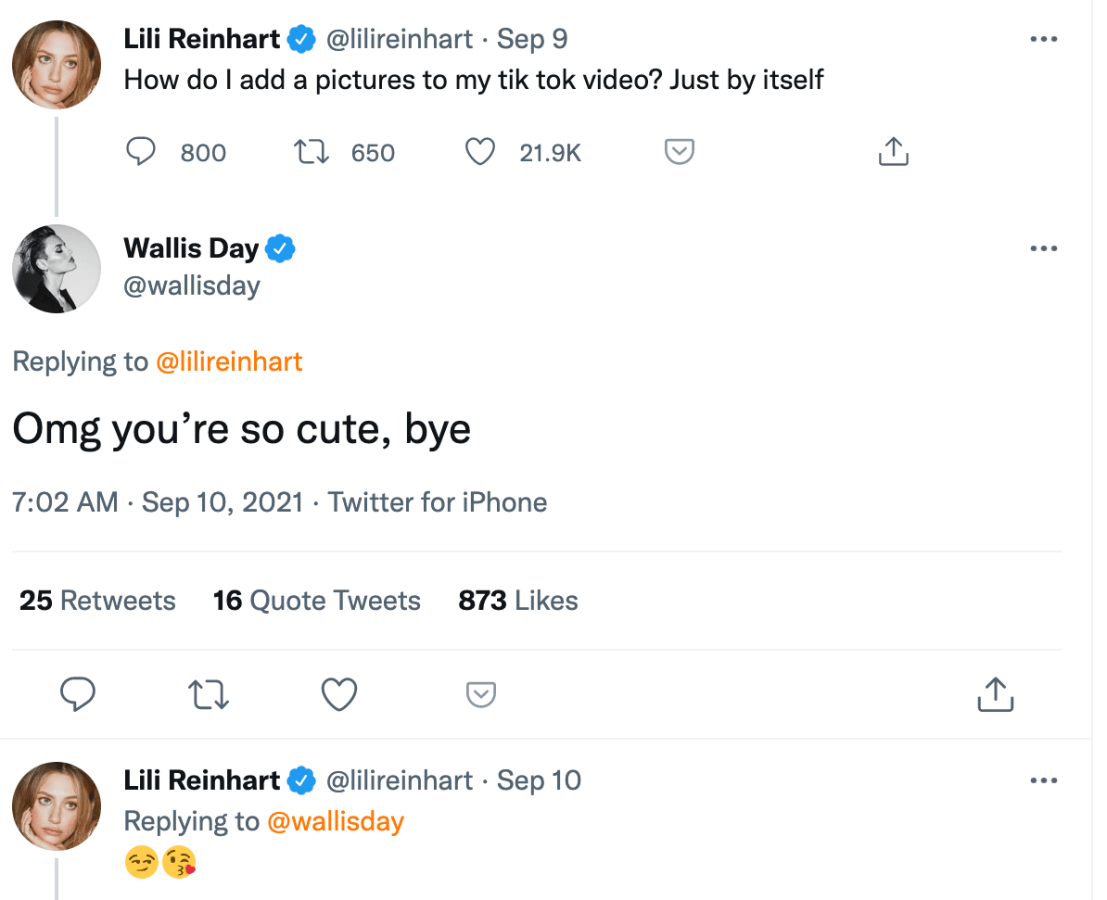 I have been burnt before by women kissing all over each other — more than once by Dianna Agron specifically, to be quite frank with you! — but this seems like it's real gay stuff. Please let me know what you think from your own Queer Internet Sleuthing in the comments.