Feature image via flyover-states.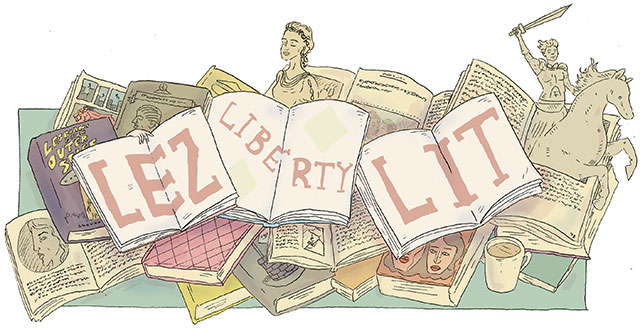 Malinda Lo conducts an annual review of LGBT characters in YA. In her 2014 roundup, she discusses an increase in queer characters over 2013, gender representation, trans underrepresentation, intersectionality and more:
"My primary conclusion is that major commercial publishers upped their output this year. Additionally, more of those books were genre fiction, and more of the books of all genres were about LGBT teens simply being themselves without facing massive coming-out trauma. Finally, a significant percentage of LGBT YA books acknowledged that not all gay people are white and abled. I think all these things are positive results, and it's important to take a moment to notice that 2014 was a good year for LGBT YA."
Also even though people often talk about YA as being "girly," women are pretty much definitely not dominating, but also it's crazy to fit books into gender boxes.
At the Los Angeles Review of Books, Katherine Angel wrote about gender and how "our idea of serious, intellectual writing remains overall male" and that is rubbish.
The Millions's Year In Reading is over, and was magical.
Sarah Waters talked to the Hairpin about expanding the queer canon, queer archives, fragments of lesbian history and more:
"There is one woman who calls herself Frances Wilde who writes to [Edward Carpenter] in, I think it's 1915, to say that she's read The Intermediate Sex and she kind of recognizes herself in it and she's lonely. She wants to meet another woman and find a partner. In that sense she confirms our ideas that gay people in the past were doomed to be lonely. But what she also mentions in her letter is that she's had a lover in the past, she knows other women who are living together as lovers, so there clearly were lesbian friendship networks, just like there are today.

There are some novels from the period. There is a novel called The Tortoiseshell Cat by Naomi Royde-Smith from 1918, something like that. Maybe a bit later. And that book has a lesbian character in it and it's a rather negative portrayal of her. But, nevertheless, lesbians were finding their way into popular culture and fiction. And it's a bit later, 1930, that Sylvia Warner, the novelist, she met Valentine Ackland and fell in love with her. And they set up home together for the rest of their lives."
You might be able to get free ebook editions of your print books, and bitlit is a new app that will help with that.
Or just take pictures of your shelves because feminist shelfies are in.
A club is trying to preserve marginalia.
The New York Public Library is releasing some of the questions people asked librarians before there was google on its Instagram.
If you just got a new ereader, the Millions has a 2014 cheat sheet for you.
At Lambda Literary, Reginald Harris reviewed Icon edited by Amy Scholder. Marcie Bianco reviewed Primary Stein, a critical anthology on Gertrude Stein edited by Janet Boyd and Sharon J. Kirsch. Heather Seggel reviewed Bad Feminist by Roxane Gay. Stephanie Schroeder wrote about the Queer Zine Archive Project.
At the Lesbrary, Ashley reviewed Tell Me Again How A Crush Should Be by Sara Farizan. Audrey reviewed Afterworlds by Scott Westerfeld. Marthese reviewed Stir Fry by Emma Donoghue.
Recently on Autostraddle: Heather wrote about Orange Is The New Black fan fiction and also made you a Harry Potter gift guide. Mey wrote about Lumberjanes #9.
Know of a queer event with literary merit? Send it to us! The Liberty Lit is bi-weekly.
What We're Reading:
Rachel: I'm reading The Passion According to GH by Clarice Lispector! It's very dense and kind of eye-roll-y sometimes, but overall I'm super into it; it has a kind of visceral intensity and disinterest in subscribing to realism that I associate with, I don't know, Italo Calvino, but written by a Brazilian Jewish woman and identifiably through a female lens. I think people either get turned off by Lispector or are fanatics about her, and I think I am leaning towards the latter.
---
Books! They are really great. You just won't believe how great they are. You may think that the Internet's great, but that's just peanuts compared to books. In Lez Liberty Lit, we talk about literary shit that's happening that you should probably care about.
The name "Liberty Lit" was inspired by the short-lived literary journal produced by Angela Chase at Liberty High School in 1994.