If you have waited until the last minute to buy a holigay gift for that special witch or wizard in your life, fear not! There is still time to order something and have it delivered to you via Owl Post in time for Santa's big day. All you need to know is their Hogwarts house, their Quidditch position, the preferred core substance for their wand, their wand wood type, and their robe size. This is just like shopping at Diagon Alley, only without Draco Malfoy showing up to troll you. (Also, you don't need to know any of that magical stuff. That was just a joke. Like U-No-Poo, but less funny.)
---
Flourish and Blotts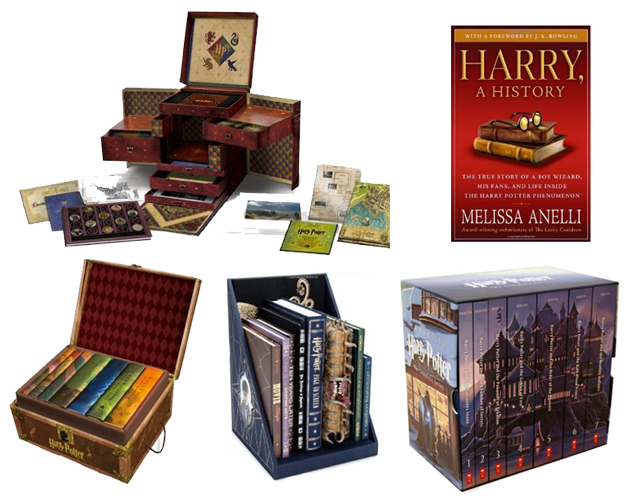 The Wizard Collection
This Blu-Ray/DVD combo pack is the ultimate gift for any Harry Potter fan, outside of a trip to visit Leavesden Studios or the Wizarding World of Harry Potter.
Harry, A History
Melissa Anelli, the webmistress of the ultimate Harry Potter fan site, wrote the literal book on growing up in Harry Potter fandom. It'll transport you like Floo Powder.
Full hardback book box set
All seven books, in hardback, stored in a little Hogwarts trunk. Every Potter aficionado needs a full set of hardbacks.
Harry Potter Page to Screen: The Complete Filmmaking Journey
Even the most avid Potter movie buff will learn stuff they never knew about the films.
Anniversary Edition Harry Potter Box Set
Last year, Scholastic released a set of anniversary edition Harry Potter covers designed by the insanely talented Kazu Kibuishi. They're gorgeous and a must-have for all collectors.
---
Madam Malkin's Robes for All Occasions
Hogwarts hot pants
Second only to Straddle This underwear in terms of awesomeness.
Hogwarts crest t-shirt
Hogwarts, Hogwarts, Hoggy Hoggy Hogwarts; Teach us things worth knowing; Bring back what we've forgot; Just do your best, we'll do the rest; And learn until our brains all rot!
Platform 9 3/4 t-shirt
Particularly relevant for wearing on September 1st.
Hogwarts house scarves: Slytherin | Ravenclaw | Gryffindor | Hufflepuff
Just make sure you buy the right scarf for your person's house. Nothing says "I don't know or love you" like giving a Slytherin a Griyffindor scarf.
---
Borgin and Burkes
Deathly Hallows pendant
Help someone you love dress like Luna Lovegood!
Time-Turner
Or dress like Hermione Granger!
Golden Snitch pocket watch
Or derss like Harry Potter himself! (This one does not open at the close.)
---
Magical Menagerie

Marauder's Map tapestry
You solemnly swear you are up to no good.
Hogwarts Express luggage tag
Never lose your pet frog again!
Harry Potter Legos
You can't find Harry Potter Legos in stores anymore, so your only hope is to pay a couple of extra Galleons for a discontinued set and be a real hero.
Hermione Granger's wand
If you're unsure which type of wand wood and wand core your would choose your beloved, it's always safe to just choose Hermione's wand.
Hogwarts house patches
All four Houses and an official Hogwarts crest!
---
If you can't get your loved witch/wizard a hand-knitted sweater from Mrs. Weasley, these are definitely your next best options. Happy Holigays from Hogwarts!