by carolyn & riese
Books! They are really great. You just won't believe how great they are. You may think that the Internet's great, but that's just peanuts compared to books. Welcome to Lez Liberty Lit, our column about literary shit that's happening that you should probably care about.
The name "Liberty Lit" was inspired by the short-lived literary journal produced by Angela Chase at Liberty High School in 1994.
Header by Rory Midhani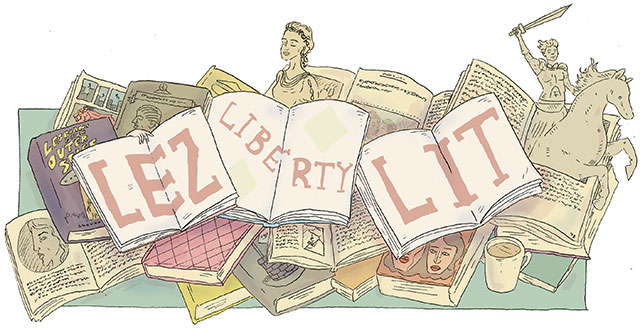 Lit Links
Russian author Daria Wilke recently released The Jester's Cap, a YA novel featuring a gay character, even though Russia recently made discussing queer issues illegal. In an interview with the Atlantic, she talks about why:
"I wrote it a year and a half ago, and the publisher was weighing when to release it. But when these strange laws were being released — first the local anti-gay laws in various cities, then the broader one that passed just last month — eventually the publisher realized that if we didn't release the book now, we might never be able to release it. Because of these laws, in many bookstores, it has an "18+" stamp, even though in my view, I think it's suitable for 12-year-olds. […]

Books that are about taboos are always hard to accept, but eventually their existence helps to change things."
Malinda Lo has posted a new teaser for Inheritance, her forthcoming sequel to Adaptation.
Amy Gentry interviewed Emily Matchar, author of Homeward Bound: Why Women are Embracing the New Domesticity, about how the growing interest in DIY indicates a retreat to domesticity and involves a lot of interesting gender politics.
We need fewer "women's stories" and more stories about women's lives, writes Anna North. Talking about college hook ups, marriage and work-life balance only leads to a sense of anxiety but does very little else:
"Because in order to sell itself as a story about all women, the women's story can only actually be about a small group of women, women who have been designated as worthy of having worry-stories written about them. These women are usually white, straight and middle-class, and also (especially if they will be photographed alongside the story) fall within an accepted range of body size and facial structure. Stories may be written about women who do not fit into this group, but they will be stories about race or poverty or fatness. Women marked by any of these things do not belong in women's stories."
Now that everyone is (sort of) done speculating about the end of the book, it's time to go back to speculating about the end — or not — of the bookstore. The Atlantic argues that reading is eternal, print on demand will make things better and good books are still important.
Robert Galbraith, the ex-military author of The Cuckoo's Calling, was recently revealed to be the pseudonym of J.K. Rowling. After a partner at Rowling's law firm leaked her identity to his wife's best friend, sales for the book rose from 1,500 to 300,000.
The top five abandoned books are The Casual Vacancy, Fifty Shades of Gray, Eat, Pray, Love, Wicked and The Girl with the Dragon Tattoo, according to Goodreads.
A new infographic tracks all the types of readers there are.
BookRiot has a round up of the best e-reading apps.
What if your first writing job was on Orange is the New Black? Lauren Morelli's was.
If only these book-inspired ice cream flavours were real.
Veronica Mars will be a book series.
Nitra Wisdom reviewed The Summer We Got Free by Mia McKenzie, calling it "beautiful, soul-stirring and redemptive."
Casey the Canadian Lesbrarian reviewed The Wild Beasts of Wuhan, a novel about a queer Chinese Canadian woman written by a straight white man that "does not withstand my critical lens." She also reviewed Nancy Jo Cullen's Canary, a collection of Canadian short fiction that is super queer.
At the Lesbrary, Casey reviewed The Chronology of Water, a memoir by Lidia Yuknavitch. Jill Guccini reviewed Beautiful Wreck: Sex, Lies and Sucide, a memoir by Stephanie Schroeder. Lena reviewed The Third Kind of House, by Michelle Auerbach.
At Lambda Literary, Julie Enszer reviewed Butch Geography, a collection of poetry by Stacey Waite. Sassafras Lowrey reviewed Cha-Ching!, a novel by Ali Liebegott about moving, gambling, fisting and other things. Julie Marie Weeks reviewed X Marks The Dress: A Registry, a collaborative poetry project by Kristina Marie Darling and Carol Guess. Heather Seggel reviewed Wild Girls, Wild Nights: True Lesbian Sex Stories, an erotica anthology edited by Sacchi Green.
Don't forget to check out all the awesome book-related things we published recently: Ali wrote about Prose and Lore, a literary journal about sex work. Cara wrote about pronouns. Daniela Capistrano wrote about 50 zines by people of color.
Events To Watch Out For:
July 26–28, Brandon, Manitoba: Queer author and performer Rae Spoon will be at the Brandon Folk Music Festival at 8:00 p.m.
July 28–29, New York: The third Annual New York Poetry Fest is this weekend on Governors Island, from 11 to 5 each day.
July 29, New York: Kelli Dunham will read from Freak of Nature, along with Kay Ulanday Barrett, Morgan Goode, Red Durkin and Ellis Avery at Bluestockings (172 Allen St.), 7:00 p.m. Free.
July 30, New York: The Women's/Trans' Poetry Jam and Open Mike, hosted by Vittoria Repetto, is tonight at Bluestockings (172 Allen St.), 7 p.m.
July 31, Wells, BC: Queer author and performer Rae Spoon will be at the Sunset Theatre (Pooley St.), 8 p.m.
August 4, New York: Imogen Binnie, author of Nevada, will read at Bluestockings Bookstore (172 Allen St.), 7 p.m.
August 12, Montreal: The Queer Comics Conference is part of Montreal Pride 2013. La Cinémathèque québécoise (335 Maisonneuve Est.), 7 p.m.
August 14, Chicago: The next meeting of the BTQ book group will be reading Plural Loves: Designs for Bi and Poly Living by Serena Anderline-D'Onofrio at the Gerber Library (location TBA), 7:30 p.m.
September 1: Natural Selection, a companion novel to Malinda Lo's Adaptation, will be released.
October 19, Toronto: Toronto is getting it's first queer zine fest!
Know of a queer event with literary merit? Send it to us!
What We've Been Reading:
Riese: Well, I did read one particular book-that-inspired-a-tv-show this week that I'm presently writing about in one of those obnoxiously exhaustive posts I do weaving together sociology and pop culture and politics and literature that I hope to finish this millennium. But the BIG NEWS is that at last I finished Zami: A New Spelling of My Name! My #3 feeling about Zami is; isn't it sort of sad that there were more lesbian bars in the '50s when it all had to be on the DL than there are now? I had to keep taking breaks from it to read other things related to posts, and also just a lot of TIRTL stuff, thus the delay. I loved it and now I'm about halfway through Michelle Alexander's The New Jim Crow.
Carolyn: Last week I read Astray, queer author Emma Donoghue's anthology of short stories about travel, all loosely based on historical documents. Donoghue's voice was refreshing, especially since I also started We Wish to Inform You That Tomorrow We Will Be Killed with Our Families: Stories from Rwanda, journalist Philip Gourevitch's look at the genocide in Rwanda.