by carolyn & riese
Books! They are really great. You just won't believe how great they are. You may think that the Internet's great, but that's just peanuts compared to books. Welcome to Lez Liberty Lit, our column about literary shit that's happening that you should probably care about.
The name "Liberty Lit" was inspired by the short-lived literary journal produced by Angela Chase at Liberty High School in 1994.
Header by Rory Midhani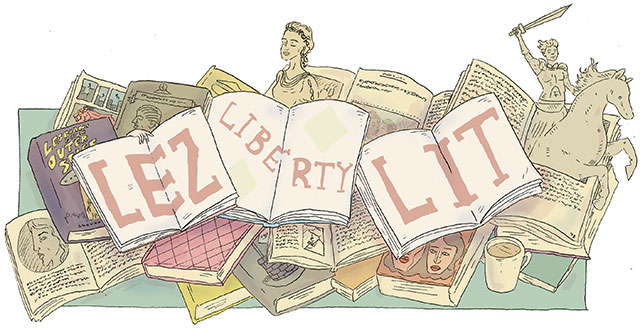 Lit Links
Casey the Canadian Lesbrarian writes about wanting to read queer books but feeling frustrated with the detective work necessary to find out whether books, especially those that aren't explicitly Gay Books, have queer and/or feminist content:
"I don't want the priority reading audience for our books to be non-queers. I don't want them to be palatable to straight and cisgendered people. I don't want publishers to have their cake and eat it too: slyly de-queer the book to appeal to cis/straight audiences and assume LGBTQ folks will figure it out and buy the book too. As Imogen Binnie unabashedly proclaimed at a recent reading in Vancouver from her new novel Nevada, which features a trans woman protagonist: 'I don't care if straight people read it.' I understand that literature is a very powerful activist tool and that non-queers reading about queers is a great thing. I can see that by not proclaiming their queer content on the cover that some books are going to gain readership they might not otherwise and that this reading experience might be transformative for said non-queer people and could positively impact their interactions with queers in the future. But that's not as important to me as a queer person who needs queer literature finding and reading it."
She also has a round up of responses to her post from queer authors. Relatedly, Lynne Pierce argued for the need to hold lesbian fiction to higher standards. And Malinda Lo wrote about applying labels to books (and people).
Publishers keep making ebooks that are basically the exact same thing as print books. Maybe it's time to stop.
The 2013 Pulitzer Prize winners were announced earlier this week. Adam Johnson's The Orphan Master's Son, a novel about North Korea, won in fiction.
The shortlist for the Women's Prize for Fiction was also announced earlier this week. Finalists include Kate Atkinson, A.M. Homes, Barbara Kingsolver, Hilary Mantel, Maria Semple and Zadie Smith.
In celebration of National Poetry Month, nominate your favourite queer women, trans, and gender non-conforming poets of color.
The new James B. Hunt Library at North Carolina State University will feature a robot book delivery system.
The American Library Association's list of the most-challenged books of 2012 includes Captain Underpants, 50 Shades of Grey, And Tango Makes Three and Beloved.
At Racialicious, Calvin N. Ho discussed the stigma of immigrant languages.
The Paris Review has a timeline of the ideas and events that led to George Orwell's Animal Farm, from 1879 to the present.
DC Comics has announced that Batgirl's roommate, Alysia Yeoh, will come out as a bisexual transwoman in Batgirl #19. Read what Mey had to say about that on Autostraddle right here.
In an interview with the Daily Beast, Maya Angelou discusses how she writes, including keeping a hotel room to write in:
"When I was young, from the time I was about 3 until 13, I decided that there was a Big Mind and a Little Mind. And the Big Mind would allow you to consider deep thoughts, but the Little Mind would occupy you, so you could not be distracted. It would work crossword puzzles or play Solitaire, while the Big Mind would delve deep into the subjects I wanted to write about. So I keep the room. I have all the paintings and any decoration taken out of the room. I ask the management and house-keeping not to enter the room, just in case I've thrown a piece of paper on the floor, I don't want it discarded. About every two months I get a note slipped under the door: "Dear Ms. Angelou, please let us change the linen. We think it may be moldy!" But I've never slept there, I'm usually out of there by 2. And then I go home and I read what I've written that morning, and I try to edit then. Clean it up. And that's how I write books!"
If you're still upset over Amazon acquiring Goodreads, Book Riot has 12 alternatives.
At the Lesbrary, Casey reviewed Y: The Last Man, a graphic series that features women kicking ass and an interesting dialogue about gender. Tag reviewed Mafia Aphrodite, a quick-read lesbian erotic novel by O'Neil De Noux. Danika reviewed Nevada, a trans lesbian first novel by Imogen Binnie. Isabelle interviewed author Clare Ashton.
At Lambda Literary, John Bavoso reviewed I Await the Devil's Coming, by Mary MacLane. Sara Rauch reviewed The Albino Album, a first novel from Chavisa Woods. Sarah Sarai reviewed Waiting up for the End of the World, a collection of poetry from Elizabeth J. Colen.
Don't forget to check out all the awesome book-related things we published recently: Riese found young adult covers with major lesbian subtext. Cara wrote about the word "lady."
Events To Watch Out For:
April 18, Chicago: Queer poet Andrea Gibson will be at the University of Chicago (5710 S. Woodlawn), 7:00 p.m. Call 773-702-1234 for details.
April 19, New York: Barbara Jensen will read from Reading Classes: On Culture and Classism in America at Bluestockings Books (172 Allen St.), 7 p.m.
April 20, Chicago: Sister Spit, starring Michelle Tea, Ali Liebegott, TextaQueen, Tamara Llosa-Sandor, Daniel LéVesque and DavEnd, will be at PLACE SEE LINK
April 21, New York: Join the Dyke Knitting Circle at Bluestockings Books (172 Allen St.), 4 p.m.
April 23: Tonight is World Book Night.
April 24, Columbia, Missouri: Poet Andrea Gibson will be at the University of Missouri. The Pride Parade is at noon. Her show is at 7 p.m. (Mark Twain Ballroom, Memorial Student Union, 518 Hitt St.). Call 573-882-2121 for details.
April 24, New York: Mixed Up! A Zine About Mixed Race Queer & Feminist Experience launches today at Bluestockings Books (172 Allen St.), 7 p.m.
April 27, L.A.: Lambda finalists Ryka Aoki, Richard Kramer, Scotty-Miguel Sandoe, Jeffrey Schwarz, Julia Bloch, T Cooper, Ernesto Javier Martinez and Steve Neil Johnson will be reading at West Hollywood City Council Chambers at the West Hollywood Public Library (625 N. San Vincente Blvd., West Hollywood) at 3 p.m.
April 30, New York: Vittoria Repetto hosts the Women's/Trans' Poetry Jam and Open Mike at at Bluestockings Books (172 Allen St.), 7 p.m.
May 2, San Francisco: Lambda finalists Judy Grahn, Ryka Aoki, Kevin Killian, Janet Hardy, Malinda Lo, Kathryn L. Pringle, Cyd Nova, Elliott DeLine, Mattilda B. Sycamore and Brenna Munro will be reading at the San Francisco Public Library's Latino/Hispanic Meeting Room A&B (100 Larkin St.), 5:30 p.m.
May 10, Denver: Lambda finalists Jerry Wheeler, Matt Kailey, Dan Stone, Sean Eads and Dylan Edwards will be reading at the Belmar Public Library (555 S. Allison Parkway), 6:30 p.m.
May 14, New York: Lambda finalists Christopher Bram, Keith Boykin, Michael G. Long, Patrick Donnelly, Stephen S. Mills, Tom Cardamone, A. Rey Pamatmat, Eileen Myles, Ellis Avery, Barry Brennessel, Kelli Dunham, Donna Ostrowsky, Red Durkin and Cynthia Carr will be reading at Bluestockings Books (172 Allen St.), 7 p.m.
May 18, Scranton, Pennsylvania: Poet Andrea Gibson will be at the Vintage Center (326 Spruce Street), 7:00 p.m. Call 570.589.0271 for details.
May 22, Chicago: Lambda finalists Tracy Baim, Anne Laughlin, Marty McConnell, Lania Knight, E.M. Kokie, Ramon Rivera-Servera and Chris Paynter will be reading at the Gerber/Hart Library Archives (6500 North Clark St.), 7 p.m.
Know of a queer event with literary merit? Send it to us!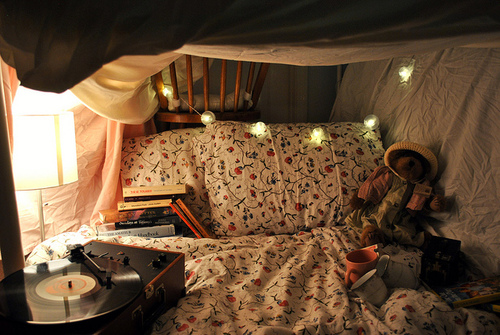 What We've Been Reading:
Riese: In continuing with my Amy Bloom kick, I read her novel Love Invents Us, which was lovely as all of her things are. I'm noticing lots of frequent themes in her work; like she has a beautiful way of describing the human body, even the stereotypically less desirable human body and fat bodies, as a thing of wonder and beauty. She often writes about white women dating or married to African-American men, often exclusively. She writes about affairs and often affairs that last for years and years between people who shouldn't have affairs, because there's a huge age difference or power differential or it's their best friend's husband or their stepson or something. There's also queer stuff, and queer kids, which is part of why I was drawn to her in the first place. I didn't find the experience of reading her novel much different than the experience of reading her short stories, because even her stories all kind of blend into each other. She's bisexual so maybe she would want to make out some time. I mean she got a master's degree in social work from Smith, which is pretty gay.
Carolyn: I have a habit of discovering authors about ten months after they die (cough Douglas Adams and Kurt Vonnegut), which is probably why I've been really into Nora Ephron lately, and specifically her early collections, Crazy Salad and Scribble Scribble. Actually I've probably been into her because she is witty and hilarious and a really sharp writer. Also I've been on the waiting list for Meg Wolitzer's The Interestings ever since Roxanne Gay recommended it and I'm pretty sure I'm in love.