Feature image via booksandpublishing.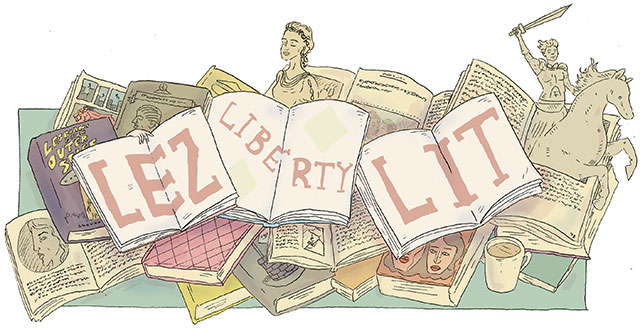 Rainbow Boxes is a project to send queer YA books to libraries and shelters in every state.
Books featuring queer people of color from 2014 include Last Words of Montmartre by Qui Miaojin, Moving Forward Sideways Like a Crab by Shani Mootoo, Love Enough by Dionne Brand and more.
Beloved Montreal comics publisher (and bookstore) Drawn & Quarterly is turning 25 and it released an excellent celebratory anthology.
Sometimes books remind us of the places we read them: "It's an ability I suspect many of us possess: besides plying our minds for the story's plot, the characters' names, and the themes presented, we can send ourselves back to where we were when we read the books we loved. Lately, I've been trying to pay even more attention to my journey as the reading of the book is taking place. What mark did the book leave on me, and in turn, what imprint did I impart?"
And at the LARB, Susan Barbour writes about travelling and reading about travelling, and how reading to get to know or experience a place has changedCity Secrets Paris.
Writing to get to know a place has also changed. Just don't be Elizabeth Gilbert.
It's fun to read about eating.
At Brain Pickings, Maria Popova discussed the potency of giving something a name, and how names lead to empathy, and naming leads to love: "To name a thing is to acknowledge its existence as separate from everything else that has a name; to confer upon it the dignity of autonomy while at the same time affirming its belonging with the rest of the namable world; to transform its strangeness into familiarity, which is the root of empathy. To name is to pay attention; to name is to love."
Intense, focused reading is good for your brain.
Violette Leduc's Thérèse and Isabelle has been censored since its 1955 publication ("It was the combination of her fierce independence and her fearless description of lesbian relationships that proved too uncomfortable for the male publishers of the time and too controversial for a greater audience.") and the Feminist Press just released a new unexpurgated translation that adds to lesbian literary history.
Read Between the World and Me.
At Room, Jillian Tamaki and Mariko Tamaki discussed feminism, YA, creativity and more: "JILLIAN: I've never been pushed to emphasize the aspects [of race and gender] either, and yet, I feel like Windy [This One Summer] is a lesbian kid and she's going to grow up to be a lesbian. It is part of her character, but it's not something that we have to address and make a thing about. In that way I really appreciate just straight representation and not "DIVERSITY!" To just make an example of it, a positive example. It is not my interest to do any of that pedantic stuff."
"Allowing teenagers who know nothing of great literature the power to determine what should be taught as great literature seems ill-considered." On trying to trigger warning literature.
At the Toast, Sarah Jeong, author of The Internet of Garbage, discussed online harassment, free speech, how the Internet has always been trash and more.
We have constructed Joan Didion as a celebrity.
Danika from the Lesbrary now has a patreon!
What's your favorite curse word? A breakdown, by state.
Don't tell Charles Dickens your literary secret.
"The Pitch Meeting for Wishbone" is my favorite thing today.
At Lambda Literary, Sandra Lambert reviewed The Gods of Tango by Carolina de Robertis.
At Autostraddle, Mey wrote about Lumberjanes 16 and also how Lumberjanes won all the Eisners. In Hidden Gems of Queer Lit, Melanie wrote about Dreams of an Insomniac.
Coverage of the Coverage of the Harper Lee Coverage
Harper Lee's Go Set a Watchman, her first book in 55 years that she maybe did not want to exist, has been released and is the subject of a lot of controversy. Stories about how it was found are really, really shady. Her editor probably would have hated it. It's not going to make her a top-earning author for this year because of a technicality. The publication also means scientists decided to analyze Go Set a Watchman and To Kill A Mockingbird to see whether Harper Lee actually wrote them because when a woman writes something good she obviously can't really have done it herself.
Reviewers are wondering whether it will ruin Mockingbird. (Mic has the first chapter if you want to feel it out. If you think it will and don't want to read it, you can read ten quotations from it instead. Or skip it, it has verbatim Mockingbird passages anyway.)
Also Lee's lawyer has maybe found a third book in a deposit box. The Onion has what is perhaps the most accurate coverage of all.
Book Things To Do In Person
July 24, San Francisco: Michelle Tea and Karolina Waclowiak are reading at Green Apple Books on the Park, 7:30.
July 31: Submissions (poetry, fiction, and non-fiction) for Polychrome Ink, from diverse authors and/or featuring diverse themes, are due.
August 1: "Editors David Levithan and Billy Merrell are searching for non-fiction entries to include in the upcoming expanded edition of The Full Spectrum, with an emphasis on diversity."
August 15, Montreal: Queer between the Covers, Montreal's annual queer book fair, is back! Centre communautaire de loisirs Sainte-Catherine d'Alexandrie (1700 Amherst Street), 11 am to 6 pm.
1 December: Submissions for Topside's short speculative fiction anthology by trans writers are due.
Know of a queer event with literary merit? Send it to us! The Liberty Lit is bi-weekly.
---
Books! They are really great. You just won't believe how great they are. You may think that the Internet's great, but that's just peanuts compared to books. In Lez Liberty Lit, we talk about literary shit that's happening that you should probably care about.
The name "Liberty Lit" was inspired by the short-lived literary journal produced by Angela Chase at Liberty High School in 1994.