Feature image via Rad American Women.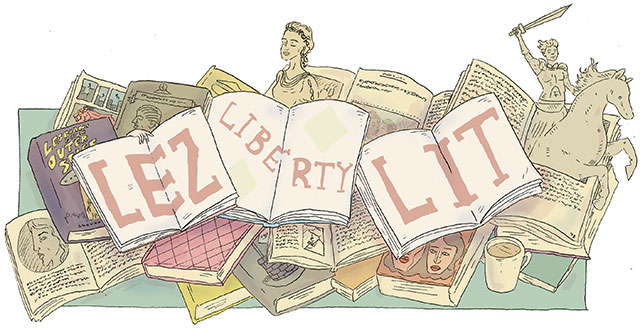 One of the problems with campaigns like #WeNeedDiverseBooks is that, though diversity is obviously important and they do encourage it, they often fall short of reorganizing existing power structures. At AAWW, Jennifer Pan notes:
"'For years,' writes Jeff Chang, 'good-willed people had believed in a conceit—perhaps it was multiculturalism's core conceit—that if more people of color, women, and gays were represented, that if they could tell their stories and the stories were heard, then empathy would follow and equity, too.' But, as the evolution of the multicultural movement has uncomfortably shown, demographics in a given context can change significantly while hierarchies stay the same."
Hierarchies can be influenced by growing history, though, and Bitch has Sarah Mirk's recap of Out of the Binders, a conference for female and gender-non-conforming folks in journalism, publishing, film, TV and other media, the main theme of which was arguably: "What goes down in our cultural memory as significant depends on who is writing our history."
Gender Novels — novels about transition by cis people — are a sub genre unto themselves and also kind of suck at nuanced trans characters. (Luckily the Walrus also makes some recommendations of trans-themed books written by trans women.)
Autostraddle and Everyone Is Gay made a zine about breakups, you should read it.
It's really great that there are young queer characters in comics.
Elisha Lim and Vivek Shraya discussed making things, funding, queer people of color artist communities, and more at Lambda Literary.
It is a real pain to move a ton of books. You probably don't need to own three editions of Wuthering Heights, though.
In a review of Heidi Julavits's The Folded Clock, which is basically a diary as narrative, Eula Biss discusses some of the versions of selves that live in diaries, younger and older and likeable and unlikeable and full and the opposite of full. (Also the book sounds amazing.) At The Millions, Alison Bechdel also mentions keeping and examining diaries, photos and letters, and revisiting them in search of something — "I not only write down the stuff that happens in my life, but I do often still go back and reread it with great curiosity about what I was thinking or doing at an earlier moment in my life, still looking for some kind of answer to…I don't know, "who am I?" I mean, that's ridiculous, but I am lacking some kind of structure of the self that I'm hoping to replace with all this self-narration that I'm doing."
"A language dies about every four months."
This Is Not Dawn, by Yashpal, is being billed as "India's forgotten feminist epic."
At io9, art director Lauren Panepinto discusses the importance of portraying women as sexual, not sexualized, and what that looks like for her book covers, urban fantasy in particular (some of the things include no stilettos, no fashion poses and properly held weaponry, but her thought process, not the list, is the main draw).
Emily St. John Mandel's Station Eleven won the Tournament of Books.
There are a lot of books of UFO lore.
BOOK IT! Remember BOOK IT? And speaking of books and pizza, Spooky Girlfriend Press has a collection of 12 poems about pizza.
Roxane Gay tweeted some essay writing tips.
Meghan Daum's latest is Selfish, Shallow and Self-Absorbed is a collection of work by writers on their decisions to not have kids. Edan Lepucki reviewed it. And Stephanie Abraham at Bitch highly recommends it.
"I think the yellow wallpaper looks best," she said.
"How right you are."
They were always happy afterwards that they had chosen the yellow wallpaper. It looked so much better than the green had.
– The Yellow Wallpaper
At Lambda Literary, Anna Furtado reviewed Bright Lights of Summer by Lynn Ames. Sarah Butghauser reviewed Like a Woman by Debra Busman. Julie R. Enszer reviewed Stranger's Mirror: New and Selected Poems 1994-2014 by Marilyn Hacker. Victoria A. Brownworth discussed her new novel. Douglas Ray reviewed Last Psalm at Sea Level by Meg Day.
Book Things To Do In Person
9 April, Minneapolis: Stories & Queer and Lambda Literary present: S&Q 2 Reading at AWP (in Barnes and Noble, 801 Nicollet Mall), 7 to 9 p.m. There are tons of other queer events at AWP and Lambda Literary has them all.
15 April: Submissions for an anthology of short fiction by TransLatinas are due.
18–19 April, Los Angeles: The LA Times Festival of Books is happening and it looks amazing.
21 April, San Francisco: Lambda finalists Jim Provenzano, Dan Lopez, Susie Hara, Katie Gilmartin, Abdi Nazemian, Jericho Brown, Chaz Brenchley, A.F. Gore, Heru khuti and Katie Gilmartin will be reading at the San Francisco Public Library (100 Larkin St.), 5:30 p.m.
22 April, Northhampton, MA: Lambda finalists Sally Bellerose, Lanelle Moise, Judy Frank and Mary Beth Caschetta will be reading the Coolidge Museum at Forbes Library (20 West St.), 7 p.m.
1 May: The deadline for Biyuti Publishing's fundraiser is 1 May so if you want to support a press run by a trans woman of color, do it now.
May 19, New York: Roxane Gay is reading as part of Girls Write Now's 2015 Chapters Reading Series at the Scholastic Auditorium (557 Broadway), 6 to 8 p.m.
To 30 May, lots of places: Poet Andrea Gibson is on tour! And is going to a lot of places across the US and Canada, and to a few places in the UK. Maybe somewhere near you?
19 June, New York: Quiara Alegría Hudes is reading as part of Girls Write Now's 2015 Chapters Reading Series at the Scholastic Auditorium (557 Broadway), 6 to 8 p.m.
1 December: Submissions for Topside's short speculative fiction anthology by trans writers are due.
Know of a queer event with literary merit? Send it to us! The Liberty Lit is bi-weekly.
What We're Reading:
Rachel: I'm working on getting through The Affect Theory Reader, by Melissa Gregg and Gregory J. Seigworth. And since we last talked about reading I read Dawn Lundy Martin's books Discipline and Life in a Box is a Pretty Life, both of which I highly recommend.
Riese: I'm finally reading Roxane Gay's Bad Feminist and I'm SO excited about it! That's all.