by carolyn & riese
Books! They are really great. You just won't believe how great they are. You may think that the Internet's great, but that's just peanuts compared to books. Welcome to Lez Liberty Lit, our column about literary shit that's happening that you should probably care about.
The name "Liberty Lit" was inspired by the short-lived literary journal produced by Angela Chase at Liberty High School in 1994.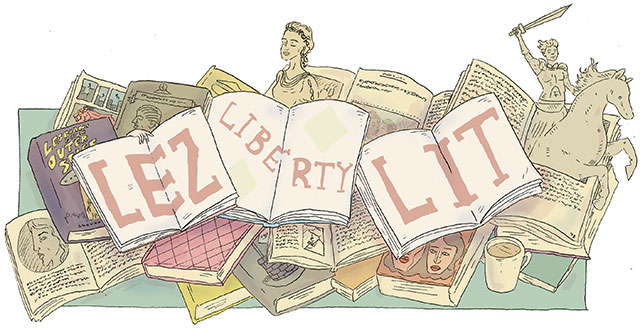 Lit Links
At the Toast, YA author Sarah Rees Brennan discusses sexism and self-promotion:
"Here is something true: many people act like women have no right to a space in the world.

In book publishing, guys have more chances of self-promotion than women: they're the ones who get more professional reviews, and they're the ones who get the opportunity to write more professional reviews. They are the ones who get the most promotional money. They get invited to do more events, and headline at more festivals and conventions, and have more paid speaking gigs. […]

So, women are often left in a situation where if they want to succeed, they have to promote themselves, via being a person on the internet. And then, people say: 'Lady, when you promote yourself, it is bad.'"
Malinda Lo wrote a companion piece.
You can watch the animated history of the English language in 10 minutes, as presented by Open University.
The novel as a traditional form that manipulates towards obvious goals ("the dilemma, the dramatic crisis, the pathos, the wise sadness, and more in general a suffering made bearable, or even noble through aesthetic form, fine prose, and the conviction that one has lived through something important") may or may not be over.
There is a version of "huh?" in a lot of languages.
Alyssa Abbott, author of Fairyland, writes about what happens when you publish a memoir about being raised by your gay dad and it turns out you had a gay mom, too, and how stories do not end.
Books and slides: together at last.
Twitter and the literary community have a complicated relationship.
The USPS has released twenty Harry Potter stamps, which feature movie stills.
Many public libraries still face a strained relationship with ebooks.
While other libraries are running book vending machines.
And if you're into obsessively tracking your personal library across social media, and who isn't, there are apps for that.
Moby Dick has a lot of one-star reviews on Amazon.
There is a comic-book adaptation of T.S. Eliot's "The Love Song of J. Alfred Prufrock."
At the Hairpin, Jen Doll spoke with Allie Brosh, creator of Hyperbole and a Half, about depression, self-expression, writing and more.
Casey the Canadian Lesbrarian reviewed Love Cake, a book of poetry from Leah Lakshmi Piepzna-Samarasinha that she calls "a beautiful, diverse collection of poetry that is one of those books you just keep wanting to scribble in and underline and slow down and read again, and jot down lines, or whole poems." She also reviewed The Collection, a lengthy anthology of trans* fiction.
At Lambda Literary, Victoria Brownworth reviewed White Girls by Hilton Als. Marcie Bianco discussed translating Fun Home for the stage. Viet Dinh reviewed Twelve Views from the Distance by Mutsuo Takahashi. Arielle Yarwood reviewed Tour of the Breath Gallery by Sarah Pemberton Strong. Anna Furtado reviewed Show of Force by A.J. Quinn. Sara Rauch reviewed The Daylight Gate by Jeanette Winterson.
At the Lesbrary, Casey reviewed She Rises by Kate Worsley. Tag reviewed A Distant Footstep On the Plain by Stephanie Byrd. Anna reviewed Homestead by Radclyffe. Leah reviewed Out of Time by Lesley Dimmock.
Don't forget to check out all the awesome book-related things we published recently: Maggie wrote about journaling while drunk. Riese wrote about nine vintage books that made stuff up about lesbians. Cara wrote about the word feminist. Laura wrote about the word genderist. Rachel reviewed "Fun Home" the musical. Mey wrote about As The Crow Flies.
This month, the Autostraddle Book Club is reading Blue is the Warmest Color.
Events To Watch Out For:
November 16–17, Montreal: Expozine, a small press, comic and zine fair, is on this weekend (5035 St-Dominique, at l'église d'enfant Jesus), Saturday at noon to Sunday at 6 p.m.
November 17, New York: The Lesbian Herstory Archives are hosting a marathon reading of the works of Audre Lorde and Adrienne RIch, with over 100 lesbian artists participating (848 14th St., Brooklyn), 12 p.m. to 12 a.m.
November 27, Toronto: S. Bear Bergman will be reading from Blood, Marriage, Wine and Glitter at Buddies in Bad Times Theatre (12 Alexander St.), 8:00 p.m.
Know of a queer event with literary merit? Send it to us! Please.
What We've Been Reading:
Riese: Well, last week I read Remote: Office Not Required. It took about an hour and was fairly informative and made me feel better about wanting an office for Autostraddle but not having one. I also finished Terrible Girls by Rebecca Brown and determined she is smarter than me because she is a very good writer and 95% of the time I had no idea what was going on with the narrative, which's often how I feel reading Lydia Davis and Ali Smith, too. Anyhow, I'm now about 75% of the way through Meaty, by Samantha Irby. I fucking love Samantha Irby and her blog Bitches Gotta Eat and that one time we published a thing of hers.
Rachel: I'm making progress in Shiri Eisner's Bi: Notes for a Bisexual Revolution, which is really interesting so far! At the Ann Arbor Autostraddle Meetup, I bought a copy of Malinda Lo's Adaptation before getting home to realize I apparently already own a copy. Also, I've been working my way through all of Riese's longform recommendations from last week!