Because you deserve to be the best dressed homo in the office. 
Header by Rory Midhani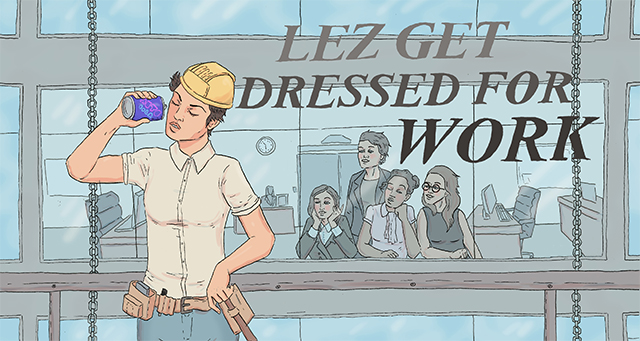 ---
Feature image via Pascal Pierrou
Last week, just to recap quickly, I gave you a lot of reasons about why I wanted to write this column. Based on your sweet and positive responses, it seems I didn't need to spend so much time justifying it to you! I wrote like two paragraphs of actual suggestions, the main theme of which was "get some basics." Then I got some emails that asked a very good question: what the fuck are basics? You didn't say it like that actually.  (You also asked a lot of other questions which are now snug in a word document waiting to be addressed. So don't fret if this doesn't answer your question, I read it and I love you and think your hair looks nice.)
Basically, a "basic" is a foundational item that goes with most of the other things you own, can be worn in different ways, is comfortable, and fits you perfectly. It's important that it fit you perfectly because every other part of your outfit relies on it for success. A basic is usually a standard, solid color, like black, white, brown, gray, navy blue, or whatever color makes sense with your wardrobe and the job you're dressing for. If a basic isn't a basic color, it is specified, like "neon basics." Your basics are the building blocks for your outfit. A weekend basic might be cut-off shorts. A weekday basic is a button down. See? Sometimes fashions mags come out with "new basics for [insert current month]" and then try to tell you that you need something trendy as a basic part of your wardrobe. I call bullshit on that, because a basic should also be timeless, and that's why I think you should invest in some high-quality ones. You can be trendy with the things you add to your basics — unless you have a salary that lets you update your basics according to what is in style, and in that case, know that I am jealous.
Today I want to keep talking about button downs, because that seemed to be a hot topic. Sometimes it can feel impossible to find one that fits you right, is affordable, and is well-made. Last week I mentioned Everlane and Madewell, but have you checked out the tops section of Uniqlo? For women's shirts, I'm really impressed at how non-frilly and simple their button downs are, but they also come in patterns if your job allows you to wear fun things. They also come in linen, silk, and cotton, which are quality basic materials if I've ever heard 'em. And the best part? These are actually very reasonably priced.
The shirt pictured above is the Women Silk Long Sleeve Blouse, and is $49.90, which is great (in my opinion) for a nice silk shirt. Tucked into work appropriate pants and worn on its own or layered with a cardigan, crew neck sweater, vest, or blazer, this will look really good on you. If you feel that the way this shirt "drapes elegantly" is  too femme for you, they also have these really perfect Oxford Long Sleeve Shirts that are soft and thick and don't have any of those frustrating dart seams that women's shirts sometimes have around the chest. They also have narrow collars, so even though this shirt is very androgynous, the proportions are such so that you won't look like you're wearing your dad's button up. The oxford shirts are $29.90.
If Madewell's best most perfect boyshirt line is out of budget, another good option for androgynous women's shirts is the Gap's boyfriend shirt situation. I know, I know, everything about writing that sentence made me want to stab my own eyes out but it's true: high quality, without awkward lady-shirt darts, long enough to tuck in but not tunic-y, these shirts are really good and super gay. They come in "shrunken" which is a little tighter and "fitted" which is a little more tailored.
Speaking of tailored, if you find that button down shirts gap over your bust or don't button over your hips, you should get them tailored. I'd buy something that fits the widest part of my torso and take it to the tailor. I'd also get something that is machine washable so that one item doesn't turn into a money-suck. Don't be afraid of getting something tailored. Okay?
Another option for larger-busted workin' queers is the pop-over. Do you guys know about popovers? It's a shirt that doesn't button down all the way, and they tend to be looser than button ups. So you can get one that fits your bust and tuck it into pants so that it's not too flowy. J.Crew Factory Outlet has some good ones, and they are especially appealing if you can't afford actual J.Crew (cool me either!).
So let's say you work in kind of an "anything goes" environment and there are some people in jeans but you're trying to make an effort to look nice without looking like you don't fit in (apparently there are a lot of you dealing with this). Take the advice I've given so far as per button downs and apply it to a button down made of a less fancy material that is maybe a little more fashionable, like, say, chambray. Chambray button downs can be worn with the top button done and tucked into pants because they are thinner than denim shirts. Your silhouette will be professional, but you'll look more casual than if you were in an oxford. You don't have to spend a lot of money to get a good chambray; my favorite one is actually from the Old Navy outlet store and was approximately $10 I think. To femme this look up, add a statement necklace over the shirt and wear a colorful belt. For a more masculine look, keep your belt brown or black and wear a chunky watch and some nice men's or menswear-inspired shoes. This will look good with black skinny jeans, just make sure the material of your jeans isn't too thin (oh don't worry, we're going to talk about pants A LOT very soon). I like to wear mine with salmon colored skinny jeans.
Please continue to share your feelings in the comments and to send your lovely emails to gabrielle@autostraddle.com. Have a good day at work!
Header art by Rosa Middleton